Plant milo now to provide cost-saving cattle feed next winter
Plant milo now to provide cost-saving cattle feed next winter
A bushel of milo delivered has harvest expenses, said Lee, but milo grazed has no harvesting costs.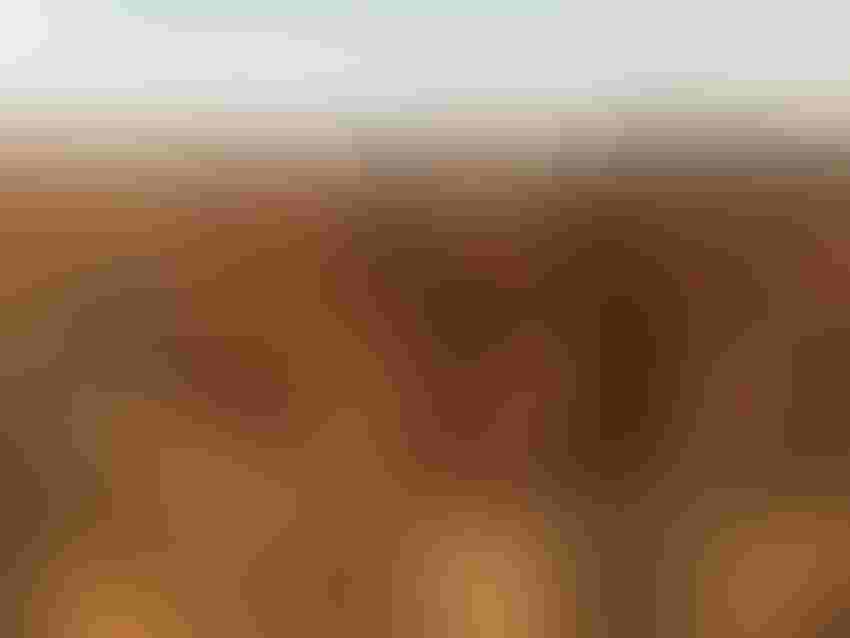 Strip-grazing milo (grain sorghum) is a money-saving alternative winter feed plan for cattle, according to University of Missouri Extension agronomy specialist Rusty Lee.
"Winter feed expenses are the killer of profits," said Lee. "It's the top reason for whether a cattle producer will make a profit or loss."
SPA (standard performance analysis) records of Iowa beef producers show the top 25% of cow-calf producers make money while three-fourths lose money every year in herds from 30 to 300 cows.
"Herd size is not a big predictor of profit or loss," said Lee. "Feed costs are."
Milo is drought tolerant
Anytime drought causes grazing and hay issues, this system looks better and better, said Lee. May is a good time to plant grain sorghum. Farmers have the option of planting it after wheat, but he recommends the full growing season.
There are only two weeks cattle cannot graze in the fall when frost/freeze injury induces the formation of prussic acid, which takes time to dissipate.
"It takes a few frost events then a killing freeze to be able to graze," he said. "Typically, the grazing period is Nov. 1 until end of March."
Some supplemental protein
Lee has found the total digestible nutrients (TDN) for grain sorghum in cattle is high, usually above 70%. Protein, at around 7%, requires supplementation with a high-quality hay, bean meal or other source.
Lee has worked with Eric Bailey, MU Extension state beef nutrition specialist, on a balanced rationing plan, and said a good-quality hay that has good protein value can work, and stockpiled grazing works well.
"I have used small square bales of alfalfa hay as a supplement. One of the easier things to do is use soybean meal a few times a week," he said.
Let cattle harvest the milo to save money
A bushel of milo delivered has harvest expenses, said Lee, but milo grazed has no harvesting costs.
"The total cost of producing milo with no mechanical harvest costs allows us to feed our cattle for just 60 cents per head per day," he said. "The scenario we are trying to avoid is supplementing pasture grazing with $45 to $60 dollar bales of hay, feeding cattle for $1.60 to $2 per head per day. We can graze our milo and we can shave an honest dollar or more off that."
Using milo grain as an alternative feed in the winter requires simple poly wire electric fencing that's moved daily. Cattle are close together, eating the grain heads first, and are done in about two hours.
"All you need is access to electricity and water," said Lee. "We back-graze everything. We limit their forward movement, but we don't limit their backward movement, so they always have access to water."
For cattle producers who also have row crops, Lee said, winter grazing of milo is a "no-brainer" because they've got the infrastructure and equipment to make it happen.
Fertility stays on-farm
"When you sell a bushel of milo to the elevator, you've exported nutrients off your farm," Lee said. "If you didn't graze it, you had to pay extra money to harvest it with a combine and truck it, so you get rid of all that soil fertility. By strip-grazing, I'm not spending that money on harvest or transportation, and I'm keeping the fertility on the farm. That's a bonus."
Producers Lee has talked with who graze cattle on milo in the winter really like this method, but there are some doubters.
"It's going to look rough in those crop fields with mud but in the spring, I pull a disc over it and plant soybeans. It's better than destroying a pasture, which takes time to remediate." Lee calls it his "sacrificial paddock."
Lee began grazing cattle on milo eight years ago, having learned from neighbors in Montgomery and Warren counties. But it's not a widespread practice. Yet.
"One by one, I'm converting producers, and it's going pretty good."
Lee said milo grazing also works well for small ruminants.
"Sheep and goats do not require a daily allocation," he said. "You can give them two weeks' worth or greater and they just work around the perimeter."
Subscribe to Our Newsletters
BEEF Magazine is the source for beef production, management and market news.
You May Also Like
---