Cattle on Feed report has plenty of implications to chew on
Cattle on Feed report has plenty of implications to chew on
There's a little of something for everyone—bulls and bears alike—to focus on in the September Cattle on Feed report.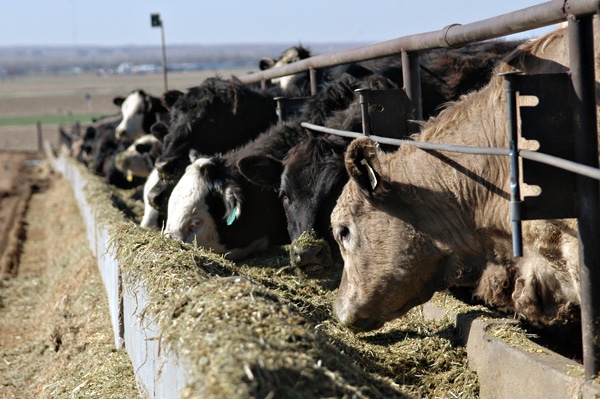 Fewer placements and slightly fewer cattle on feed than expected, but also fewer marketings. That's what the Oct. 1 Cattle on Feed report, reflecting September feedyard activity, gave the beef business to chew on. And the question of what implications that will have for the winter and early-2019 fed cattle market has both bulls and bears knawing on the numbers.
Cattle on feed Oct. 1 were the most since the data series began in 1996 at 11.40 million head. That's 5.43% (+587,000 head) more than last year, reports Wes Ishmael, BEEF magazine's contributing editor. Most analysts expected to see about 6% more. That's for feedlots with a capacity of 1,000 head or more.
While most analysts ahead of the report expected September placements to be about even with last year, the 2.05 million head placed were 4.60% less (-99,000 head) than a year earlier, Ishmael reports.
In terms of weights, 36.81% went on feed weighing 699 lbs. or less; 43.69% weighing 700-899 lbs.; 19.5% weighing 900 lbs. or more. That continues the trend of recent months.
September marketings of 1.72 million head were 3.59% less (-64,000 head) than the previous year. Expectations ahead of the report were for marketings to be about even, Ishmael reports.
Breaking it down
While USDA in January and July offers an estimate as to the supply of cattle outside of feedlots, the flow of feeders into feedlots and ultimately slaughter provide the true measure of supply availability. Thus, futures market participants will likely view the latest cattle on feed inventory data as bullish for the late winter/early spring market, according to economists with the Daily Livestock Report (DLR).
On the other hand, cattle feeders may well view the report with a bit of caution. The front-end supply remains well above year-ago levels and, in the short term, this may continue to limit the upside for cash fed cattle prices, DLR economists indicate.
"The supply of cattle that have been on feed for more than 150 days is estimated at 1.921 million head, 27.1% higher than a year ago. The supply of cattle that have been on-feed for more than 120 days is estimated at 3.972 million head, higher than it was on Sept. 1 and 11.5% higher than a year ago," DLR economists say.  
Seasonally, placements increase in September but it appears that feedlots pulled some of the feeder supply forward by increasing placements in July and August. Total cattle placed on feed in July and August were up 269,000 head compared to a year ago, but they were down almost 100,000 head in September, DLR analysts explain. 
Looking at the structure of placements, most of the decline in September came from two categories. Placements of cattle weighing between 700-799 pounds were down 60,000 head and placements of cattle over 800 pounds were down 49,000 head. 
Contrast this with placements in July and August. During those two months, placements of cattle under 600 pounds rose by 120,000 head, placements of cattle weighing 600-699 pounds were up 105,000 head, and placements of cattle weighing 700-799 pounds were 72,000 head higher than a year ago, the DLR economists report..  
USDA also offers a breakdown of the on-feed inventory by sex. The latest data show the inventory of heifers and heifer calves on Oct. 1 was 11% higher than a year ago while steer inventories were up 2.3%.
"Reduced profitability has caused producers to retain fewer heifers than a year ago, bolstering on-feed supplies. Lower-than-expected placements caused the total number of cattle on feed to be quite a bit lower than what analysts expected (105.4 vs. 106.3)" DLR reports. 
Subscribe to Our Newsletters
BEEF Magazine is the source for beef production, management and market news.
You May Also Like
---