Cedar fight goes across fence and state lines
Cedar fight goes across fence and state lines
Working together has been a successful formula for Nebraska and South Dakota advocates of prescribed fire.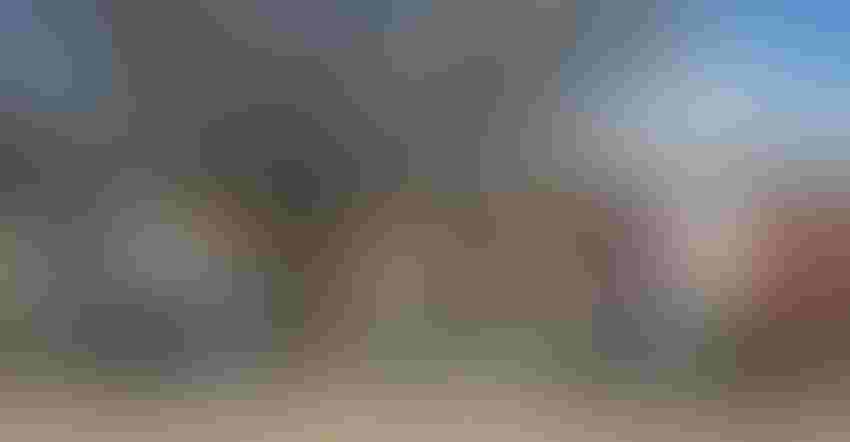 CRUCIAL CREW: A few members of the Bristow, Neb., area crew pose in front of the trucks they bought to help on prescribed burns. Over the past eight years, this group has burned more than 30,000 acres in their fight to reclaim grasslands from invasive eastern red cedar.
Curt Arens
Gathering landowners to work together on prescribed burn projects has been a winning model in the successful defeat of eastern red cedar encroachment on grazing lands. Normally, prescribed burn associations work across fence lines with neighboring landowners.
Over the past decade, eastern members of the Niobrara Valley Prescribed Fire Association, covering much of north-central Nebraska, have not only reached across fence lines, but also state lines into neighboring South Dakota, to beat the invasion of ERC.
It started in 2010 when Jerald Dennis, Bristow, Neb., sheared ERC trees in a large portion of family-owned grasslands on the south shore of Lake Francis Case in South Dakota, behind Fort Randall Dam. He piled the dead cedar trees for curing. In 2011, Dennis deferred grazing on the tract, to grow fuel for the prescribed burn he was planning the following spring.
"It took an entire year to plan the burn, coordinating between five landowners, four government agencies along with local law enforcement and fire departments," Dennis explains. On that burn with Dennis, Dave Steffen from Gregory, S.D., and other interested landowners in the area watched as observers.
Dennis has worked at Nebraska State Bank in Bristow for nearly 40 years. Most of that time, he has also served on the Bristow Fire Department. His family owns about 2,000 acres of pasture in both states, so he's been involved in prescribed burning for the past 13 years. The Prescribed Fire Association that Dennis works with has conducted burns on just over 30,000 acres since 2012.
They normally develop their burn schedule at a meeting each February, so 10 to 12 people can plan to be involved with each burn. The local members of the association bought two Army surplus pickup trucks to transport skid water pumping units with 250-gallon tanks, hoses and a reel they borrow from the Nebraska Game and Parks Commission.
The burn near Fort Randall encompassed 3,145 acres. "We had a well-seasoned crew of 12 from Nebraska working that burn," Dennis says. "It also helped that we had Lake Francis Case to the north and a highway to the south."
Steffen watched the Nebraska crew and became interested in conducting more prescribed burns locally. "The following year, Steffen and a few other interested parties came down from South Dakota and attended our local meeting, and a few controlled burns," Dennis says. "We collaborated on burns in South Dakota by helping that group develop burn plans and assisting with the burns. Our motivation was to teach their group how to safely conduct controlled burns, so they could teach others in the state."
In 2017, the South Dakota group formed its own Mid-Missouri River Prescribed Burn Association —the first in the state — with Steffen and several neighbors as driving forces in the effort.
"Cedar trees were just beginning to become a problem," Steffen recalls. "I looked at maps that showed the encroachment problems, especially big bunches along the Missouri River."  The aerial maps showed about one-third of Gregory County with cedar tree problems. "Thanks to funds from the South Dakota Grasslands Coalition, we sent out a questionnaire, asking landowners about cedars on their land, and if they would consider prescribed fire as a control."
LIGHTING IT UP:  Two years before the actual burn near Fort Randall Dam in South Dakota, Jerald Dennis sheared several large cedar trees and pushed them up against mature live trees. In 2012, when they started their prescribed burn in that area, the sheared trees ignited easily and burned into the live trees.
Steffen says that working with the Nebraska group helped their association in South Dakota organize and conduct burns of its own.
"We've had burns in the hundreds of acres so far, mostly in Gregory County, but also in Charles Mix County. That included a couple of big ranches," Steffen says. "In many cases, nonresident landowners contact us about conducting a burn on their property. In most cases, we like it when landowners participate in the burn themselves, but with some nonresidents, we accept a payment for doing the burns."
The Mid-Missouri River group now covers four counties, including Gregory, Charles Mix, Brule and Lyman.
"From the prescribed burns, we have witnessed tremendous recovery of warm-season native grasses on those grasslands where there was grazing management to go along with it," Steffen says. "There has been fantastic recovery to a typical native plant community in the rough hills and breaks of the Missouri River."
DEAD TIMBER:  At specific heights, cedar trees do not stand a chance against a well-run prescribed burn. Most of the trees pictured here are completed destroyed. Grass recovery in an area like this is surprisingly rapid.
Steffen says that landowners are amazed with the amount of new grass growth there has been within a year's time. "Keep in mind, we've had plenty of rain in recent years to grow grass, so we have been above normal in soil moisture," he adds.
For the group based in Bristow, fire has been a worthwhile tool in their war against ERC for more than a decade. "We add new, younger members to our group every year," Dennis says. "Most of them are members of the fire department, so they are comfortable with conducting a burn. We all work together, and it is great knowing that the other guys have got your back."
Learn more about Nebraska prescribed fire associations at the state's Pheasants Forever and Quail Forever website, nebraskapf.com. Learn about the Mid-Missouri River Prescribed Burn Association of South Dakota online at midmissouririverpba.com.
Subscribe to Our Newsletters
BEEF Magazine is the source for beef production, management and market news.
You May Also Like
---