Wearable tech assists beef rotational grazing management
Wearable tech assists beef rotational grazing management
Cattle producer tests virtual fencing with success on open pasture.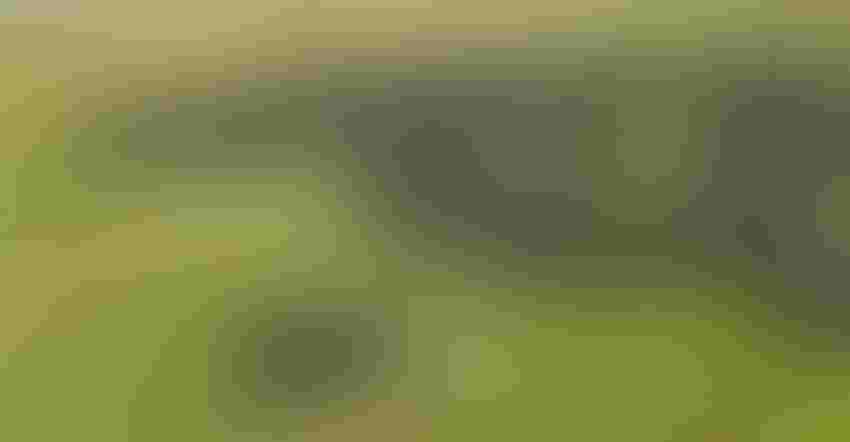 KEEPING TABS WITH TECH: Jorgensen Land and Cattle ran a pilot project in 2020 using radio-receiver collars to better manage the farm's rotational grazing system.
Courtesy of Jorgensen Land and Cattle
Managing more than 1,500 cattle on pastureland can be a headache. Now, imagine managing that many head in a rotational grazing system that calls for moving those animals twice a week.
Jorgensen Land and Cattle does just that after introducing rotational grazing into its operation near Ideal, S.D., in northern Tripp County in 2017.
JLC is a family farm operation with an 850-head Angus cow herd on 8,800 acres of native prairie pasture, as well as about 13,000 acres of crop ground. The farm also runs a concentrated animal feeding operation from which it annually markets more than 4,000 bulls.
"We've got a decent amount of farm ground and pasture, so the effort here is to take as many of those hooves as we possibly can and turn them out to graze as much as possible," Nick Jorgensen, CEO-CFO of JLC, told attendees at the recent South Dakota Soil Health Coalition's Soil Health Conference.
Grazing paddock design
JLC's rotational grazing system manages the cow herd in five to six groups of about 200 head, and each group has access to five to 10 paddocks. Most paddocks are roughly 160 acres split with permanent fencing. JLC cattle are turned out in early May and are then moved two times a week until August, and then every 10 days after that.
"We took what was basically three sections of pasture ground and split it into 12 to 15 usable paddocks. So we had a good system in place," Jorgensen said. "We didn't have to make a huge investment in new permanent fence or concede to dealing with miles upon miles upon miles of poly wire temporary fence."
JLC was looking for a better way to manage those cattle that could be spread out over 30 miles, especially with the goal to move them multiple times each week.
Considering the logistics, JLC works the grazing rotation by the calendar, rather than purely looking at pasture and grass quality. "There's enough movement going on when you're doing 1,000 head that we have got to do it by date, we've got to schedule it," he said. "We've got to have it on a calendar so that our team can stay on top of this, and not have to be worried that they need to move these cows. We just make it so."
Trying out tech
JLC was looking for help with the logistical maneuvering by signing on for a pilot project in 2020 with Vence Corp., the developer of a virtual fencing system for livestock.
Last summer, about 275 bred heifers were equipped with radio-receiver collars, similar to those used for training dogs. As the heifers would near a boundary, real or virtual, they would hear a beep. If they proceeded closer to that designated boundary, they would receive a slight electrical shock.
The Vence system has three components: the collar on the animals, a base station to communicate with the collars and an online platform for managing the collars. Jorgensen said JLC installed three solar-powered stations and has one AC-powered station under construction. Each base station covers more than 5 kilometers, with the range greatly dependent on terrain.
The online management platform is where the Vence system earns its keep. Jorgensen said the system is easy to use, allowing design of the paddocks on a computer aerial map of the actual area, while adding landmarks such as existing pasture fences, waterers and mineral feeders. Once the paddocks were designed, the JLC crew set up the desired schedule.
Training process
For last year's test, the JLC team placed the collars on the heifers the day that they were artificially inseminated. They were moved to a grazing site of 117 acres of grass and 90 acres of forage wheat.
The first week the heifers had the collars on, they were in tracking mode, basically "telling us where she was," Jorgensen said. During tracking, the heifers did not receive sound or electric stimuli.
The second phase trained the heifers to learn their boundaries with the aid of the collars. "The ideal training paddock has fence on four sides, a real, permanent fence," he said. The operator sets the Vence to deliver an audible tone as the heifer approaches the real fence. If the heifer continues toward the fence, getting within 5 to 10 yards of it, an electric stimulus is delivered to the heifer.
The cattle immediately learn that when they receive a sound and electric stimulus, they want to turn around. Over the three-day training period, 90% of the animals received the sound, and only 10% received the shock, meaning 90% figured out that when they hear that beep, they'd better go the other direction, Jorgensen said.
That training success translated over the actual rotational grazing trial where Jorgensen found that the heifers were prone to graze in the "sound" zone, where they would hear the beep, but not get shocked. And when it came time to move the heifers to a different paddock, the system was a success.
Each day the heifers had to go to a water tank, and once they were all getting water, the paddock assignment was changed. When the heifers attempted to return to the previous paddock, they received a sound and a shock. They moved to a location where they were not hearing beeps or feeling shocks.
Jorgensen said that is how they "rotationally grazed animals without ever actually having to physically, with a human, rotate them. And it was really that water as a natural catch that helped us. And it worked well."
Admitting it was a small trial period of nine days, Jorgensen pointed to the success rate of containing 86% of the heifers. "You're never going to keep 100% of the animals in, even with real fence," he said. "I was really impressed by it. I thought it worked extremely well."
As a follow-up, 200 bulls were fitted with collars to graze cornstalks last fall. A number of the bulls, which are more aggressive than heifers, were able to get their collars off or flipped over so the prods that deliver the shock were not in contact with their bodies.
Acknowledging that bulls are indeed different animals than heifers, the Jorgensens concluded that collars on the bulls could be used in settings where permanent fence is in place to keep bull pressure off the physical fence.
For more information, contact Nick Jorgensen, 605-842-3217 or [email protected]. For more information about Vence Corp., visit vence.io.
Subscribe to Our Newsletters
BEEF Magazine is the source for beef production, management and market news.
You May Also Like
---