5 Trending headlines in beef 122930
5 Trending headlines in beef
Here's a look at 5 headlines that will be on everyone's mind this week.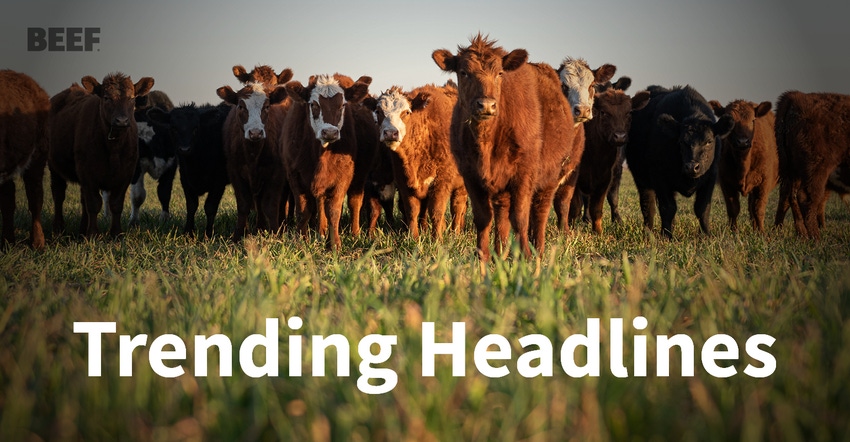 Fall is finally here. Harvest is moving fast in the Midwest. And cattle producers are starting to make plans for this winter. There's a lot going on, no matter what part of agriculture you are in. Let's take a look at 5 headlines involving cattle from across the USA.
1. A northwest Missouri man pleaded guilty to murdering two brothers over a cattle contract and was sentenced to two life terms behind bars September 20. Garland J. Nelson withdrew his not guilty plea on two counts of first-degree murder and was sentenced to two consecutive life terms. In exchange for his plea, charges of abandonment of a corpse, tampering with physical evidence, armed criminal action and tampering with a motor vehicle were dropped, according to the St. Joseph News-Press. In 2020, one of Nelson's defense attorneys said the state planned to seek the death penalty if Nelson was convicted. The case began when brothers Justin Diemel, 24, and Nick Diemel, 35, went missing July 21, 2019. The two had traveled from their home in Wisconsin to northwest Missouri. They were not heard from after they visited a farm in Braymer, about 70 miles northeast of Kansas City. A search began after their father reported them missing and was then labeled a death investigation. Human remains were found on the Braymer farm nine days after the siblings went missing. Nelson was arrested in July 2019 and charges in the murders were announced three months later.
2. Lumpy skin disease continues to be a huge problem across the globe.
A viral disease has killed nearly 100,000 cows and buffaloes in India and sickened over 2 million more.
The outbreak has triggered devastating income losses for cattle farmers since the disease not only results in deaths but can also lead to decreased milk production, emaciated animals, and birth issues.
The disease, called lumpy skin disease, is spread by insects that drink blood like mosquitoes and ticks. Infected cows and buffaloes get fevers and develop lumps on their skin.
Farmers have experienced severe losses from extreme weather events over the past year: a record-shattering heat wave in India reduced wheat yields in April, insufficient rainfall in eastern states like Jharkhand state shriveled parched winter crops such as pulses, and an unusually intense September rainfall has damaged rice in the north.
And now, the virus has spread to at least 15 states with the number of cow and buffalo deaths nearly doubling in three weeks, the Press Trust of India news agency reported.
3. Biologists working for the state of Washington have killed two members of the Leadpoint wolf pack this week in an effort to stop the pack from preying on cattle in Stevens County, the Washington Department of Fish and Wildlife said Thursday. An adult male wolf was killed on Tuesday and an adult female was killed on Wednesday. "With the removal of two wolves, the lethal removal authorization and lethal removal permit are now expired," the agency said in a news release.
Agency director Kelly Susewind last week authorized the killing of up to two members of the pack. That was after authorities documented five depredation events on cattle on private grazing lands since Aug. 22. Those attacks killed three head of livestock and injured two more, the agency said. The attacks were all attributed to the Leadpoint pack, the agency said.
4. Nebraska Beef Ltd. has entered an agreement with federal prosecutors on allegations the company misrepresented beef grading records.
The Omaha meat processing company is pleading guilty and agreed to a $200,000 fine, according to the plea agreement filed in September in U.S. District Court in Omaha.
The case comes on the heels of cases filed against two former employees — Dolese Tippery, an accountant, and chief financial officer, James Timmerman — who both got probation and $1,000 fines earlier this year for making false representations of inspection and grading of agricultural products.
In the plea agreement in the new case, Assistant U.S. Attorney Donald Kleine said on June 3, 2016, Nebraska Beef was served with a grand jury subpoena and ordered to produce grading records for 30 carcasses of beef.
He said a corporate officer altered the grading records before providing them to the company's attorneys five days later, who in turn provided them to the U.S. Attorney's Office and the grand jury.
5. And finally, here's one to warm your heart.
A cow herd in Germany has gained an unlikely following, after adopting a lone wild boar piglet.
Farmer Friedrich Stapel told the dpa news agency that he spotted the piglet among the herd in the central German community of Brevoerde about three weeks ago. It had likely lost its group when they crossed a nearby river.
Stapel said while he knows what extensive damage wild boars can cause, he can't bring himself to chase the animal away, dpa reported Thursday.
The local hunter has been told not to shoot the piglet — nicknamed Frieda — and in winter Stapel plans to put it in the shed with the mother cows.
"To leave it alone now would be unfair," he told dpa.
Subscribe to Our Newsletters
BEEF Magazine is the source for beef production, management and market news.
You May Also Like
---