5 Trending headlines in the beef world 121641
5 Trending headlines in the beef world
Here are 5 stories in the beef community, you don't want to miss.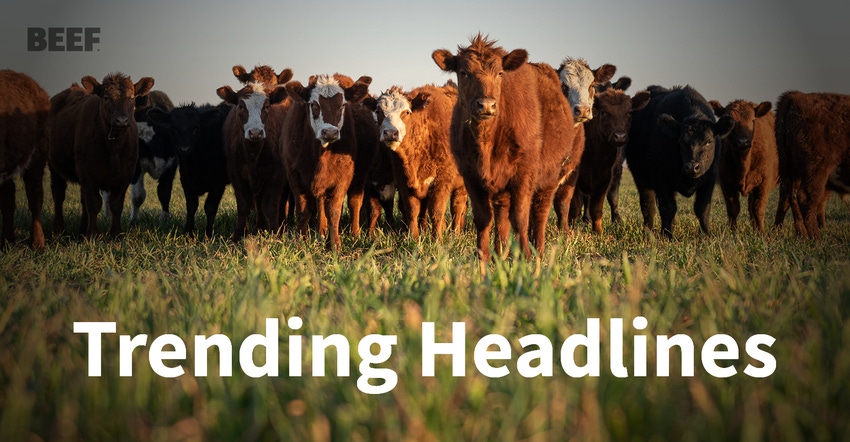 BEEF magazine scoured the country looking for what has cattle producers talking. Here's a look at 5 headlines that appear to be at the top of the list this week.
1. A Texas cattle company began in 1887 has made a huge jump into the retail side of the market with the beef they raise.
The Scharbauer family started with Herefords when Longhorn Cattle dominated Now, the ranch has a retail operation with Midland Meat Company and they sell another breed that is still considered rare in the USA.
After crossing Herefords with Black Angus because the family saw a future with genetic changes in cattle as the market needs.
Much like his father Chris, John saw the opportunity to introduce new genetics from black-hided cattle into the ranch's herd. John bought his first Wagyu bull for $4,000 Back at the ranch, he turned the bull, JC Itoshigemichi 007 (whom John called Ichiro), out with 25 heifers and waited.
He also hoped this would result in smaller calves, which are easier for young heifers to carry. Nine months after the heifers were bred, those small calves were born.
The calves fetched a whole lot more at auction than the regular herd. John bought ten more Wagyu. Back then, he was paying about $5,000 per bull. At a recent auction in Alvarado, he paid an average of $11,000 each for seven Wagyu bulls.
The Wagyu-cross portion of the Scharbauer herd has gown considerably since that first generation. The company slaughters and processes 20 to 25 head per week, along with 5 to 10 head of the Hereford-Angus cross. All of those cattle go from the ranch to Morris Stock Farm, a feedlot in Gruver.
After being grain fed for about three hundred days, they're processed at one of two Texas plants, then the beef is sent back and stocked in the meat case or the freezer at Midland Meat. "Everything I raise now goes to the market," John said. And some of it goes from the market to the Half Acre, his barbecue joint on the north side of Midland.
Locally raised beef sold in a meat market run by the ranch owner is unusual in Texas. It requires a building, of course, which John originally opened in 2015 (he followed up with a larger Midland Meat Company in a new building earlier this year). But it also requires beef that's noticeably different from what can be purchased at the local grocery store.
To read more about what is needed and what is different, check out the entire story here.
In Missouri, the legislature was busy last week, passing some new measures onto the governor. 
2. Missouri lawmakers approved a series of tax credits for the agriculture community last week, but stripped the proposed law of a provision that could have benefited a major property developer.
The package, which has been a priority for farm lobby groups, had been stalled in the legislature over a piece of the overall bill that would have given investors such as Columbia developer Jeffrey E. Smith $25 million in tax credits for investing in rural businesses in the state.
Opponents wanted the rural tax credits out of the measure after a similar program in Georgia cost taxpayers more than $50 million.
The revamped legislation now includes provisions for tax credits for wood energy, investments in meat processing, enhancements for the ethanol and biodiesel industry and a loan program for family farms.
The latest version also decreases the length of time for the tax credits from six years to two years, so the issue will return to the Legislature in 2024.
The measure now heads to Gov. Mike Parson's desk.
And in Nebraska, a beef scheme gets busted. 
3. Dolese Tippery, of Council Bluffs, Iowa, who worked in the accounting department at Nebraska Beef, pleaded guilty for making a false representation of inspection and grading of ag products, according ot court records. She has been sentenced to six months of probation and fined $1,000.
In information filed in 2020, federal prosecutors said she had aided and abetted in the false representation of 60 sides of beef as graded Prime quality by an inspector and grader of the U.S. Department of Agriculture when it had been graded as No-Roll.
The allegation dated back to 2016. But the scheme went back further.
In the plea agreement, Assistant U.S. Attorney Don Kleine said as early as 2012 boxes of beef processed at the main plant would be labeled initially with the correct grade, such as No-Roll and Select, then transported to an off-site warehouse, where employees "would remove original labels on the boxes of beef and replace them with higher-grade labels such as Choice and Prime. The relabeled product was then returned to the food-processing company and put into inventory."
He said employees, including Tippery, knowing that the relabeling was occurring, created false internal records to conceal the scheme.
Kleine said on June 3, 2016, the USDA's Agricultural Market Service graders discovered at least 30 carcasses of beef graded a day earlier that appeared ungradable and designated as No-Roll because of their age that had what appeared to be USDA ink stamps designating it as Prime grade.
The beef processor was served with a grand jury subpoena and ordered to produce the grading records for June 2, 2016, and they were found to have been "fraudulently altered."
Kleine said Tippery learned the records had been altered by another employee — former chief financial officer James Timmerman, according to separate criminal information — but testified at a grand jury March 20, 2017, that the grading records had not been altered and that she was not told or made aware that the grading record had been altered after being directed to deny it by a corporate officer.
Timmerman pleaded guilty to the same charge and is set for sentencing next month.
And we all know, how dangerous ticks can be. Not only for us, but our cattle as well. Texas A&M AgriLife will be busy doing research on the troubling pests. 
4. Two projects by Texas A&M AgriLife Research scientists aim to protect the U.S. cattle industry from the emerging threat of pesticide-resistant cattle fever ticks.
Adela Chavez, AgriLife Research entomologist and assistant professor, and Patricia Pietrantonio, an AgriLife Research Fellow and professor, both in the Texas A&M College of Agriculture and Life Sciences Department of Entomology, each received a U.S. Department of Agriculture National Institute of Food and Agriculture grant directed at creating new ways to prevent tick infestations and protect Texas cattle from the diseases spread by cattle fever ticks.
Cattle fever ticks represent one of the greatest threats to the U.S. cattle industry. The ticks carry parasites and bacteria that cause deadly diseases, including bovine babesiosis and anaplasmosis. A few treatments but no effective vaccines exist for these diseases.
The Texas cattle industry urgently needs new technologies to combat these ticks, and the grant-funded research at AgriLife Research responds to the needs of the industry, said Phillip Kaufman, head of the Department of Entomology.
Pietrantonio received $625,000 for a three-year study to identify synthetic molecules that can be developed into treatments that kill cattle fever ticks but are nontoxic for livestock or humans. Chavez received $530,405 for a two-year study focused on creating vaccines for cattle. "These studies have enormous implications not only for the cattle industry, but also for our overall biological understanding of ticks," Kaufman said. "Novel research like this is challenging, but it is vitally important for the future of animal and human health."
Cattle fever ticks threat reemerging
Ticks and tick-borne diseases significantly affect livestock globally. Tick feeding can reduce milk production and weight gain, damage hides and cause anemia or even death.
Beef cattle and calf sales are Texas' No. 1 agricultural commodity and generate about $8.5 billion annually. Worldwide, ticks cause an estimated $18.7 billion in economic losses each year.
Cattle fever tick eradication efforts began in 1906 and were officially eradicated in the U.S. in the early 1940s. But cattle fever ticks are still common in Mexico. They are an increasing threat to cattle producers because they are developing resistance to acaricides, the primary method to control them.
Ticks with resistance to permethrin, an acaricide not used against cattle fever tick in Texas but used widely in Mexico, have been found in Texas, despite tick quarantine efforts. However, the ticks have been shown to be resistant to many other acaricides outside the U.S., raising the threat to the cattle industry. Cattle fever ticks also infest wildlife, such as white-tailed deer and other exotic animals, including nilgai antelopes present in South Texas.
The movement of animals carrying ticks across the U.S.-Mexico border is a constant menace, as cattle ticks could become established and possibly transmit disease-causing pathogens to cattle herds. Tick resistance to acaricides makes it imperative to develop both anti-tick vaccines and new anti-tick treatments that are safe for vertebrate animals.
Vaccines to protect cattle
Although some vaccines have shown partial protection, Chavez said genetic differences between tick populations reduce the vaccines' efficiency. Her project will examine the potential use of substances from tick salivary glands and midguts as vaccine candidates.
Specifically, the study will focus on small particles, called extracellular vesicles, in the salivary glands and midguts of ticks. The team will examine the extracellular vesicles for proteins that cause immune responses in cattle and deer.
The team will conduct these studies on two very different tick species, the cattle fever tick and the lone star tick. Proteins that cause immune responses will then be used to generate artificial vesicles that can be mass-produced and commercialized to create a vaccine protective against different tick species.
And a legend in the beef breeding world has been lost. 
5. For many in the cattle world, Willie McLaren who died earlier this month was "Mr Aberdeen Angus". It was a label that recognized his efforts over many years to promote one of Scotland's traditional breeds.
His nickname was earned through his successes in the show and sale rings where his Netherton cattle picked up red rosettes and top prices and his "Mr Aberdeen Angus" label was also deserved for his lifelong support of the breed.
The Netherton Aberdeen Angus herd was established by his father and grandfather in 1924 some eight years before he was born.
It was not until the late-1960s and early-1970s that he made his own mark both on the Netherton herd and on the breed which was not favored because the cattle produced at that time were considered too small and dumpy by commercial beef producers.
In 1973, he went across to Kansas where he read out a letter on behalf of the Queen Mother at the 100th anniversary of Angus cattle in America. It was here that he realized the breed in the UK had to change This meant bring Angus cattle across the Atlantic and  the transforming the Netherton herd.
Another trip across the Atlantic in 1980 saw the purchase of TLA Northern Samurai for $30,000 – a massive investment but one which was repaid with progeny successes at both the Royal and the Highland Shows, thus securing a ready market for his offspring.
But it was a female that McLaren bought in that same year that had the biggest influence on the Netherton herd.
His biggest contribution to the Netherton herd came from a cow that many cattle still carry her genes today, 40 years later.
Recognizing his wider influence on the breed, the Angus Hall of Fame in the United States in 2016 listed McLaren as one the top 150 Angus breeders in the world in its 192 years. He was one of only two living Scots to gain this honor.
His honors also include being the breed society's ambassador at World Angus Forums for more than 50 years.
Subscribe to Our Newsletters
BEEF Magazine is the source for beef production, management and market news.
You May Also Like
---