Beef market a mixed bag this year
Beef market a mixed bag this year
Optimism and fear are on the horizon for the cattle industry.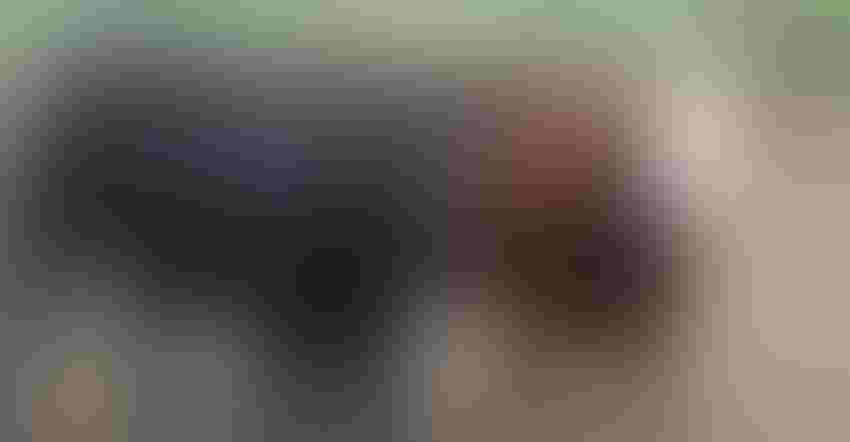 DÉJÀ VU? The beef market outlook for 2021 looks similar to the way 2020 began, but then the COVID-19 pandemic impacted the industry in ways no one could have imagined.
Courtesy of National Pork Board
Editor's note: This is first in a two-part beef market update with ag economist Derrell Peel.
This year looks to be a mixed bag for the U.S. beef market, holding reasons to be both optimistic about future trends and fearful of threats on the horizon.
Derrell Peel, Oklahoma State University professor in agricultural economics, tells producers that the supply side is going to be a little more supportive this year. "Cattle numbers are getting a little bit tighter from a national perspective, and beef production is expected to be down a little bit."
Beef demand, even with the unprecedented events of the past year presented by COVID-19, has remained strong. "In some ways, I would say remarkably strong despite the challenges," he says.
Trade always plays a big role in the beef market, and Peel says the current environment is no different. "It took a little bit of a bump last year, again due to COVID disruptions, but it looks to be improving. In fact, we ended 2020 very strong."
A cheaper dollar, Peel says, helps in both import and export situations with respect to beef going forward.
Potential threats 
Of course, the pandemic and its impact lingers, but Peel says a path to the end can be seen with the vaccine rollout. Even with this progress, he acknowledges we have yet to put COVID-19 completely in the rearview mirror. "I think the first half of this year is still going to be much of a continuation of last year," he says.
COVID-19's impact has spurred a recession in the U.S. and globally. "We've got some longer-term macroeconomics issues that will be there well after the health issues are winding down," he says.
Peel says some of the economic hit caused by the pandemic has been offset in the U.S. with the federal government providing the stimulus packages to keep the economy going, "but there will be longer-term impacts there potentially, and they could always turn on to a little bit bigger issues than they have been thus far."
Though beef production is expected to fall, the competing proteins of poultry and pork appear to be moderating some but still going to be higher on a year-over-year basis. "We've got plenty of protein out there, and that potentially is a demand factor," he says.
Looking at the lightweight calf prices for South Dakota, Peel says, "If you average it all out, last year was pretty flat, and actually compared to the normal fall lows or fourth-quarter lows, you actually had some recovery right at the end of the year. Here at the beginning of 2021, we're at or a little bit above where we were this time last year."
Déjà vu?
He reminds producers that at this time last year, "our overall outlook could be stated a lot like what we're saying now for 2021." Obviously, that outlook changed in 2020 with the pandemic. That was "something that we weren't even thinking about in January or early February last year, and it dramatically changed the year. Obviously, there's always the chance of these sort of black swan events jumping up that can impact us. We, hopefully, don't have any more of those, or anything like what we've been through."
Peel says generally the calf markets have been stronger and the feeder cattle weaker, as the fed cattle market is significantly below where the market was this time last year. "We went through enormous roller coasters last year, with the impacts of the pandemic with the backlog the fed cattle built in April and May, and then took us most of the rest of the summer and into the fall to deal with. Normally, fed cattle markets are moving toward a seasonal peak through the first quarter, and I think that's happening. It's been a little bit sluggish."
Currently, Peel says feedlots are fairly full. "We've got a strong movement of cattle coming out of feedlots, and with the carcass weights and other things, we've got a little bit of supply challenges here in the short run."
Cull cow markets were strong through the middle of last year, Peel says, and "they normally strengthen from the fall low in November through the end of the year. And into the first part of the next year, we normally see strong seasonal movement up to March and April, and then kind of hold onto that through much of the summer before dropping off in the fall. We're seeing that develop again."
Looking at the U.S. cattle inventory, the herd peaked in 2019, with all cattle and calves coming in at 94.8 million to now stand at 93.6 million head, though almost unchanged from 2020 numbers. Peel says the South Dakota numbers vary slightly from the national picture:
all cattle and calves up 2.6%

beef replacement heifers up 2.8%
"As we go forward, we are working our way into somewhat fewer cattle, and again that's going to be a positive support from an overall supply standpoint as we work through the year," he says. "We carried a big pipeline of cattle through by holding this feeder cattle supply equal to a year ago. And I think that's a residual of all the things we went through last year with a few more of those calves out in the country than might have otherwise been there."
For Part 2 of the series, see Drought drives beef market.
Subscribe to Our Newsletters
BEEF Magazine is the source for beef production, management and market news.
You May Also Like
---