Beef Muscle Profiling Program Created Producer and Consumer Benefits
Beef Muscle Profiling Program Created Producer and Consumer Benefits
Here's how the beef industry's muscle-profiling program created benefits for producers and consumers.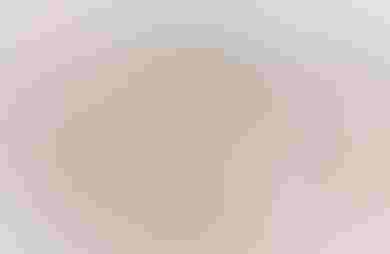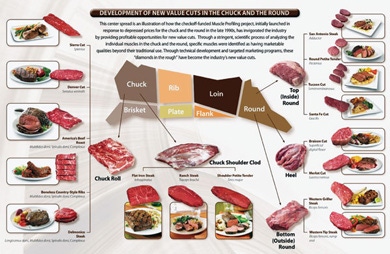 To view a larger version of the Value Cut illustration, click here.
They were a drag on the industry. The value of beef cuts from the chuck and round in the late 1990s were down 20-30% over a five-year period, according to CattleFax. Producers directing programs for the beef checkoff took notice and began developing a game plan.
To get it started, members of the Joint Product Enhancement Committee recommended to the Beef Promotion and Operating Committee (BPOC) an initiative to profile the physical and chemical characteristics of beef muscles from the chuck and round. The ultimate goal was to find the best use for each muscle to maximize carcass value.
Approval of this proposal, known as muscle profiling, set in motion a series of related projects funded through various checkoff committees. The initiative has required the cooperation and expertise of multiple checkoff programs, from human nutrition research to channel marketing and communications.

It began with work to characterize 39 primary muscles in the chuck and round, conducted on fed-steer and heifer carcasses. The study was done in partnership with the universities of Nebraska and Florida. It was the most comprehensive study of the chuck and round ever done; researchers focused on a number of factors, including boning yields, physical characterization, Warner-Bratzler shear force and sensory panel tests.
Results supported experimentation and innovation to find the optimal use for each muscle in the chuck and round. This helped increase demand for underutilized cuts and decrease the price pressures on middle meats.
Launching Value Cuts
From the original characterization of the 39 individual muscles in the chuck and the round, several "diamonds in the rough" emerged. Innovative cutting techniques were used to transform multi-muscle cuts into more consumer-friendly, single-muscle cuts that would fall between premium steaks and ground beef in price and value.
The introduction of each Value Cut into the retail and foodservice markets required the launch of a multi-faceted merchandising plan developed and implemented by all checkoff-funded research, education and innovation (REI), marketing and communications teams. To date, 13 Value Cuts have hit the market, with the latest introduced in 2008. These include:
Flat Iron, Petite Tender, Petite Tender Medallions and Ranch Steak (from the shoulder clod)

Sirloin Tip Side Steak, Sirloin Tip Center Steak, Western Griller Steak and Western Tip (from the round)

America's Beef Roast, Boneless Country-Style Beef Chuck Ribs, Delmonico Steak, Denver Cut and Sierra Cut (from the chuck roll)
Finding the muscles and identifying optimal cutting techniques was only the beginning. Next was educating fabricators and processors on the potential economic advantages. To do this, the Beef Innovations Group (BIG) team enlisted the market research team to test all new cuts with consumers on taste, use, recipes and names.
From there, nearly every checkoff team got involved. Using the muscle-profiling results to understand each muscle's expected performance, the Culinary Innovations Team determined optimal cooking temperatures. It also developed both foodservice and/or consumer recipes depending on the audience identified for each cut.
The Human Nutrition Research program commissioned checkoff-funded nutrient analyses of the new Value Cuts, with the information used to market those cuts that met government guidelines as "lean." Eight of the 13 new Value Cuts met the lean criteria. These include the Petite Tender, Petite Tender Medallions, Ranch Steak, Sirloin Tip Side Steak, Sirloin Tip Center Steak, Western Tip, Western Griller Steak and America's Beef Roast.
Next, a series of public relations and marketing materials was developed. With support from state beef councils, the BIG team had face-to-face meetings to share this information with meat processors, foodservice chefs, and retailers to gain acceptance, as well as with government agencies to obtain necessary approvals.
Value Cuts' success
While significant checkoff resources have been devoted to this effort, the return has proven its value. Technomic Inc. reports 2010 foodservice volume of Flat Iron as 81 million lbs., compared to 21 million lbs. of Porterhouse and 40 million lbs. of T-Bone. In addition, 39 million lbs. of Petite Tender and 26 million lbs. of Ranch Steak passed through the foodservice channel in 2010. These three cuts are seen on menus in 20,000 restaurants.
FreshLook Marketing, which provides retail scanner data, finds that the Flat Iron, Petite Tender and Ranch Steak have also enjoyed substantial success at retail, with nearly 16 million lbs. sold in 9,900 grocery stores in 2010. CattleFax estimates the industry value of the new chuck cuts will be $40-$50/head.
Six new value-added round cuts were unveiled in fall 2010. Because these cuts involve five subprimals and 14 muscles in the round, communications with the industry are more complex. While the focus of the work with the clod and chuck was to increase the number of steaks available, the focus with the round is to determine the best use and value for the characteristics of each cut.
The BIG team believes distribution of these new cuts will be successful, especially through foodservice. In fact, CattleFax estimates eventual return on this investment in the round to be $20-$30/head.
The execution of such a muscle-profiling project, as well as the industry-wide knowledge launch, requires participation across all industry sectors. Thus, no single segment or individual company in the beef chain can initiate and implement such a groundbreaking strategy. Spanning all sectors of the industry, the beef checkoff's REI programs can focus on all aspects of product development to increase beef demand.
Ultimately, the success of these efforts means more profit for beef producers and other participants in the beef chain.
Sidebar: Massive undertaking
The beef carcass consists of more than 100 muscles, all with different properties that affect processing conditions and consumer acceptability. Evolving consumer preferences and industry changes over the past 20-30 years make understanding these differing muscle characteristics more important than ever.

For example, most beef cuts now found in the retail case are boneless. Thus, meat cutters need to know more about beef animal musculature to ensure consistency. In addition, food companies have developed more pre-cooked and convenience products using single muscles. This requires knowledge of specific muscle characteristics to produce the most desirable product.
The checkoff-funded research program was a perfect fit to kick off this initiative. It's managed by Product Enhancement Research, a program in the Research, Education and Innovation (REI) department at the National Cattlemen's Beef Association. REI was responsible for uncovering the intricacies of the beef animal myology and collaborating with other checkoff programs to disseminate information to packers, processors, purveyors, researchers and developers, retailers, foodservice and others to maximize value for all industry sectors.
For two new recipes featuring Value Cuts, check out Samba Steak Stir-Fry, utilizing the Round Tip, and the Beef Steak with Curried Onion-Plum Sauce, utilizing the Flat Iron.

To learn more, visit the BIG website at beefinnovationsgroup.com or the Bovine Myology & Muscle Profiling website at bovine.unl.edu/.



Subscribe to Our Newsletters
BEEF Magazine is the source for beef production, management and market news.
You May Also Like
---