China says no trade talks until Trump stops threats
China says no trade talks until Trump stops threats
Trump administration imposed further duties on another $200 billion in Chinese goods on Monday.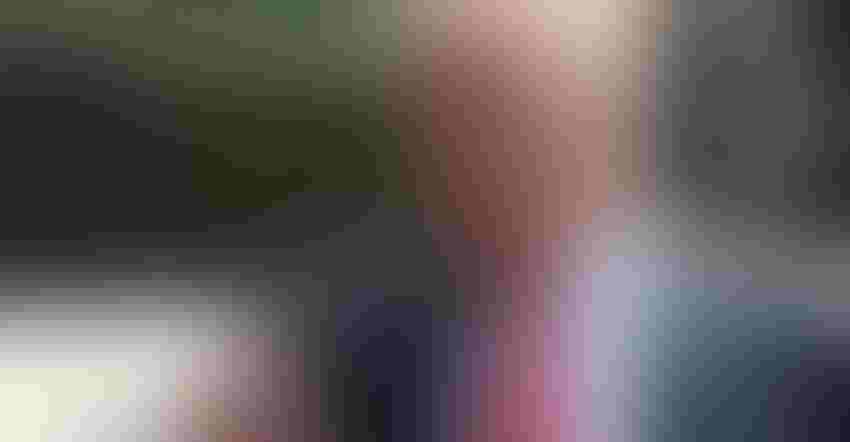 MarkWilson/Staff/GettyImagesNews
by Bloomberg News
China said talks to resolve the impasse over trade with the U.S. can't happen as long as President Donald Trump keeps threatening to impose further tariffs.
Just over an hour after the Trump administration imposed further duties on another $200 billion in Chinese goods on Monday, Beijing published a document reiterating its position in the standoff. Talks scheduled for this week were cancelled as the imposition of fresh tariffs by Washington neared. 
"The door for trade talks is always open but negotiations must be held in an environment of mutual respect," according to the white paper carried by the state-run Xinhua News Agency. Negotiations "cannot be carried out under the threat of tariffs."
The latest round of U.S. duties took effect just after midnight Washington time on Monday (midday in Beijing) on a list of products ranging from frozen meat to television components. China is poised to retaliate with tariffs on $60 billion in U.S. goods, a move that Trump has said would spur new duties on another $267 billion in Chinese imports.
In announcing the rates for the retaliatory duties last week, the government in Beijing said the tariffs would be effective as of 12:01 p.m. local time on Sept. 24. As Monday is a public holiday in Beijing, no official confirmation of that has yet been given.
If the president follows through on the escalation threat, U.S. tariffs would cover all goods the nation imported from China last year. The conflict risks descending into a war of attrition that economists warn could undermine the global economy and upend the supply chains of multinational companies.
China on Saturday called off planned trade talks with U.S. officials amid the escalation. The U.S. State Department's sanctions against China's defense agency and its director on Thursday contributed to the decision, according to people familiar with the situation. There's a growing consensus in Beijing that substantive talks will only be possible after U.S. mid-term elections in November, the people said.
Even as both sides slap fresh levies on each others' products, they have peppered statements with offers to talk.
"President Trump has an excellent relationship with President Xi and our teams have been in frequent communication since President Trump took office," Lindsay Walters, deputy White House press secretary, said in an emailed statement. "We remain open to continuing discussions with China, but China must meaningfully engage on the unfair trading practices." 
Neither side has backed down since the tit-for-tat tariff war began in July, when the U.S. imposed duties on $34 billion of Chinese goods. The Trump administration imposed a further $16 billion in August. China retaliated in kind to both moves.
Efforts at diplomacy have failed, with no breakthroughs since high-level talks began in May. And things are set to get worse: the 10% tariffs on $200 billion in Chinese goods will rise to 25%  in January if Beijing refuses to offer concessions.
Companies complain that the time frame between announcement of the latest levies and implementation of the tariffs on thousands of products is too short. A protracted trade war will fuel inflation in the U.S., particularly as tariffs are added to categories such as furniture, apparel and technology, according to analysts at Bloomberg Intelligence. 
"Retailers are already facing a tidal wave of tariffs. This latest tranche is a tsunami," said Hun Quach, vice president of international trade for the Retail Industry Leaders Association. "With thousands of consumer products included, little warning, and no time to prepare, businesses are left scrambling." 
Beijing's plans for tariffs on $60 billion of U.S. goods that are also set to take effect Monday include an additional 5 percent duty on about 1,600 kinds of U.S. products including computers and textiles and an extra 10 percent on more than 3,500 items including chemicals, meat, wheat, wine and liquefied natural gas.
Administration officials have repeatedly warned that the president is serious about his pledge to re-balance the trading relationship and that Chinese retaliation will only lead to further U.S. duties. 
Asked last week if Beijing's planned retaliation was a guarantee that Trump would go ahead with the next round of duties, White House trade adviser Peter Navarro said on NPR's Morning Edition that "the president was crystal clear in his statement: if China retaliates, the process will move forward on the additional amount." 
Edward Alden, senior fellow at the Council on Foreign Relations, said there was a chance the trade war could spiral out of control but that there is "a window for serious negotiation." 
"The Trump administration must get its position straight though -- what does it want from China, and who is empowered as a negotiator by President Trump to bring the deal home? Unless that happens, serious negotiations will be impossible and the likelihood of continued escalation increases," Alden said.
Amid the onset of economic damage for both economies, state newspaper China Daily reached into the U.S. heartland in an advertising supplement in Iowa's largest newspaper to highlight the impact on the state's soybean farmers as "the fruit of a president's folly.''
The four-page section in Sunday's Des Moines Register, which carried the label "paid for and prepared solely by China Daily, an official publication of the People's Republic of China," featured articles including one outlining how the trade dispute is forcing Chinese importers to turn to South America instead of the U.S. for soybeans.
--With assistance from Miao Han and Enda Curran.
To contact Bloomberg News staff for this story: Jenny Leonard in Washington at [email protected] ;Andrew Mayeda in Washington at [email protected] ;Jeffrey Black in Hong Kong at [email protected]
To contact the editors responsible for this story: Brendan Murray at [email protected] ;Malcolm Scott at [email protected] Sarah McGregor, Randall Woods
© 2018 Bloomberg L.P
Subscribe to Our Newsletters
BEEF Magazine is the source for beef production, management and market news.
You May Also Like
---