How Beef Veterinarians Can Utilize Genomics To Help Producers
How Beef Veterinarians Can Utilize Genomics To Help Producers
The most fundamental part of a cowherd is its DNA. Now is the time for DVMs to get involved with genomic information to help producers manage defects and improve herd performance.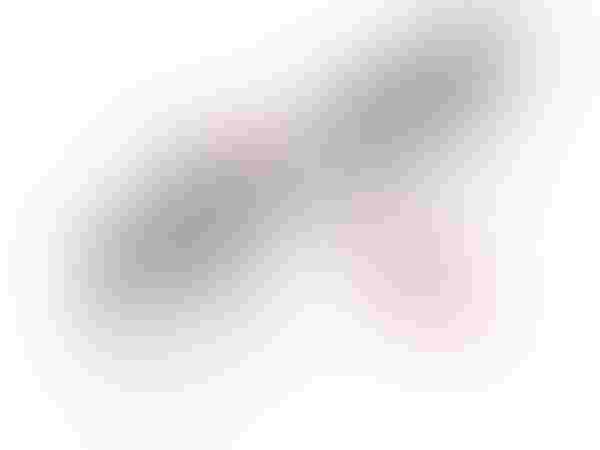 Most traits are genetically influenced whether they are desirable or undesirable. Discovery of a new genetic abnormality makes now a good time to insert a veterinarian's expertise and perspective into DNA-based decisions.
The veterinarians' traditional role puts them in a prime place to collect DNA samples during processing or breeding soundness exams. Then, their expertise and education can help producers make smart decisions to retain, and advance, a herd's genetic progress.
Genetics 101
Practitioners were right alongside producers as the industry and its technology rapidly advanced. Helping producers catch up, and keep up, is an area where veterinarians are uniquely qualified, says Bill Bowman, Chief Operating Officer of the American Angus Association, St. Joseph, MO.
"We recognize that veterinarians become one of the most sought-after resources that people have," Bowman says. "One of the things we deal with a lot is a lack of understanding of those simple inheritance concepts. We have some cattle producers today that never had the opportunity to have formal training and education in specific areas of animal science genetics and breeding in college. A veterinarians' education becomes a tremendous asset."
Veterinarians are trusted to help ranchers make decisions about every other area of their animal health program and can play a major role in advising producers about genetics along with university extension personnel and breed association staff.
Practitioners can also insert outside perspective into a herd.
"Veterinarians can explain what a calving ease EPD means, and the importance of it in an operation," Bowman says. "If I'm a vet assisting a calf out of a first-calf heifer, that's a perfect time to talk about the importance of calving ease genetics."
The data DNA testing brings to a cattle operation is only worthwhile if it's used correctly, which is one of the reasons Jennifer Saueressig, Ph.D., ruminant nutritionist at Overton Veterinary Services in Overton, NE, began helping progressive producers in her area interpret genetic testing data.
"When feedyards get close outs, they may be stuck in a pile," Saueressig says. "That's what I thought would happen with genetic testing. As a clinic, we send tests in for producers and get the results back. Then, we take the time and make an appointment with them to go over all the genetic test results."
Obtaining samples is simple to do when her clients are already working cows or replacement heifers.
Overton Veterinary Services proactively reached out for additional training in genomic based EPDs from Zoetis and began testing cattle using the High-Density 50K (HD 50K) for Angus DNA panel. Most of the clients using the test were also using the clinic's nutrition services, so it was a natural fit for Saueressig to lead the efforts for the clinic.
Subscribe now to Cow-Calf Weekly to get the latest industry research and information in your inbox every Friday!
"All input costs have been greater than we've ever seen, so how do I justify paying for the test versus going in blind? We can look at feed efficiency, average daily gain, carcass characteristics and other EPDs, and say 'these cattle have superior genetics, and these will be outliers.' The producers we have know there is a value to be gained by using genetic testing as a tool," she notes.
For the clinic, Saueressig says DNA testing and consulting provided another level of service for its clients.
"It's great for all veterinarians and nutritionists to have constant communication," she says. "It's another value added service that can be provided through the clinic to producers. Giving opportunities and direction to our clients is valuable to them, and they see that."
Developmental Duplication
Just as DNA testing can help promote production positive traits within a herd, it also can help producers make the right mating decisions and avoid genetic abnormalities.
Developmental Duplication (DD), or polymelia, is a recently identified genetic condition in Angus cattle. The condition results in extra limbs emerging from the back, shoulder or poll, says David Steffen, Ph.D., DVM, professor at the University of Nebraska-Lincoln.
Dr. Steffen cautions that not all extra limbs are related to this specific condition. However, the classification of DD as a genetic abnormality is a new discovery for beef geneticists. Previously, all extra limbs were thought to be part of an incomplete twinning process. Animal scientists in Australia recognized this particular phenotype as a heritable problem in an Angus herd.
As a simple recessive condition, both the sire and dam must be carriers of the DD gene. Even if two carriers are mated, DD is thought to also result in early embryonic loss and open females—meaning the producer or veterinarian may never know the condition is present without genetic testing.
Early embryonic loss is one possible reason DD was not identified as readily as conditions like Arthrogryposis Multiplex (AM) or Neuropathic Hydrocephalus (NH) even though DD is estimated to be similar in scope.
"Both parents have to be carriers," Dr. Steffen says. "Fortunately a fairly small percentage of the sires in AI service seem to have been carriers. Then, it's not going to be expressed if those carrier bulls aren't crossed with animals that are carriers. Even if you do make that mating, there is only a one in four chance of getting a combination to express the disease and some of those could show up as infertility. So these abnormal genes can be spread covertly for some time."
A test for DD is already available and may be purchased alone or paired with the GeneSeek® Genomic Profiler or the Zoetis HD 50K for Angus. Producers can use archived samples or submit new samples through Angus Genetics Inc.SM
"The bottom line is DD is simple recessive, so even if I have a prevalence of carriers in my cow herd, as long as I am using bulls clean for this particular condition, I'm never going to experience any problems," Bowman says. "This type of condition is expressed in different species and is not unique to Angus cattle. It's out there, but it's something we have wide enough resources and reach in the population that we are able to use the science and technology to identify."
The American Angus Association policy on DD does not require testing as a precondition of continued or prospective registration. The association encourages producers and veterinarians to report any incidence to the association.
"We take the responsibility of providing our industry, and the commercial producer using Angus genetics, seriously and want to provide them genetics they can use with confidence in their herds," Bowman says. "The economic implications of DD may not be as great as other things they deal with on a daily basis like calving ease, pinkeye or having cattle struck by lightning. There are a lot of things that are going to have a bigger impact on their herd. This is another piece of information."
Bowman notes the industry's approach to dealing with genetic abnormalities changed drastically since the 1960s and 1970s where entire lines may have been eliminated. Today, producers can make tailored mating decisions and help retain performance traits they worked so hard to achieve.
"There is a reason Angus genetics are prevalent," Bowman says. "They make a positive impact in the economics of beef production."
Communication and genetic testing improved the industry's ability to identify abnormalities in herds. DD should be easily manageable for most purebred and commercial herds in the country, Dr. Steffen notes.
"Even ten years ago, it might have taken a long time to figure out what was going on," Dr. Steffen says. "Today, it's not nearly as threatening to the breeders. Testing is a big thing upfront for the first year or two. Then things have been traditionally cleaned up once we get the main seedstock bulls identified or tested free for carriers. That's the advantage of testing, knowing the status of animals so we can retain the good traits and manage around a bad gene."
Genetic Decisions
Veterinarians can play a role in helping manage genetic decisions even when producers aren't searching for a specific genetic abnormality. Deciding to add such an offering to a clinic's services should be natural for the practice and its clients, Dr. Steffen recommends.
"Now, there's a need for education of breeders, and vets can play a key role in that," Dr. Steffen says. "There's a big opportunity for confusion between genetic testing specific for a phenotype in a breed, where you test free and not worry about it, and the larger microarray. Genomic enhanced EPDs are a good way to enhance the accuracy of the EPD early in an animal's life to aid in selection."
Dr. Steffen says veterinarians can help producers use genomic enhanced EPDs to determine which animals to keep for breeding. The appropriateness of the tool depends on how many animals are retained and the selection intensity.
The veterinarian is often present during the times best suited for DNA sample collection. Helping collect samples and acting as consultant after the results arrive represents an area of opportunity for practitioners, says Kent Andersen, Ph.D., Associate Director of Global Technical Services in Animal Genetics at Zoetis.
"There are some veterinarians that are doing it now, and it's gaining traction," Andersen says. "It's a natural fit in many regards because the vet is often present while the cattle are handled, so they can assist with sample collection, be it bangs vaccination of heifers or breeding soundness exams."
A team approach doesn't have to end after sample collection. After results arrive, producers and veterinarians can collaborate on culling, mating or even marketing decisions. This may not be an easy fit, but solution-oriented practices that include consulting on animal health, reproduction, genetics and nutrition can help producers across these quickly advancing fronts.
"I don't know what the secret recipe is for those practitioners that are good candidates for this next step," Andersen says. "There's opportunity for practitioners to think about providing more holistic management where you have a number of different tools in your tool kit. One of those tools is a year round herd health program, as well as an animal health strategy for respiratory disease. Then you have your repro management tools—estrus sync and the like—and on the genetics front, help with replacement selection and tests for genetic conditions as well. The tool kit is being added and refreshed and improved to help the producer across the various fronts."
The first step in helping producers is to determine which mating matches are viable based on test results for genetic abnormalities like DD. However, animals don't have to be eliminated from the herd even if they are a carrier. The investment in performance traits can still be retained if smart decisions are made.
"With simple recessives, like DD for example, just because an animal is a carrier doesn't necessarily mean the animal should be culled," Andersen advises. "As long as you breed the carrier parent to non-carrier mates, you'll never produce a diseased calf. Genetic conditions like DD are really a fact of life. They even say that, on average, every human being is carrying six to eight deleterious recessives in their DNA. It shouldn't be a cause for undue worry or alarm. It's something else we manage around. We should keep focus and attention on performance traits."
Focusing on performance means genomic enhanced EPDs, which can provide information on important traits such as: average daily gain, marbling, calving ease and more. Genomic enhanced EPDs look into an animal's DNA to provide greater accuracy where traditional EPDs need the benefit of time and progeny to be more accurate.
In addition to data on performance traits, DNA testing can also provide information on parentage. These tests can help measure individual bull performance in a multi-sire commercial environment, for example.
"If you ever have a calving problem, take a sample and compare it to the genotype of sires, which will tell you which sire is contributing to calving problems," notes Stewart Bauck, DVM, General Manager, Agrigenomics, with Igenity and GeneSeek. "Veterinarians can play a very important role, and once a parentage is done, it's easy to investigate those sires that are producing calving difficulties, those that produce the heaviest calves at weaning and those that do best post weaning. It's a great herd management tool for progressive commercial producers."
In a multi-sire environment, it can be costly to keep bulls around that aren't contributing to the bottom line of a herd, Dr. Bauck says. The veterinarian can use parentage and genomic enhanced EPDs to help producers make decisions. However, veterinarians shouldn't feel they must become geneticists.
"Having been trained as a veterinarian and spent time in practice, I have empathy for trying to ensure the veterinarian is aware of, trained on, knowledgeable about and able to assist producers in the effective use of these new technologies," he says. "Practitioners may not consider themselves a geneticist, but very often they're intimately involved in herd management decisions."
In his experience, Dr. Bauck says practitioners often assume other experts are taking on the role of consulting with producers on matters related to genetics, which is not always true. To assist in getting veterinarians engaged with providing DNA testing and consultation, Igenity recently partnered with Animal Health International, Inc. (AHI).
"I honestly believe all practices have the ability to participate in this new science of genomics," Dr. Bauck says. "AHI is working with us in distribution of our Igenity DNA testing. They have been helping inform veterinarians of the technology and assisting them in implementing it among their client base."
In his experience, practices that make a natural fit for adding DNA testing and consultation to their offerings are often those with close connection to the beef industry and progressive clients.
"If the clinic has a reputation for being engaged in the beef industry, working proactively in herd health and has an interest in improving the overall production of the herd, naturally these technologies are tools their customers need to be successful," Dr. Bauck says. "The clinics are progressive and successful because they are focused on the success of their clients."
You might also like:
70+ Photos Honor The Hardworking Cowboys On The Ranch
Population And Economics Propel Beef Demand
New Product Alert: 13 New Tractors For Your Ranch
Balancing Cattle Nutrition With Genetics Key To Ranch Success
Subscribe to Our Newsletters
BEEF Magazine is the source for beef production, management and market news.
You May Also Like
---