How the COVID-19 crisis is changing grocery shopping
How the COVID-19 crisis is changing grocery shopping
How exactly are consumers changing their grocery shopping habits during COVID-19? Supermarket News explores.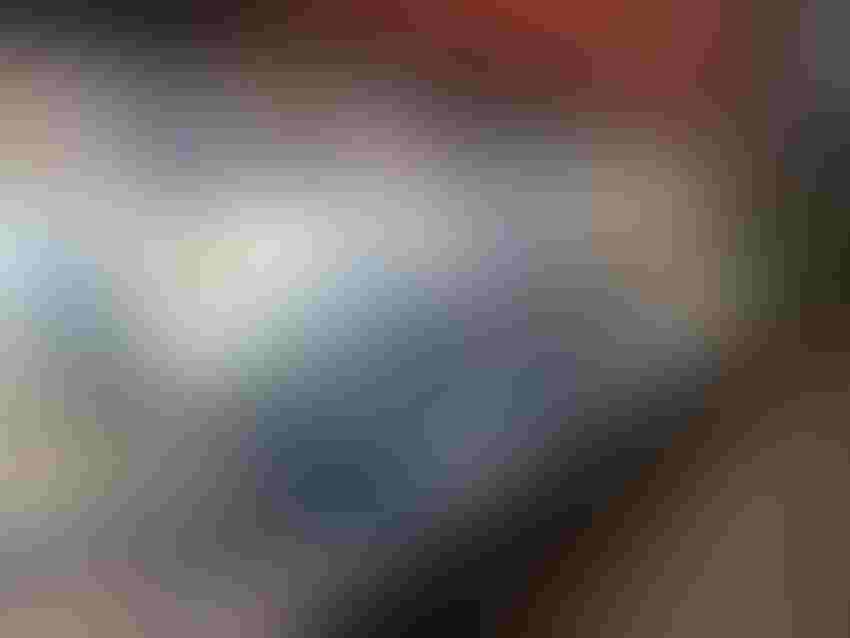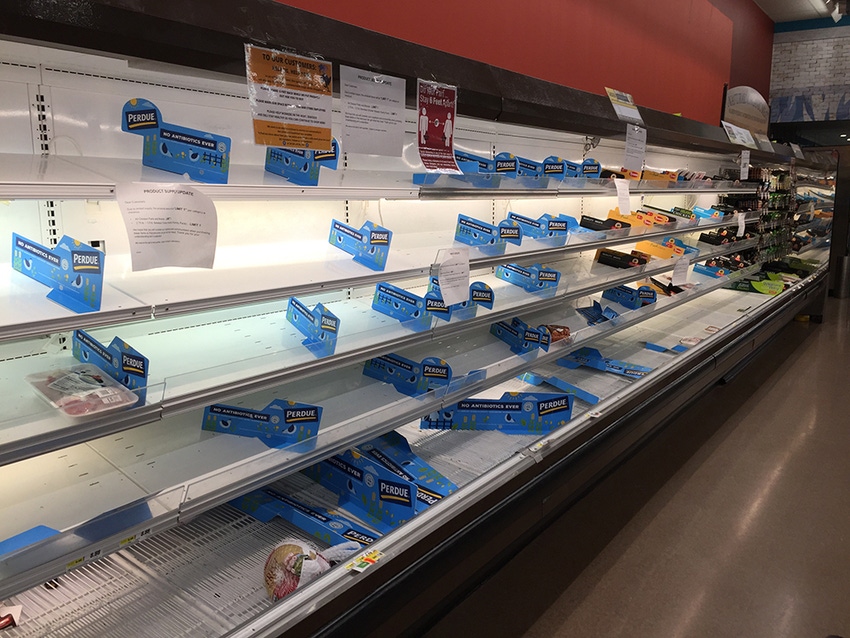 In a Shopkick survey, 75% of consumers reported difficulty finding chicken and other meats in stores.
Russell Redman
Shopping habiits around the country are being altered as U.S. consumers grapple with stay home orders and uncertainity because of COVID-19.
As of April 2, the United States had more than 213,000 confirmed/positive cases of COVID-19 and over 4,500 deaths from the virus, according to the Centers for Disease Control and Prevention (CDC). The fast spread of the disease — reported in all 50 states, the District of Columbia and four U.S. territories — has Americans pondering the short- and long-term effects, especially with much of the economy now shut down and President Trump extending federal social distancing guidelines to April 30.
Top health advisers for the administration are projecting a best-case scenario of 100,000 to 240,000 deaths from the pandemic. Millions of jobs also will be at stake as businesses figure out how to recover once the worst of the health crisis has passed.
Consumers' outlook has changed accordingly. The Conference Board's Consumer Confidence Index sank to 120 in March from 132.6 in February. What's more, 80% to 90% of consumers expect a recession within the year due to coronavirus, and nearly 89% said they're being affected by COVID-19, according to survey of more than 2,600 U.S. adults by L.E.K. Consulting and Civis Analytics. Likewise, 89% think their geographic area is being affected by the outbreak.
"As restrictions and social norms evolve in response to COVID-19, consumers are of course adjusting their broader behaviors, reporting to us more 'at-home' activities like cooking, watching TV, social media browsing and exercising at home," explained Maria Steingoltz, managing director at L.E.K. Consulting. "These changes create a need for brands to explore how they can meet consumers where they are and engage with them in novel ways."
Essential vs. non-essential spending
L.E.K. Consulting's online poll, conducted March 18 to 20, found that most people are spending about 4% to 6% less because of the coronavirus situation. Interestingly, people who deem the severity of COVID-19 as most critical (18% of respondents) are spending 17% more. The management consulting firm cited stockpiling purchasing behavior as the likely reason, with other Americans curtailing spending in part due to restrictions on leaving home.
Consumers are reining in spending by 40% to 50% on such items as dining out, outside-home entertainment and outside home fitness, L.E.K. said. Yet the survey revealed significant drops in spending on less "go outside" items and services, including consumer electronics (down 25% to 30%), takeout/delivery (down 10% to 15%) and beauty (down 5% to 10%).
As retailers respond to COVID-19, customers are encountering changes at stores, including limits on the number of shoppers inside.
Meanwhile, Americans' monthly spend is escalating other areas. Of those polled, spending is up 35% to 40% in at-home fitness, 20% to 25% in medicine and medical supplies, 15% to 20% in at-home entertainment, 15% to 20% in groceries and 10% to 15% in pet supplies.
In grocery, many consumers are shopping differently, L.E.K. pointed out. Respondents said they expect online spend to reach 40% of their total grocery expenditures if the coronavirus pandemic worsens, and their online non-grocery spend under that scenario to reach 45%.
"While the true net effect of the outbreak is impossible to determine at this point, we believe moment-in-time snapshots are helpful," said Manny Picciola, managing director at L.E.K.
Safety, necessity reshape shopping habits
To stay safe and healthy during the coronavirus pandemic, Americans are doing whatever it takes, including changing the way they shop, according to a survey of over 24,000 U.S. consumers shopping rewards app provider Shopkick.
Of those polled from March 16 to 18, 76% said they're adjusting their shopping habits because of COVID-19 concerns. That includes stockpiling essential items. Forty-seven percent reported stocking up on essential items, with 78% saying it made them feel safer. Purchases include food items and water (93%), toiletries (74%), cleaning supplies (58%), medicine and health care items (45%) and pet supplies (41%).
And Americans hunkering down aren't being picky in buying what they need: Eighty-five percent of respondents said brand names don't matter as they shop for necessities.
Extra precautions also are being taken by most consumers heading to the store. Nearly 60% said they worried about shopping in-store and, as a result, 85% are taking one or more health precautions. Those measures include disinfecting their hands and shopping carts (92%), shopping at slower times (66%), using debit/credit cards to avoid handling cash (63%) and using self-checkout (59%).
Fewer than one in four consumers is making more online purchases, as 76% said they weren't shopping online more frequently. Still, 60% of online shoppers said they would shop that way more frequently going forward.
Consumers in states with the most drastic restrictions due to rapid coronavirus infection rates — such as business closures, curfews and shelter-in-place policies — exhibited stronger stock-up shopping tendencies, Shopkick added. Residents of New York (58%), New Jersey (58%), Louisiana (55%), Connecticut (54%) and California (49%) are stocking up more than the average American, although Washington residents stocked up less (40%) despite that state's high incidence of the virus.
"With most Americans still shopping in-store, retailers need to dedicate resources toward keeping physical locations clean, essential items stocked and providing options for health precautions," according to David Fisch, general manager of Shopkick. "Right now, it is critical for retailers to have a finger on the pulse of what is most essential to consumers, especially as the situation continues to evolve."
Basket size swells as store visits shrink
In-store marketing and digital media specialist Catalina reported that U.S. shoppers are now making fewer trips to grocery, drug and convenience stores but are spending more per visit.
For the week ended March 22, store visits rose 14% compared with the same period in 2019, Catalina said. Yet visits decreased slightly versus the week ending March 14, which had seen a 17% increase from a year earlier.
Dollar sales per store remain high, up an average of 62% compared with the prior-year period. And although "sheltering in place" guidelines typically let people shop at grocery and drugstores, the top 10 product categories with the biggest sales increases show that people continue to stock their pantries with food and cleaning supplies, Catalina noted.
By far, the top sales gainer for the week ended March 22 was yeast (dry and refrigerated), up 601% from a year ago — despite just an 0.1% uptick in the first six weeks of 2020, before consumer awareness of coronavirus surged, according to Catalina. That also marked the first time yeast products were a weekly top sales gainer, which the company attributed to people having the time and finding comfort in baking.   
Other leading sales increases for the week included cleaners and disinfectants (+377% year over year), canned and ready-to-serve soup (+369%), powdered milk (+368%), dry hearty soup (+363%), dried beans/grains (+297%), packaged dry dinner mix (+277%), stuffing mixes (+273%) and condensed soup (+272%).
"These numbers coincide with more states and metropolitan areas issuing 'shelter in place' or 'stay at home' directives that currently impact more than 100 million people across the country," said Catalina chief marketing officer Marta Cyhan. "We're continuing to mine our Buyer Intelligence Database to monitor sales in hundreds of categories, since even before the pandemic was officially declared, to advise our retail and CPG customers on changes in consumer behavior that can directly impact their marketing and supply chain decisions."
Emptied shelves, delivery delays
In Shopkick's survey, almost all respondents encountered out-of-stocks of household essentials at their preferred retailer or grocery store as consumers nationwide rushed to stock up amid the coronavirus outbreak. These items included toilet paper (cited by 97% of shoppers polled), hand sanitizer (93%), disinfecting wipes (91%), bottled water (69%), medical products (64%) and canned goods (54%).
Seventy-eight percent also reported purchase restrictions, including limits on the number of specific items customers could buy.
Shoppers weren't able to find 40% of the grocery items on their shopping list between March 18 and 23, even after visiting an average of two grocery stores, according to a survey of more than 3,000 consumers by meal planning service eMeals.
Of those polled, 75% reported difficulty finding chicken and other meats, with other hard-to-find foods including bread (31%), eggs (29%) and milk (25%). The top beverages stockpiled were milk (48%), coffee (44%), bottled water (34%) and soda (23%). Twenty-three percent of consumers stocked up on wine, 18% on beer and 18% on spirits.
Average grocery spending for the week of March 18-23 came in at $253, up 55% over respondents' normal weekly purchases, eMeals said. And shoppers acknowledged spending more than usual. Thirteen percent spent $400 or more, and just 1% said their grocery bill is that high in a typical week.
Still, those purchases are being used quickly. Consumers reported cooking an average of six dinners at home over the previous seven days, compared with 3.8 weekly home-cooked dinners in a 2018 eMeals survey. Americans, too, continue to depend on restaurant-prepared food during the COVID-19 crisis: 51% picked up takeout meals from local restaurants, and 15% had restaurant meals delivered by a service such as DoorDash or GrubHub. 
"Shopping and cooking habits have clearly been impacted by the coronavirus outbreak," eMeals CEO Forrest Collier said. "Short supplies at grocery stores, restaurant closings and the need to reduce the number of shopping trips to limit exposure are changing behavior, including prompting more consumers to use online grocery services for curbside pickup or home delivery."
Lasting changes for online grocery?
Worried about exposing themselves to COVID-19 by going into stores, many grocery shoppers have opted to make food purchases online, either by increasing their use of online grocery delivery or pickup service or trying it for the first time. But the sudden flood of consumers ordering this way caused problems for retailers and e-grocery service providers.
EMeals said 34% of respondents to its survey sent their weekly eMeals shopping list to online grocery pickup or delivery services instead of going to the grocery store, with more than half opting for Walmart pickup or delivery, followed by Kroger and Instacart. However, 28% of those using online grocery saw delays or cancellations, and 51% placing online orders had to wait two or more days for delivery, rather than the typical same-day or next-day fulfillment.
Nevertheless, 97% of respondents ordering groceries online plan to continue doing so in the future, eMeals found.
"With 97% of respondents to our survey saying that they plan to continue using online grocery in the future despite order delays or cancellations, it's likely that one of the lasting effects of this pandemic will be to accelerate the widespread adoption of online grocery," eMeals' Collier noted.
Strategic advisory firm Brick Meets Click expects at least some consumers to become regular online grocery purchasers in the wake of the coronavirus pandemic.
Thirty-nine million U.S. households (31%) used an online grocery delivery or pickup service during the past month, according to the Brick Meets Click/ShopperKit Online Grocery Shopping Survey conducted March 23 to 25.
Related: FMI: Supermarkets facing a demand issue, not a supply issue
Of note, monthly e-grocery users more than doubled since Brick Meets Click's August 2019 survey, in which 13% of households (16.1 million) reporting shopping this way. Twenty-six percent of online grocery shoppers surveyed (10.3 million households) said they were using a specific online grocery service for the first time — a rate that jumps to 39% for shoppers age 60 and older.
Total monthly order volume, meanwhile, soared 193% from August 2019 levels. Brick Meets Click attributed the upsurge to more households using grocery delivery and/or pickup and a jump in monthly order rates, which were up 19% from August 2019.  
"This is a reflection of current circumstances," said Brick Meets Click partner David Bishop. "Some households are only using these online services temporarily until they feel comfortable shopping in stores again. Other households will continue shopping online for groceries but may choose to switch providers based on the quality of their experience."
When asked about continued use of a specific online grocery service after the coronavirus pandemic dissipates or ends, 43% of respondents said they were extremely or very likely to do so, Brick Meets Click said. Also, 30% of those who haven't bought any groceries online during the past month (16.3 million households) reported they're extremely or very likely to do so via delivery or pickup in the next three months if the health emergency continues.
"The COVID-19 health crisis has clearly fueled a tremendous surge in demand in the very near term," said Bill Bishop, chief architect at Brick Meets Click. "And even though some households will not stick with online grocery pickup or delivery services post-crisis, others will shift to this method of shopping going forward for a host of reasons. This is an important shift for the industry, and we will continue to monitor the trends."
For our most up-to-date coverage, visit the coronavirus homepage.

This article originally appeared on Supermarket News, a BEEF sister website.
Subscribe to Our Newsletters
BEEF Magazine is the source for beef production, management and market news.
You May Also Like
---