Husker team to ID genetic tools to boost cattle growth efficiency
Husker team to ID genetic tools to boost cattle growth efficiency
Study aims to determine how variation in mitochondrial genomes affect overall efficiency.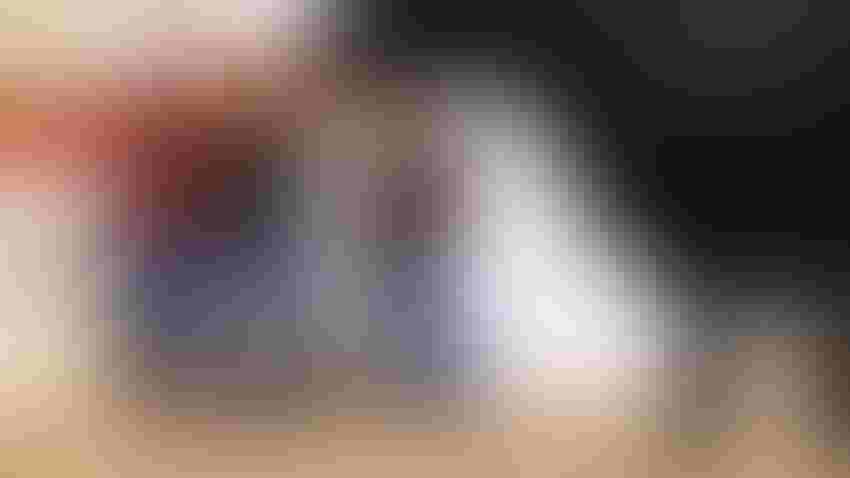 Craig Chandler, University Communication and Marketing
Husker scientists have begun a federally funded study to deepen the understanding of links between genetics and cattle growth efficiency. The project has significant potential to expand the range of genetic tools used by breeders.
The study will focus on cattle's mitochondria, cell components whose biochemical activity produces most of the body's energy for cell function.
Breeders use a variety of genetic data for their operations, but information from the mitochondrial genome of an animal is largely ignored. In this project, a five-person team of University of Nebraska–Lincoln faculty and graduate students will aim to determine how variation in cattle's mitochondrial genomes affects overall efficiency in animal growth.
As a result, said Jessica Petersen, associate professor of animal science, "Information on mitochondrial genotype will serve as a new tool for the selection of the most energy-efficient cows." Those cows, in turn, "will produce calves with the same desirable mitochondrial genotype."
An increase in feed efficiency of just 1% would save the U.S. cattle sector more than $11 million a year, the researchers wrote in their grant application.
The other members of the research team are Dustin Yates, associate professor of animal science; Kristi Montooth, Susan J. Rosowski professor of biological sciences; and graduate students Mackenzie Batt and Lauren Seier.
"This project benefits the feedlot sector, where efficiency of growth is of critical importance, as well as cow-calf operations, where feed represents the greatest expense for each cow," the team wrote in describing the project to the U.S. Department of Agriculture, which is providing a three-year, $650,000 research grant. 
Breeding has focused primarily on selecting the best bulls and their genetic characteristics, but this project points to the benefits of also understanding key genomic information from cows. Mitochondrial DNA is inherited exclusively from the mother, so cows "are the ones passing on this mitochondria that's so important for energy production," Petersen said. "I think we're missing an opportunity to select for better animals."
The project will fill that missing information gap, opening additional opportunities for improved breeding.
An animal's mitochondrial genomic data can be collected alongside genetic data gathered through commercial genotyping of cattle. "We're hoping to show that this information can be collected and used without much additional expense" to bolster genomic evaluations for breeding selection, Petersen said.
For the three-year project, the researchers plan to analyze the genomic data using skeletal muscle samples from about 1,500 steers from the university's West Central Research, Extension and Education Center in North Platte and the Eastern Nebraska Research, Extension and Education Center near Mead.
An advantage of using the university's cattle, Petersen said, "is that they all have a genetic sample that's taken when they're born or when they're received. So, we're already doing some genetic analyses of these animals. When they go through a feedlot, many have individual intake measures showing exactly how much they eat. We can then track how much weight they gained to get measures of efficiency."
The project will benefit by drawing lessons from relevant genomic study elsewhere in the Institute of Agriculture and Natural Resources — in this case, genomic analyses, or assays, Montooth has done of fruit flies.  
"We are taking what Dr. Montooth has learned from those assays, and we're applying it to beef cattle," Petersen said. "That is a little bit of a challenge. When they do a fruit fly assay, they grind up the whole fruit fly, and they can study it." In this cattle-focused study, by contrast, "We're studying with a little piece of muscle, and we're actually finding we have to dilute our sample down quite a bit, because mitochondrion in muscle of cattle are very active."
The USDA-funded mitochondrial study has a logical and promising follow-up, Petersen said. "The next step is figuring out how the mitochondrial genome interacts with proteins with the nuclear genome" also located inside cattle cells. Once those findings are complete, "That gives us a whole other tool to select for animals that have those better symbiotic genomes."
Those improved genomes, she said, will work together to make the animal even better.
The research is supported by the intramural research program of the U.S. Department of Agriculture National Institute of Food and Agriculture Agriculture and Food Research Initiative.
Subscribe to Our Newsletters
BEEF Magazine is the source for beef production, management and market news.
You May Also Like
---