Making regenerative ranching work for this generation and the next
Making regenerative ranching work for this generation and the next
Regenerative grazing principles take time and patience but show results for the long term.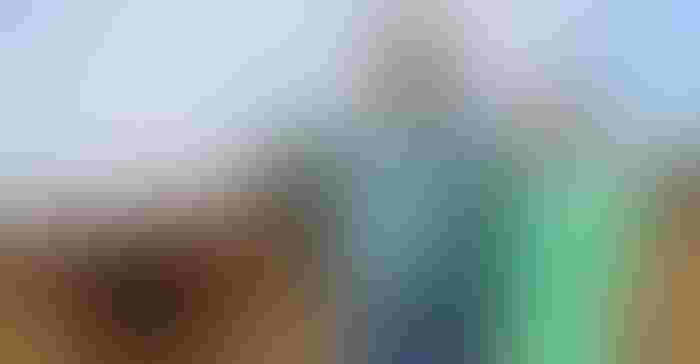 For Sabrina Cope, regenerative agriculture is not just a buzz phrase. It is all the 30-year-old has ever known. She grew up watching her father, Harry Cope, incorporate practices like intensive grazing and cover crops on their diversified row crop and livestock farm in east-central Missouri.
"He's been doing this longer than I've been alive," Sabrina says. "To me, this is how farming should be done."
Cope Grass Farms has been steadily implementing regenerative practices for more than three decades to address rising input costs. But today, with increasing customer interest and supply chain disruptions, it's offering additional benefits.
Farmers are realizing that conventional practices aren't cutting it anymore, Sabrina says. "There needs to be a change, or they may even lose the farm. I think that regenerative ag can help secure the farm for future generations." For that explanation, she turns to her father.
"It's not so much the lowest cost, but regenerative agriculture is the least cost for everybody and the environment," Harry says.
A new approach to farming
Harry, a fourth-generation farmer, started his journey to regenerative agriculture after graduating college in 1984, long before it became a trend. At that time, he was feeding roughly 800 big round hay bales every winter. Today, he feeds fewer than 60 bales, but to a larger cow herd.
The change came as he focused on growing more winter feed and "not putting a machine between the animal and the feed." By that, Harry means, his cattle harvest the crops. "I started with intensive grazing," he explains. "The whole point was to figure out how to run more cows on the farm, and do it cheaper." Harry started using less fertilizer and planting more multispecies cover crops.
The Cope family recently took part in cost-share programs from USDA, Missouri Soil and Water Conservation District and others. The farm went from 50 acres of native grasses to over 350 acres in just seven years, which represents roughly half of the entire operation. Making the transition is not for the faint of heart.
"The hard part has been surviving for the last five years, with 20% of your acreage not in production because of the delay in seedings," Harry explains. "But we knew it was going to be worth it."
In the Cope Grass Farms system, the first year of native warm-season grass production isn't harvested. The second year, they take off about half of the growth. The third year, Harry says, production is even with conventional and that's when the regenerative system shines.
"The really cool thing about native pastures is they don't have a curve where production builds, peaks and then comes back down," Harry says. "It's a climb. Forage production just continues to build on that ground." He anticipates it reaching triple current output.
Making a system work for you
The Copes have found a way to make regenerative ranching work for them, but every livestock operation is different.
Stan Boltz, regional soil health specialist with the USDA Natural Resources Conservation Service based in Huron, S.D., offers keys to customizing a healthy system. "Yes, the first priority is for the producer to make sure that their livestock are getting adequate quality and quantity of forage for nutrition, and that nutrition also includes water."
After ensuring those goals are met, Boltz points to three main things to consider.
Stocking rate. "Every piece of land is capable of supporting a certain number of animals each year," he says, adding that variations that occur from year to year may affect that number. Basic grazing management calls for a "take half, leave half" strategy with the plant material in a paddock. "You want to leave back enough plant material so that those plants can replenish themselves," he says. "If you graze too much, those plants will start being negatively impacted — but also, on the flip side, the animals will start to suffer in their performance."This balancing act varies depending on environmental conditions, and Boltz suggests leaving about 1,000 pounds per acre of plant matter — a little less in drier regions, a little more in wetter regions.

Adequate recovery. "Any plant that is grazed uses up the resources that that plant needs to stay healthy and reproduce," he says, "so you've got to provide adequate recovery time for plants within a season, and from year to year as well."Taking grass plants for example, Boltz says that when it initiates growth early in the season or after a grazing event, only 5% to 10% of that new growth comes from stored carbohydrates, mainly found in the residual sheath at the base of the plant and contrary to prior belief that the grass root mass was a huge area for carbohydrate storage. Instead, the 90% to 95% of needed growth comes from photosynthesis, "meaning you have to have leaf area to allow that plant to recover. … you have to have leaves to make leaves."

Changing seasons. Most grasslands are a mixture of cool- and warm-season grasses, as well as early and late forbs and shrubs, "and if you're grazing that particular field, the same time of year every year, cows are obviously going to favor certain species over others," he says. This annual repetition over time lessens the diversity of that plant community. "The key to sustainability on a piece of rangeland is diversity. And the more you can enhance the plant diversity, which leads to the soil microbe diversity underground, it is very much connected." Proper grazing management improves the grassland for the long haul. "You're going to have a more productive plant community, and a plant community that's more resilient through drought and other major disturbances, and just a more sustainable and profitable operation," he says.
Proof in the pasture
While forage production increases, soil health improves. The proof came during a wet-weather event.
At Cope Grass Farms, the 2022 drought broke in July with an 8-inch rain, all occurring overnight. The next morning, Harry and Sabrina surveyed the impact.
"The good part of terrace tile outlets that come out next to the road is, you can see exactly what is coming out of them," Harry says. "And the water wasn't coming out of them. We had excellent infiltration for the circumstances. The practices we use on the farm are improving our soils — there is no question about that."
Harry contends farmers can reach regenerative agriculture goals in five to seven years, if they pay attention to the process. "I've seen it happen."
Making it pay
For Sabrina Cope, the approach her dad, Harry Cope, started in his 20s made the farm viable for her generation. And doing the right thing for livestock and native grasses is one thing — but it's important that these systems pay for themselves.
The Copes use their system as a marketing term in their direct sales to consumers.
Today, Sabrina incorporates the phrase "regenerative agriculture" in the marketing strategy for Cope Grass Farms, which markets beef, pork, lamb, duck and turkeys directly to customers either straight out of the farm freezer or at a farmers market.
Sabrina finds customers are keen on the idea of regenerative farming. "I had one customer who asked if we rotated our paddocks," she explains. "Customers are paying more attention than ever. I think when they see the regenerative agriculture tag, they feel more comfortable asking about the practices on the farm."
Recently, they also secured the Audubon-certified label, calling attention to their livestock being grazed on bird-friendly land.
"It is just one more way we can differentiate our products from others in the marketplace," Sabrina says.
"It shows that we can farm while caring for the wildlife and the environment," Harry adds.
Not everyone can, or wants to, sell directly to customers, though. And for them, Hugh Aljoe, director of producer relations for the Noble Research Institute, Ardmore, Okla., has some words of advice for making regenerative ranching pay for them.
Start small. Aljoe calls it a "safe-to-learn scale." That is, you want your initial grazing project to be big enough where you can learn something from it, and to make sure you're learning from those early mistakes. He adds most people can start with a good solar charger, a battery and a few reels of high-quality poly-wire fencing. Good equipment that can allow you to grow as you adapt more land into the system is a smart buy.

Cut costs. Aljoe advises ranchers to plan ahead and think through their system, and part of that is tackling the biggest cost centers. Knowing your enterprise costs (like feed, fertilizer and veterinary care) and your overhead costs (farm labor, for example) is critical to making regenerative ranching pay.

Manage the herd. In a regenerative grazing system, it's critical that cattle producers keep those cows that get bred on the available range resource with minimal amount of feed and additional supplementation, and in a short period of time, Aljoe says. An open cow is an expensive cow.

Consider calving later. Aljoe says this may not work for every cattle producer — but in a regenerative system, later calving means those cows are giving birth in consistent weather, with green pasture, and they'll be easier to maintain and breed back. Marketing those later calves in the winter, after the fall run, also is an opportunity for profit, he adds. 
Aljoe says regenerative ranching can work for any rancher, but there's a lot of thought that needs to go into building and maintaining a system for the long-term.
"It really gets down to, what are you willing to manage?" Aljoe asks.
Subscribe to Our Newsletters
BEEF Magazine is the source for beef production, management and market news.
You May Also Like
---