Rodeos Put Animal Care Front & Center
Rodeos Put Animal Care Front & Center
Rodeos put animal health and welfare in front of fans. How rodeo has used veterinary information to prepare for—and respond to—a range of questions can be an example for the beef industry.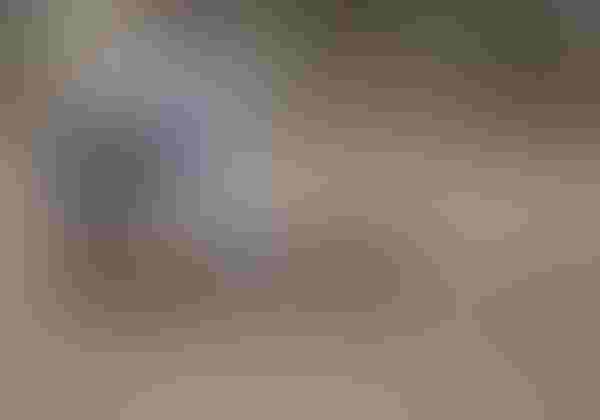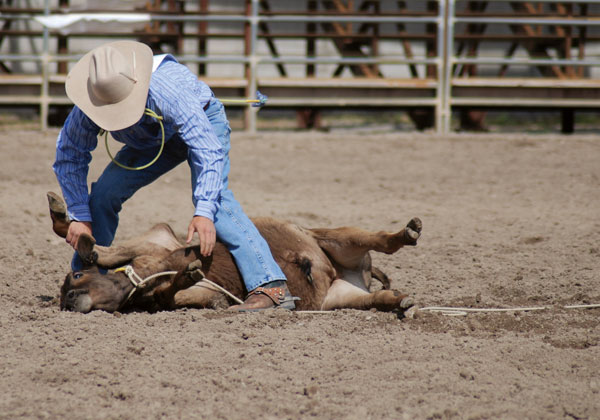 Many rodeo disciplines originate in traditional livestock activities, like roping calves, but today's rodeo fans aren't always cowboys and cowgirls. In fact, there are few other places where any city slicker can get so close to working animals.
Each year, more than 30 million fans attend almost 600 Professional Rodeo Cowboys Association (PRCA) rodeos across the country and in Canada. A fan base without agricultural roots and the sport's high visibility makes rodeo a target for animal activists and a steady stream of fans that simply want more information.
How rodeo has used veterinary information to prepare for—and respond to—a range of questions can be an example for the beef industry. Local rodeo events themselves may offer opportunities for the general public to get closer to livestock.
Good Health, Good Performance
With events ranging from steer wrestling to calf roping, spectator questions often revolve around the topic of animal health and welfare.
Addressing questions firsthand is an initial step to a successful interaction, says John Barnes, a second-generation stock contractor and part of the family-run Barnes PRCA Rodeo Company in Peterson, Iowa. He is also the livestock superintendent for the Wrangler National Finals Rodeo in Las Vegas, which places him in charge of the care of all bulls, broncs and calves brought in for the competition.
Barnes says he starts by reminding fans that each rodeo is a performance and animal health is critical to any athletic performance for humans or animals.
"Personally, the reasons for taking good care of the animal's health are so important to me," Barnes says. "I've been raised around livestock, and they only perform as well as they feel. They have to be at their peak health to perform at their peak ability. The cattle break from the box faster when they feel good. It's the same with the horses and the bulls."
For Barnes, addressing each and every question is key to ensuring everyone has firsthand information. If spectators don't hear the truth from him, they can get information from activists and other sources.
Questions arise both from spectators and from folks in the livestock industry that want to know how the sport differs. Barnes is well placed to address these inquiries as he feeds about 300 head of cattle used in rodeo competitions at his ranch in Iowa, in addition to caring for 40 cows, 300 horses, 150 bulls and farming 600 acres of row crops.
"We get questions from both sides," Barnes says. "With cattle professionals, we have to get away from what they are used to in the feedlot or pasture business. When you travel as much as we do, the calves are used to different feeds and water. They are also used to travel more than the average livestock. When we load up shortly after the performance, folks are surprised how easy it is. We have to continually adapt to the conditions that are dealt to us, and the animals are used to that, too."
Barnes is quick to point out that in many ways livestock and rodeo are similar. Just like food animals, ensuring cattle and horses have fresh, clean water is critical.
Comingling and long hauls are a part of any rodeo stock's daily life, and Barnes' animal health program focuses on prevention, including a lineup familiar to most beef producers: dewormers for external and internal parasite control; vaccinations for BVD and anaplasmosis; and West Nile vaccinations for horses.
External parasite control is of a greater importance in rodeo stock, Barnes notes, because spectators can see a rough hair coat and may incorrectly assume the animal is not being treated well based purely on appearance.
In addition to a focus on prevention, simply keeping an eye on the animals is the fastest way to detect changes in health status.
"A change in routine is a change in health," Barnes says. "It's important to keep an eye on them. When you're in the hospital, they wake you up to check on you. Just like that, if you want to make sure animals are doing okay, you have to check on them routinely."
This close attention to health and behavior changes is a side of both the livestock industry and rodeo that most people don't get to see, Barnes says. Allowing fans to talk to him and other stock contractors is one way to show firsthand how the animals are treated.
Like what you are reading? Subscribe to BEEF Daily for the latest industry news in your inbox Monday through Thursday.
The close veterinary care of both food and rodeo animals is another area for which the general public often has no knowledge. In fact, veterinarians are required to be onsite for all PRCA rodeos, says Doug Corey, DVM, Chairman of the PRCA Animal Welfare Committee and a veterinarian at Associated Veterinary Medical Center in Walla Walla, Wash.
In addition to the availability of veterinarians, rodeos Dr. Corey has been involved with often include meetings before the event and again immediately after the event to evaluate, assess, discuss and, if needed, practice any animal handling or health procedures at the rodeo. Each step helps the team caring for the animals to be prepared, well practiced and helps prevent injuries. The immediate regrouping helps any rodeo continually evaluate its level of care to animal athletes and revise if needed.
While a team of people are often involved, Dr. Corey says everyone can understand the education and devotion to animal care a veterinarian provides, which puts veterinarians in a unique position to speak with credibility.
"Veterinarians themselves, the mere fact that they are the caregiver to animals, lends them more credibility," says Dr. Corey, who is also a member of the American Association of Equine Practitioners (AAEP) and has many non-rodeo equestrian clients in his hometown. "We are expected to know more on these issues, but we must earn that credibility by being honest with the rodeo committees we work with and the communities we are involved in."
Honest Answers for Ongoing Respect
The general public may never see a grazing heifer with a case of pinkeye or other common issues livestock producers face. When an animal is injured during steer wrestling, on the other hand, hundreds may be in the crowd.
Dr. Corey says there are no tricks of the trade to dealing with hard questions, just truthful honest answers. "Whenever something happens, you need to tell the truth," Dr. Corey advises. "If an injury happens, we write a press release and put it right out there, but we also talk about the low injury rates in the sport overall."
On-site veterinarians and judges keep a close eye on the injury rate at rodeos, which has averaged .0005 in all participating stock in all disciplines of PRCA competitions. The attention to animal husbandry by stock contractors and trained eye of veterinarians helps prepare the rodeos for the best outcome possible. On-site and immediate communication is one way to prepare for, and prevent, miscommunication. Taking that information to social media is a tactic the PRCA uses to make sure the information spreads as far as possible.
In fact, the PRCA uses a variety of electronic communication to communicate directly with almost 600 local rodeo committees, says Cindy Schonholtz, Director of Industry Outreach at the PRCA, which is headquartered in Colorado Springs, Colo. "Now social media and e-mail action are really important in communicating," Schonholtz says. "We have monthly e-mails concerning disease outbreaks and educational materials that are available."
When communicating about rodeo or the livestock to anyone unfamiliar with the industries, Schonholtz recommends assessing the audience's level of knowledge.
For instance, using rodeo slang may not be appropriate in all instances and the speaker must be aware of the experience of each person involved in the conversation. Veterinarians, she says, often prefer to discuss questions with another veterinarian for peer-to-peer conversations.
Communicating with the public or veterinarians is one thing, but dealing with the government is an area where a veterinarian's expertise and credibility are critical, Schonholtz says. Dealing with the government is a necessity for anyone transporting animals across state lines, and the communication becomes more important during a disease outbreak like the equine herpesvirus-1 (EHV-1) outbreak that occurred last summer.
"The EHV-1 outbreak was peak rodeo season," Schonholtz recalls. "Without veterinarians on-site, I don't know if we could have gone on. Vets keep an eye out and have a plan with state animal health issues. Luckily, we didn't have to cancel any events."
Dealing with Disease Risk
As with the outbreak of EHV-1, the livestock and rodeo industry share a concern for disease transmission. Not only is disease an economic concern, but it is also highly visible to the general public. In cattle, bovine tuberculsosis (TB) is an area where both rodeo and livestock understand the importance and risk associated with transportation.
"Bovine TB is something we're working with state, federal and international animal health agencies regarding Mexico-origin cattle," Schonholtz says. "Even though it's an issue everyone in rodeo faces, veterinarians are really the people we look to in this area."
Contagious disease like bovine TB is an area requiring the expertise of stock contractors, veterinarians, livestock producers and government officials, Dr. Corey notes.
"The people that have the steers from Mexico, even though they are TB-tested, our job is to make sure they don't stable or stall next to native bulls or calves because if they touch noses they can spread the disease," Dr. Corey says. "We also advise that if they go home, they should not be comingled. That is a new challenge and trying to spread that word is going to take a long time."
In his work as a livestock superintendent, Dr. Barnes advises evaluating the rodeo facilities and formulating a plan to prevent the spread of disease and keep animals healthy.
"It doesn't make any difference as to size or budget of the rodeo, it's what you're able to think through and adapt to," Dr. Barnes says. "For example: Shade for the calves. Some people think you might need a big building, but you can hang a tarp up, and that works well. If water isn't easily accessible, you can just make yourself more available to bring water in as needed."
To protect against disease transmission, Dr. Barnes also advises that stock be brought in ahead of time, but kept offsite and isolated before being comingled at the rodeo. The time allows animals to be watched for signs of disease and also to adjust to their new surroundings.
Planning for veterinary care is another element Dr. Barnes considers closely.
"We're in contact with our hometown veterinarian all the time," he says. "If we're on the road and have something that we feel is going wrong, we'll have a veterinarian on the road look at them. Paying attention is the best advice to controlling disease."
Disease of Misinformation
Concerns over EHV-1 or bovine TB may be "hot" topics within the livestock and rodeo industries, but the general public often has more basic questions. Schonholtz says the biggest challenge facing rodeo today is the fundamental difference between working and companion animals.
"An animal that has a purpose gives it value and care," Schonholtz says. "Every part of that involves veterinarians. They can help us explain the role of veterinary care, and animals that have jobs receive more veterinary care because they have value. Without healthy livestock, we don't have an industry at all. As with any industry that has animals, the health and welfare has to be the top priority, or we don't have an event or don't have a successful event."
Schonholtz regularly works with the National Cattlemen's Beef Association (NCBA) and other livestock groups, but also advocates for local and personal interactions, which are small steps everyone can take. For instance, the PRCA mobilizes its local rodeo committees to help spread this message at each local event where media are often invited and behind-the-scenes tours are given to showcase animal handling facilities.
"We encourage local committees, the rodeo veterinarians and the stock contractors to talk about how they care for the animals and their purpose," Schonholtz says. "Local committees are encouraged to contact media, introduce stock contractors to media and bring positive coverage to their event."
Schonholtz points to new rodeos this year, like the Breckenridge, CO, rodeo which has helped cross the divide between urban and rural.
"Recently, I worked with the rodeo committee in Breckenridge, and there was some pushback from people that didn't understand the care of the livestock," Schonholtz says. "For the general public to put a face on the people that care for the livestock, it was huge. There is nothing more genuine than looking face to face with a person that cares for the animals."
Face-to-face interaction with people dedicated to the care of animals is the best medicine to treat misinformation, Dr. Corey says.
"A local rodeo offers opportunities to interact with the public and educate people about livestock and rodeo animal health," he recommends. "Over the years I've given interviews, participated in tours and talked with newspapers ahead of time. Communication is the biggest issue there is in all the livestock industries. Rodeos are community activities, and if a veterinarian wants to be involved in a rodeo, get involved in the community first. Vets have the credibility to tell their side of the story, and they should get out there and share it."
You might also like:
60+ Stunning Photos That Showcase Ranch Work Ethics
Cattle Market Weekly Audio Report, March 2, 2013
Increased Beef And Meat Production Add Market Pressure
Subscribe to Our Newsletters
BEEF Magazine is the source for beef production, management and market news.
You May Also Like
---