Senate GOP budget proposal cuts ag department budget
Senate GOP budget proposal cuts ag department budget
Proposal also changes several rules to allow senators to rush tax bill through.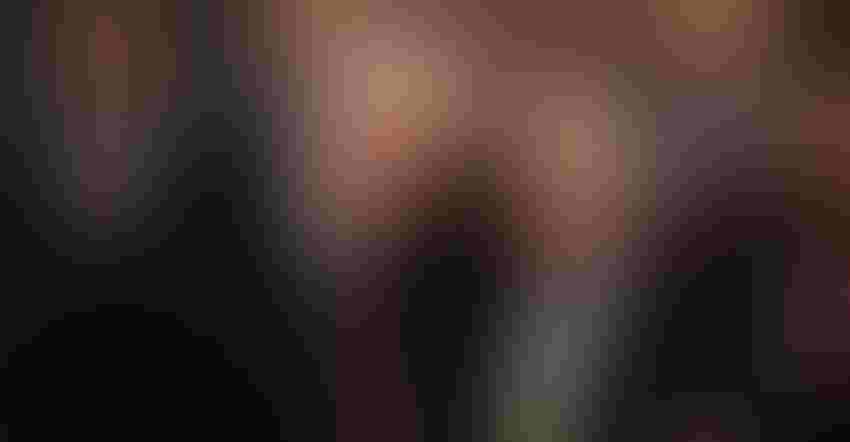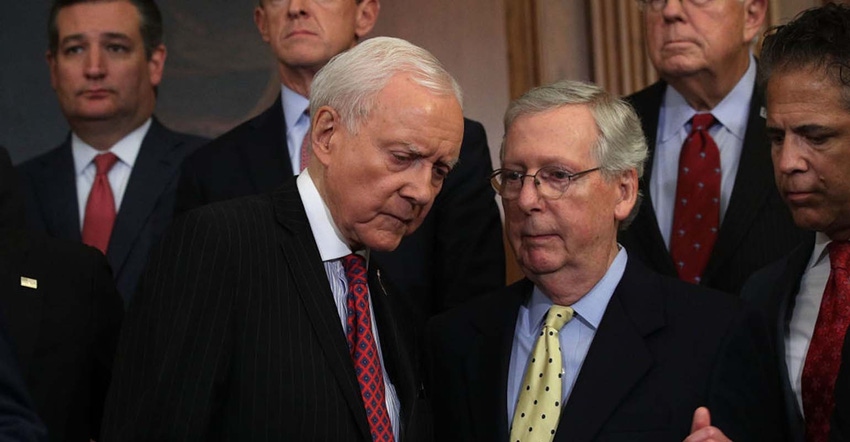 Senate Majority Leader Mitch McConnell, right, listens to Sen. Orrin Hatch as they attend a press event on tax reform on Sept. 27, 2017, at the Capitol in Washington, D.C.
Alex Wong/GettyImages
by Erik Wasson 
Senate Republicans unveiled a fiscal 2018 budget resolution Friday that they intend to use to push through as much as $1.5 trillion of tax cuts in the coming months, but it won't allow the GOP to pursue a full repeal of Obamacare.
The budget proposal would still allow Republicans to pursue a much narrower attack on the Affordable Care Act, including repealing the individual mandate to purchase coverage. The resolution also would let the GOP use the fast-track process to open up drilling in the Arctic National Wildlife Refuge.
The budget, authored by Senate Budget Chairman Mike Enzi, forecasts a balance in nine years through $5 trillion in largely unspecified spending cuts. Unlike the House budget proposed in July, Enzi's blueprint doesn't call for cuts to Medicaid or a partial privatization of Medicare.
"A pro-growth tax plan will move the U.S. economy forward and help to produce better jobs and bigger paychecks for every American," Enzi, of Wyoming, said in an emailed statement. 
The Senate draft is to be voted on by the Budget Committee next week, with floor votes planned later in October and a conference to resolve differences with the House after that. The House plans a floor vote on its budget plan next week.
Tax Cut
Once in place, the budget resolution would allow Republicans to bring up a tax-cut bill that would increase deficits by as much as $1.5 trillion, compared with a Congressional Budget Office baseline. Under the fast-track process, the GOP-controlled Senate could pass the proposal with no Democratic votes. 
The budget sets a target for the Senate Finance to report back with its draft tax bill by Nov. 13.
"The Senate budget resolution drafted by Budget Committee Chairman Mike Enzi is a critical step to advance President Trump's agenda to provide tax relief for the middle-class and unleash economic prosperity for all Americans," said White House budget director Mick Mulvaney in a statement. "I urge the Senate to pass this resolution and come to a swift agreement with the House so President Trump can sign America-first tax relief into law this year." 
Senate Democratic leader Chuck Schumer of New York said the GOP plan would "blow a huge hole in the deficit and stack up debt, leading to cuts in programs that middle-class Americans rely on."
Individual Tax Rate
President Donald Trump and Republican leaders announced a tax-cut plan Wednesday that would cut the top individual rate to 35% from the current 39.6%. It would let Congress decide whether to create a higher bracket for those at the top of the income scale. The rate on corporations would be set at 20%, down from the current 35%. Under Senate rules, any tax cuts that increase the deficit would have to expire in 10 years because the budget process can't be used for long-term deficit increases.
The provision making it easier for Congress to allow oil and gas drilling in part of the Arctic National Wildlife Refuge was sought by Alaska Republican Dan Sullivan. Under the proposal, royalties from oil and gas production in the wildlife refuge would be raise revenue that could help offset at least $1 billion in tax cuts over a decade.
The proposal's instructions to the Finance Committee could allow a partial repeal of Obamacare, although panel Chairman Orrin Hatch has said he will keep that separate from a tax overhaul. Republican leaders have said they won't try again on the health-care law until fiscal 2019.
Balanced Budget
When Republicans attempted to use the 2017 budget process to repeal Obamacare earlier this year, they didn't provide a 10-year plan for reducing the deficit. 
The new Senate plan proposes a balanced budget within nine years, while leaving it to other committees to figure out how to achieve that. The proposal calls for $4.8 trillion in spending cuts over 10 years and $1.635 trillion in revenue losses, including the tax cuts. Balance by 2026 is achieved by assuming $1.2 trillion in economic growth, in part due to the tax cuts. Enzi claims to achieve a $197 billion surplus in 2027. 
The Republican assumptions of robust economic benefits from the budget were called into question by a separate CBO analysis. CBO predicted that the budget would reduce economic growth in the first two years and slightly increase it in later years. 
CBO estimated that annual real GDP growth in the first two years would average 1.3%, down from an average of 1.6% in CBO's baseline. In later years, real GDP growth would be 2.0%, compared with 1.9% in the CBO baseline.
The budget, unlike the one proposed by Trump in May, would hold defense spending at the current budget cap instead of the president's proposed $489 billion defense increase over 10 years. Non-defense discretionary appropriations -- which fund domestic agencies like the Agriculture Department and National Institutes of Health -- would be cut by $632 billion over 10 years compared with $1.6 trillion in Trump's budget request.
While the Trump and House budget proposals contain a number of nonbinding policy suggestions to carry out their spending cuts, Senate Republicans -- weary of policy infighting -- are keeping things vague.
Medicare, Medicaid 
The House budget seeks to make $203 billion in cuts in entitlements such as Medicare, Medicaid and food stamps, and it could be used to fast-track changes to the Dodd-Frank financial law. The Senate plan avoids those options. 
The Senate proposal does allow adjustments to increase the defense spending caps. It also urges senators to revise the Children's Health Insurance Program, improve management of wildfire-prevention funding, prevent private-pension bailouts and improve services to veterans.
The budget resolution doesn't address Social Security, which will run a trillion-dollar-plus deficit in the coming 10 years. In the past, Republicans have sought to balance a "unified budget" that includes the program. This time, they are keeping it "off-budget."
CBO says that without the Social Security accounting move, Enzi's budget would never balance and would show a $424 billion deficit in 2027.
The nonpartisan Committee for a Responsible Federal Budget said in a statement it prefers the House budget. "We encourage the Senate to look to the House Budget Committee, which passed a budget calling for revenue-neutral tax reform and at least $200 billion of mandatory spending cuts on top of that," it said.
Dynamic Scoring
The Senate plan renews authority for the CBO and Joint Committee on Taxation to use so-called dynamic scoring when evaluating bills -- a move allowing lawmakers to assume that tax cuts will cause economic growth that would offset some of the revenue loss.
And it changes several rules to allow senators to rush a tax bill through, including abolishing the need for a CBO analysis at least 28 hours before a vote.
The Senate plan avoids other tricks, though. Enzi included provisions to keep appropriators from using phantom cuts known as "changes to mandatory programs" to offset discretionary spending increases. 
The chairman also rejected pressure from some lawmakers to use a baseline number for tax revenue that would allow $450 billion in additional tax cuts. Instead, he stayed with the baseline used by the CBO.
To contact the reporter on this story: Erik Wasson in Washington at [email protected]
To contact the editors responsible for this story: Kevin Whitelaw at [email protected]
Laurie Asséo
© 2017 Bloomberg L.P
Subscribe to Our Newsletters
BEEF Magazine is the source for beef production, management and market news.
You May Also Like
---