Visit with Iowa State experts
Visit with Iowa State experts
Iowa State research and innovation spark Farm Progress Show conversations.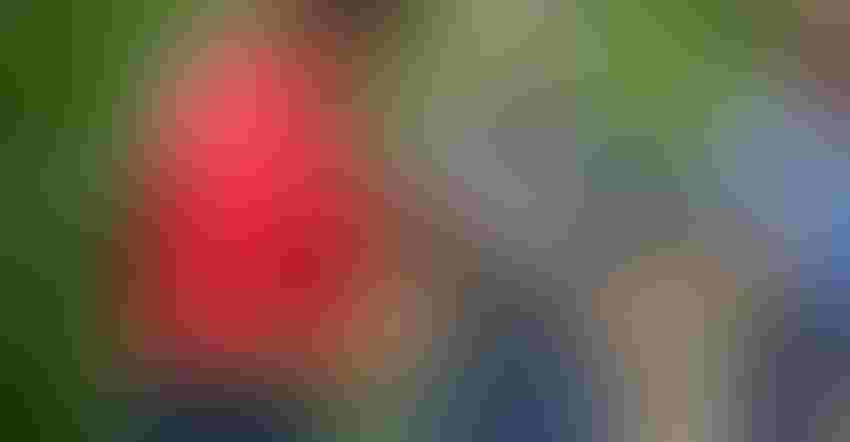 TIMELY TOPICS: Agronomist Mark Licht will be one of a number of specialists at the Iowa State exhibit to answer questions and provide helpful information.
By Willy Klein
At the 2018 Farm Progress Show, the Iowa State University Tent — with its splashes of cardinal and gold — will be easy to spot at the corner of Central Avenue and Seventh Street.
ISU and Extension and Outreach faculty will be at the tent to talk with and answer visitors' questions on soil, water and crops, as well as land, weeds, monarch butterflies and other topics.
"There are rewards to be had from conversations between crop producers and members of ISU's integrated crop management team," says Mark Licht, agronomy assistant professor and Extension cropping systems agronomist. "Farmers learn about recent research; researchers learn more about the complex and critical issues farmers face."
Learning from each other at FPS
Visitors will have conversations with agronomists, entomologists, plant pathologists, climatologists, ag engineers, farm management specialists and other program specialists over the three days of the show.
A robot roaming among soybean plants and a smartphone app for detecting diseases and other stressors will demonstrate technology being developed at ISU.
Iowa maps, one showing land-grant parcels and another showing land suitable for saturated buffers, will give landowners new perspectives on their land.
Down in the dirt
Health belongs to living things and soil health is no different. Learn what is living in the soil, how to determine if it's there, and what it means to crop production.
Visitors will find weeds at both ends of the building. In one area, researchers will encourage planting milkweed for monarch butterfly habitat. At the other end, visitors will explore the herbicide resistance of weeds commonly found in Iowa fields.
The north lawn will stage two very distinct demonstrations: manure applicator calibrations and demonstrations of edge-of-field structures.
Planter boxes of weeds will give visitors the challenge of identifying the 10 most common Iowa weeds in two different growth stages.
Two student groups will have vehicles on display on the south lawn: team PrISUm and the ISU solar car, and the Cyclone Power Pullers with their quarter-scale tractor, CY-ger. The ISU bookstore again will sell ISU gear from their trailer on the south lawn.
A schedule of "Ask the Expert" speakers and topics will be posted at the ISU exhibit and are also available on the ISU Farm Progress Show webpage.
Klein is a communication specialist with Iowa State University Extension and Outreach.
Subscribe to Our Newsletters
BEEF Magazine is the source for beef production, management and market news.
You May Also Like
---