Watching the cattle from on high
Watching the cattle from on high
The Lazy TV Ranch built a new calving barn that has a 100-foot-long catwalk 8 feet above the cows.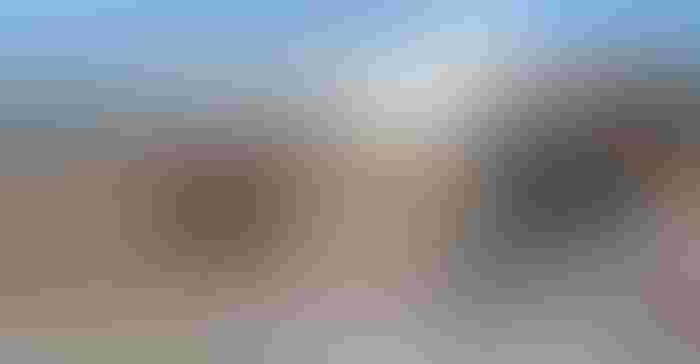 CALVING FACILITY: The Lazy TV Ranch built a 60-by-120-foot calving barn that will hold 250 to 300 head.
By B. Lynn Gordon
The Lazy TV Ranch in Selby, S.D., has a recently built catwalk in its new calving barn. The catwalk is 100-feet long, 8-feet above the cows and runs along one wall of the barn.
"Video cameras are helpful, but it's still nice to be able to walk back and forth on the walkway, viewing the cattle without disturbing them," says Vaughn Thorstenson, co-owner of the Lazy TV Ranch.
Built in 2017, the 60-by-120-foot barn holds 250 to 300 head. Housing consists of individual pens for recently calved cows and their calves, and group housing. On each end of the main barn are two open-front, south-facing shelters. One, 80 feet long, provides added protection and space for cows approaching their calving date and where cattle can be locked in at night. The other, 32 feet long, holds cows after they have calved. Cows have access to a large outside pen.
 Calving site manager Dustin Burggraff is most pleased with the lights inside and outside the facility. "They are motion activated and dimmable," he says. "When lights are lit there are hardly any shadows or dark corners."
The light reduces user fatigue, says Burggraff, who spends long hours in the barn each winter. They usually start calving about Feb. 1.
"With our total cattle numbers and a tight calving season, there is never just one cow calving at a time." he says. "It seems they calve in groups of two, three or four, so we need to be watching and accessible to match up pairs and move them into individual pens."
He says he was surprised by how much the cows seem to like barn. "I leave the barn door open during the day for the cows to come and go as they please, and of about a half to a third of the calves born during the day, the cows voluntarily came into the barn to calve."
Important details
Thorstenson and his business partner, Brian Begeman, looked at a lot of other calving barns and visited with many other cattle producers before building the barn. It incorporated details from other barns and ideas that he and his crew came up with.
For instance, the office area includes a long counter that they use for making and sorting tags. There are whiteboards on the walls to keep track of data and leave messages and notes for the ranch team.
As a safety precaution, they lined the interior walls of the holding barn with extra fencing in case they encounter a protective cow. "Sometimes we forget, you can't climb a smooth wall," Thorstenson says.
Careful planning and a little dreaming about what would make an ideal calving barn paid off at the Lazy TV Ranch.
"It's nice when something you have built works better than you could have ever imagined," Burggraff says. "The barn really sings."
Gordon is a Sioux Falls, S.D., freelance writer and a business leadership consultant.
Subscribe to Our Newsletters
BEEF Magazine is the source for beef production, management and market news.
You May Also Like
---