Where artificial intelligence could take agriculture
Where artificial intelligence could take agriculture
An ag engineer explains what's possible now with AI and what could lie ahead.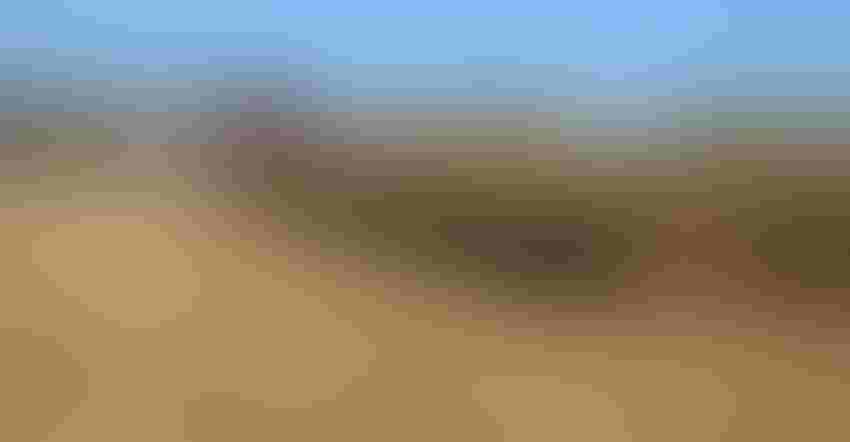 ADJUST ITSELF: Using artificial intelligence, combines of the future could be able to adjust on their own for maximum efficiency during harvest.
By Ben Sheldon
Typically, when AI is brought up around farmers, the conversation turns to how many brood cows they covered this year for breeding. In this article, AI refers to artificial intelligence.
The ability to capture data on the farm has never been more readily available than it is today. Many questions about how to use and implement data are daunting and prevent producers from moving beyond the comfort of basic yield monitors and autosteer.
To make the leap into data management less daunting, original equipment manufacturers (OEMs) and farm management information system groups have shifted their attention toward taking some of the burden out of making data-based decisions by using machine learning algorithms.
An example of machine learning algorithms can be found in the model year 2019 New Holland combine, which made its debut at the Agritechnica farm show in 2017. The New Holland combine development team announced the patented proactive and automatic combine feature described below and commercialized as the IntelliSense system for the CR Revelation range of combine harvesters.
The Field and Yield Prediction System is a self-learning tool that predicts changes in slope and crop density in front of the combine. It uses topology data to anticipate conditions ahead of the header. To predict the yield ahead of the combine, it extrapolates the yield of the adjacent passes already harvested and the GPS yield mapping data of previous passes programmed into the combine. The automation system proactively optimizes the settings accordingly.
With combines sitting idle most of the year, other use cases begin to emerge for potential innovations on other product lines:
• predictive spray prescriptions and spray rates based on harvest data from years past
• changing planter settings such as downforce and singulation based on live sensors recording wind speed, soil temperature and other factors
• changing tillage depth and speed based on cameras evaluating clod size, soil color and other variables
So, what does this one piece of vehicle technology have to do with changing the way farmers conduct business? One of the most common phone calls farmers make prior to planting, spraying and harvesting is regarding optimally configuring machines to ensure inputs are used efficiently. The ability for machines to assume this responsibility enables skilled operators to focus less on tactical tasks such as setting up equipment and more on strategic efforts, including commodity marketing and logistics to make farms more profitable.
Farm equipment dealers
With vehicle data becoming more accessible through data recording devices and tools to accommodate live data transfer, dealerships are turning what was once a pipe dream into reality by compiling and analyzing machine data to make decisions regarding preventive maintenance and service. This gives dealerships and OEMs the ability to ensure their support department has the correct resources on hand and could potentially allow them to address the issue before it occurs. 
An example of what could be stems from software that views fault trends from vehicles the dealership services. Imagine a pesky diesel exhaust fluid fault code that typically appears at around 300 hours on a range of tractor line due to a faulty seal in the pump. The software reads fault codes coming in from 13 of 20 vehicles sold and serviced in this range. It calculates when the other seven tractors will most likely reach 300 hours and could potentially experience a similar issue. It automatically orders parts for them based on these predictions.
Combine this with improved logistics and delivery models seen with companies such as Amazon and Alibaba, and the farmer-dealer relationship could consist of fewer field calls where "hopefully Mike has the right part in his service truck" and more drones landing outside your shop door carrying a part you didn't know you needed yet.
The questions these technologies pose will be answered as industry stakeholders continue to innovate and introduce emerging technology to all parties responsible for global food, fuel and fiber production.
Producers, farm managers
Many long Midwest winters have been spent in farm offices discussing past results, plans, and how different products or services can become part of the farm's equation. Typically, decisions are made based on expertise and what farmers are seeing in the marketplace.
But what tools could become available to producers to mitigate risk based on multiple inflows of information from their operation and markets?
Preliminary types of software have been introduced to help answer basic questions such as seeding rate based on soil and yield maps, but who's to say a computing system couldn't take into account different data types from different places to make decisions? An example could be lists of transparent input prices, interest rates of various operating loans, 10 years of historic yield data and December corn futures to lay out various scenarios and make recommendations accordingly.
With so many products available from so many places, producers need a way to quickly evaluate their options against potential scenarios.
This is leaps and bounds from the handful of long-standing scenarios that producers have used to "crash test" their business plans, some of which are outdated and don't always take into account unforeseen and unpredictable scenarios, such as tariffs and labor strikes.
Key to AI
The key resides in the ability for AI computing programs to pull data through application programming interfaces. Put simply by Dave Roos of How Stuff Works, an API "is a set of programming instructions and standards for accessing a web-based software application or web tool. A software company releases its API to the public so that other software developers can design products that are powered by its service."
A good example of APIs at work today is Facebook's automatic login feature for other apps. Need to set up a new account in a shopping app? You can either manually enter your information or select to sign in with your Facebook account, saving time by reusing existing data in another app or web portal.
The opportunities for producers unfold as APIs start to link various farming apps and portals that provide multiple types of data. Some examples of data that could begin to work together include:
• crop progress and commodity storage levels providing options for your upcoming crop rotation
• fuel prices providing recommendations for tillage planning
• computing how various interest rates for operating loans could affect your net income for the year
• comparing seed prices alongside their yield potential
Where this becomes interesting is when AI does all this work across multiple decision points on your farm. Time will tell the extent to which AI will be involved in farming operations, but it's becoming abundantly clear that it will become a factor — one that producers need to take heed of to stay ahead of the curve.
Sheldon, end user specialist for CNH Industrial's Precision Solutions and Telematics Department, is helping lead customer engagement efforts for CNH Industrial's digital strategy and connected vehicle solutions. He's a former Martinsville, Ind., FFA member and Purdue University graduate.
Subscribe to Our Newsletters
BEEF Magazine is the source for beef production, management and market news.
You May Also Like
---