2015 barbecues will cost $68.22, says Rabobank; PLUS: 4 food safety tips for summer grilling
2015 barbecues will cost $68.22, says Rabobank; PLUS: 4 food safety tips for summer grilling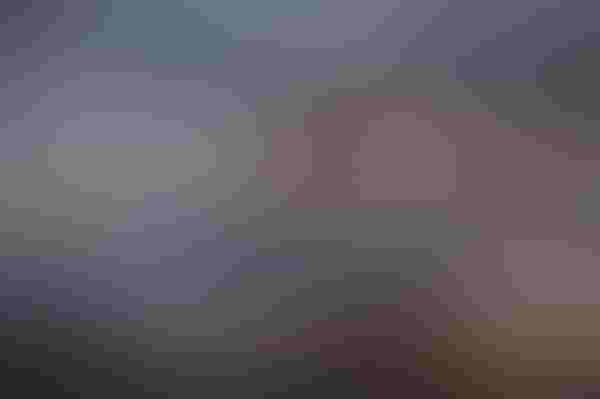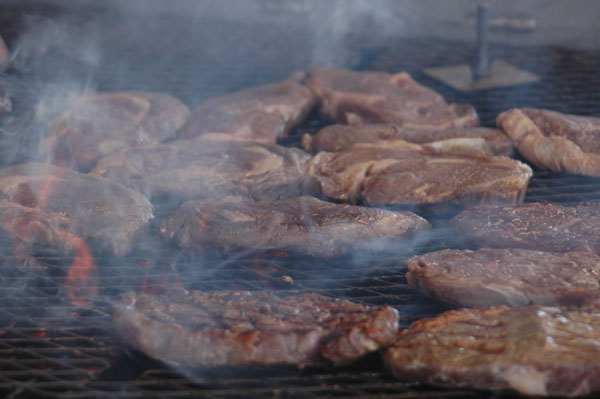 Independence Day is just a few days away, and like many Americans, my family spends the weekend boating with friends and family, shooting off fireworks, and grilling good food. The Fourth of July is the peak of summer grilling and, according to Rabobank, your 2015 barbecues are going to cost $68.22 to feed 10 people, up from $51.90 in 2004.
Rabobank recently released its 2015 BBQ Index, which uses data from the Bureau of Labor Statistics to check prices and track changes for popular barbecue items like burgers, lettuce, beverages and ice cream.
"Consumers will get some relief from dairy products this Fourth of July, with both the cost of cheese and ice cream coming in 2.2% and 4.4% lower than in 2014, respectively," says Ross Colbert, Rabobank head of food and agribusiness research. "Unfortunately for barbeque hosts, those types of discounts do not apply to other popular commodities like beef, tomatoes and lettuce, all of which have risen in price since 2014 from 6.2% to 7.3%. This is the second year in a row that we've seen substantial price increases for retail ground beef, the center of many American barbecues."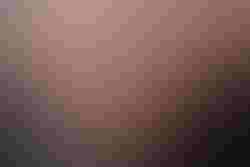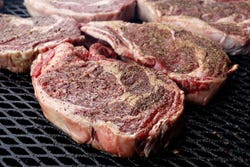 Photo Credit: Amanda Radke
According to Rabobank, beef is the greatest driver of cost increases at summer barbecues, rising 7% from 2014. In the past five years, the price of beef has increased about 80%, largely due to growing international beef demands and a decreased supply as the nation's beef herd is the lowest it's been since the 1950s.
Rabobank says opting to serve chicken, which has lowered in price by 2% since last year, could save consumers up to 10% of the cost of burgers, equating to a savings of $2. However, in my opinion, the cost savings of opting for chicken instead of beef doesn't make up for the "wow" factor that burgers or steaks bring to a summer barbecue.
Also in the report, Rabobank data show that dairy has risen 15% since 2009, although prices are leveling off in 2015 due to an oversupply in the global market. Drinks have risen minimally (0.4%); however, it's worth noting that beer costs account for 28% of the total barbecue expense.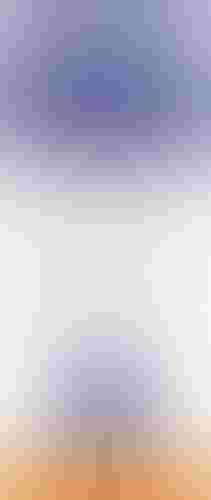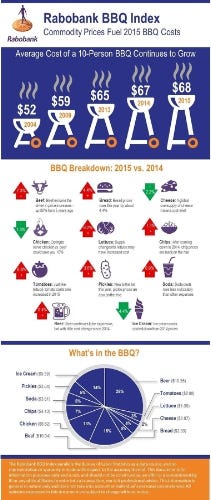 Photo Credit: Rabobank
• Lettuce – $1.06 (up from $0.99 in 2014): 2% of total barbecue
• Tomatoes – $2.09 (up from $1.95): 3%
• Cheese – $2.87 (down from $2.90): 4%
• Bread – $2.93 (up from $2.80): 4%
• Soda – $3.61 (up from $3.58): 5%
• Pickles – $3.64 (up from $3.51): 5%
• Chips – $4.43 (up from $4.37): 7%
• Chicken – $8.52 (down from 8.62): 13%
• Beef – $10.34 (up from $9.64): 15%
• Ice Cream – $9.39 (down from $9.82): 14%
• Beer – $19.35 (up from $18.59): 28%
Now that we know what the Independence Day barbecues are going to cost, let's remind folks how to stay safe when serving a crowd. Here are four food safety tips from Elizabeth Boyle, K-State Research and Extension meat safety and quality specialist:
1. Avoid cross-contamination.  
"Washing your hands becomes important, especially with grilling," says Boyle. "We are taking food outside, handling door knobs, handling tongs, handling raw meat and poultry, and handling fresh fruits and vegetables." If a sink isn't readily available, have hand sanitizer close by, and make sure to clean utensils and cooking supplies and use separate cutting boards for meat and produce, or thoroughly wash the cutting board after each use with soap and hot water. This prevents uncooked meat juices from contaminating fresh, uncooked produce.  
2. Cook meat to appropriate temperatures.  
Keep foods out of the danger zone which is between 40 and 140 degrees Fahrenheit, and use a meat thermometer when cooking. For ground beef, lamb or pork, cook that product to an internal temperature of 160 F. Whole cuts such as steaks and chops should be cooked to at least 145 F. All poultry products need to reach at least 165 F.  
3. Wash produce, not meat.  
When you're working with produce, make sure you wash it before eating, Boyle says. This prevents potential microorganisms on the surface of produce from making people sick.  
"Our modern harvesting practices have washing procedures inherently associated with them, so when you buy your meat at the grocery store, there's no need for you to wash it," Boyle said. "Even if you did wash it, what could result is a lot of cross contamination in your sink area and on your counters from the splatters or the drops that aspirate from hitting the meat surface."
4. Store leftovers properly.  
Put food away promptly after the meal time is over. Food shouldn't sit out longer than 2 hours, says Boyle. Make sure to package up leftovers, and put them in the refrigerator or cooler with ice or ice packs to keep them out of that temperature danger zone.
How does your family celebrate Independence Day? Share your stories in the comments section below.
The opinions of Amanda Radke are not necessarily those of beefmagazine.com or Penton Agriculture.
You might also like:
How to prevent & treat pinkeye in cattle
Feedyard losses: How bad is it?
What's the best time to castrate calves? Vets agree the earlier the better
7 tools to win the war against cattle flies
Subscribe to Our Newsletters
BEEF Magazine is the source for beef production, management and market news.
You May Also Like
---