5 Trending headlines in the beef world - May 10, 2022
5 Trending headlines in the beef world
Here are 5 stories in the beef community, you don't want to miss.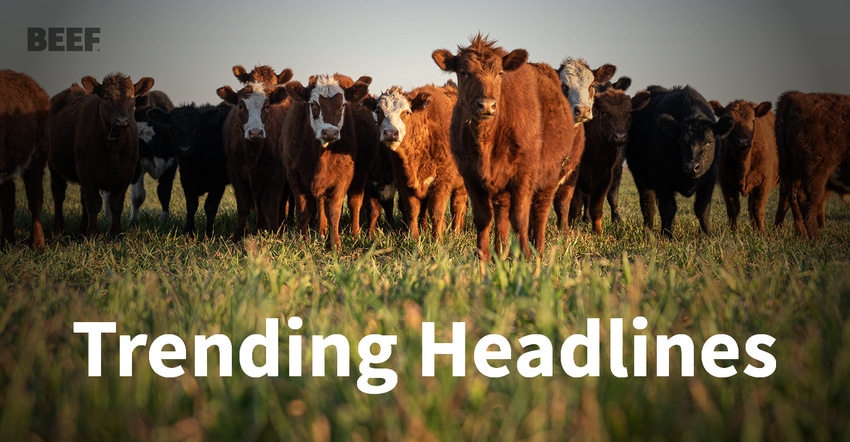 BEEF magazine scoured the country looking for what has cattle producers talking. Here's a look at 5 headlines that appear to be at the top of the list this week.
Found in cattle in the U.S. and Europe, Mycoplasma bovis is a bacteria that can cause cows to develop mastitis, pneumonia, arthritis and other painful conditions. The bacteria is not considered a threat to food safety, but the resulting diseases in cows can cause distress and result in lower milk and beef yields.
Agriculture Minister Damien O'Connor said Thursday that 271 farms had been cleared of Mycoplasma bovis and only a single farm in the country still had the bacterial disease. New Zealand would be the first country that has managed to wipe it out completely.
In an interview with The Associated Press, O'Connor said it had been a traumatic process for affected farmers. If an infection was found on a farm, even healthy cows were killed to ensure the disease was stamped out.
O'Connor said the final farm with the disease was a feed yard where cattle came to be fattened before slaughter. He said the farm would be cleaned of the disease later this year, and it would take several more months of monitoring around the country after that to declare victory.
2. In Colorado, a rancher is battling wolves again as they have started attacking his cattle herd again.
Wolves are believed to have killed at least one calf and caused the death of another in Colorado's Jackson County in recent days, despite a night watcher looking over the herd.
Rancher Don Gittleson, who had already lost three animals to the pack, told the Coloradoan about the most recent attack.
Colorado Parks and Wildlife said in an email Friday that two calves died at the ranch in the past month but there wasn't evidence to confirm that wolves were to blame, such as bite marks.
The pack, which consists of eight grown wolves and includes a female that is suspected to have given birth to her second litter northeast of Walden, has been present on and around the ranch. The wolves had not attacked the Gittlesons' cattle since the family lost one calf and two pregnant cows to the wolfpack in December and January. One of the cows and a calf were killed by the wolves. The other cow was injured so badly Gittleson had to shoot her.
Volunteers have been helping the Gittlesons with night watch over their registered Angus herd since those deaths, which were all late at night.
3. And in Idaho, a grizzly bear has had to find a new home near Yellowstone National Park because it wouldn't stop killing cattle on private land.
A grizzly bear was relocated to an area near Yellowstone National Park by wildlife officials, who said it kept killing cattle on private land. In a statement, the Wyoming Game and Fish Department said the bear was moved to an area about 30 miles from the northeast entrance of the park May 4.
Capturing an animal and relocating it is a method that wildlife officials use to minimize conflict between grizzly bears and people, the department said in a May 6 news release. The strategy is "critical to managing the expanding population of grizzly bears in Wyoming," according to the release.
However, bears are only captured when all other methods of deterring them or preventing them from interacting with people are exhausted, the release said. The location that bears are taken to depends on their "age, sex, and the type of conflict the bear was involved in, as well as potential human activity nearby," officials said. Grizzly bears are only relocated to areas that already have other grizzly bears and bears that pose a threat to human safety are not relocated and may be euthanized. When bears are relocated, the agency consults with other agencies to "minimize the chance of future conflicts and maximize the relocated grizzly bear's survival," the release said.
4. Cattlemen are trying to make a profit in a continuously thinning market. In Wyoming, regional ranchers are advocating for the passage of a federal bill calling for increased cash negotiation in the cattle market, as beef prices soar but the payment for cattle remains stubbornly low.
The issue, according to Brett Crosby, a cow-calf rancher and a commodity market analyst, is a concentrated market with an increasingly rigid price structure and a growing lack of competition. Four big meat packers — Cargill Inc., Tyson Foods, JBS USA and National Beef — control more than 80% of the nation's beef supply. The four packers have together made formula trading the standard in the market, over negotiated cash trade.
Using the information provided in the livestock mandatory price report, packer companies have based most of the market on formula pricing, creating a more universal price for cattle in replacement of a negotiated price between a feedlot and packer operation.
"When the (Livestock Mandatory Reporting program) went into effect, it gave packers a huge data set," Crosby said. "They started using a formula. They just told feedlots, instead of negotiating for the cattle every week, we'll give you the average price."
The method had some merits at first, Crosby said.
Alongside increased efficiency, the formula also gave incentive to ranchers to breed cattle with good carcass characteristics, creating a more standardized level of quality cattle within the market.
But today, the practice is cannibalizing the industry, Crosby said.
Up to 80% of all cattle are purchased under formula pricing, while only 20% are negotiated between a buyer and seller. A number of plants now purchase their inventory exclusively through formula pricing.
"Without intervention, the trend is expected to continue until negotiated trade in at least one major region is virtually eliminated," Crosby said.
With negotiated trade decreasing dramatically, the industry not only has far less competition, but the negotiated market, upon which formula prices are based, is also far more vulnerable to manipulation, keeping payouts artificially low.
Spending time outdoors could take your love of steak away. That's due to a tick-related illness that is gaining in numbers.
people are ringing the alarm about another variety, the lone star tick (named for the white spot on the back of females), which can cause a potentially more concerning condition: a red meat allergy called alpha-gal syndrome.
As the Washington Post reports, if those afflicted eat meats like beef, pork and lamb, the reaction can be severe, ranging from rashes to life-threatening anaphylaxis. Most troubling is that the reaction isn't instantaneous and can occur up to six hours after consuming red meat.
Tick season has begun to stretch longer and longer due to rising temperatures associated with climate change keeping them alive throughout the winter, which also means the ticks are spreading throughout the country. As Mic reports, lone star ticks have been spotted as far north as Maine, and are prevalent throughout most of the Eastern U.S.
In 2013, the CDC said that over 300,000 Americans are diagnosed with a tick-related illness every year, including Lyme and Rocky Mountain Spotted Fever. We don't know how many Americans have alpha-gal syndrome, but the good news is that a bite from a lone star tick does not guarantee alpha-gal syndrome.
But alpha-gal, like Lyme disease, isn't curable, only treatable. The best prevention method is to avoid getting bitten by ticks in the first place: avoid brush areas, use repellents and conduct tick checks after being in wooded areas. To properly remove a tick, use a tool like a Tick Key that prevents squeezing the tick during removal. If you are bitten, seek treatment and monitor your symptoms.
Subscribe to Our Newsletters
BEEF Magazine is the source for beef production, management and market news.
You May Also Like
---