5 Trending headlines not to miss in beef 124125
5 Trending headlines not to miss in beef
Let's look at some of the stories making headlines in the cattle world.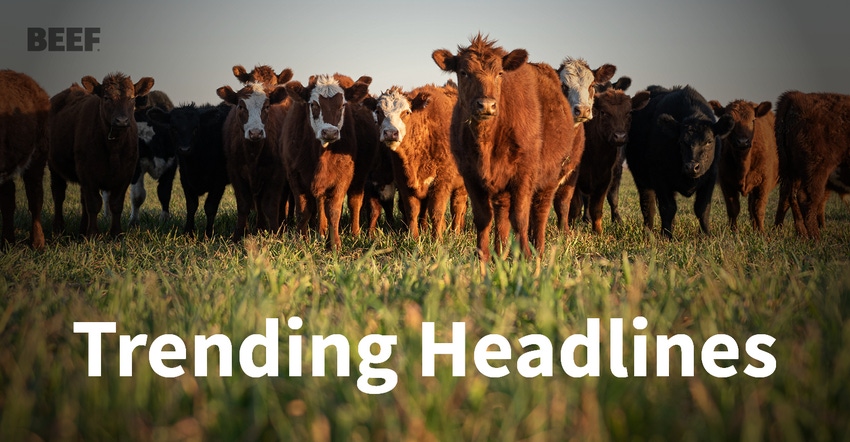 Here are five stories trending in the beef business.
The most recent drought monitor was released today. It's no secret severe and exceptional drought conditions continue to dominate the western part of the USA. The worse conditions are found in the central portions of the states. Dry and drought conditions have improved along the eastern coast, northern Arizona and western Nevada.
Researchers in Nebraska have made a discovery that may help prevent pinkeye in cattle.
While pinkeye is not life threatening, it is very contagious and causes redness, itchiness, pain and discomfort in the eyes of affected animals.
Severe cases can result in blindness and even hamper weight gain in calves, which can weaken the bottom dollar come sale day.
Pinkeye is the most frequently reported disease in beef breeding cows and second most common disease in calves.
A team of scientists from the U.S. Department of Agriculture's Agricultural Research Service (ARS) and the University of Nebraska-Lincoln (UNL) found that there are two different variants of Moraxella bovis, a bacteria that is known to cause pink eye in cattle. This discovery will help scientists understand how different types of M. bovis cause infection in livestock.
It can also help develop preventative measures to protect cattle from getting pinkeye in the first place.
The research team sequenced and compared the genomes of a collection of M. bovis variants and found that they consisted of two major genotypes as well as indentured the differences between the two.
The team sequenced M. bovis strains isolated from cattle from seventeen U.S. states and one Canadian province.
Along with the variations, the scientists also identified proteins located on the outer membrane of the bacteria cell. Because they're located in the outer membrane, these proteins are available to the host immune system.
"Proteins that are unique to one or both genotypes can be used as a target to develop specific preventative actions against any of the genotypes, if necessary," said Wynn.
For years, scientists have been studying pilin proteins, another substance in the bacterium that causes the M.bovis to attach to the eye, striving to develop pinkeye preventions.
However, using pilins to develop interventions could be tricky.
"The pilin gene of M. bovis can undergo an inversion," said Mike Clawson, ARS research molecular biologist at the U.S. Meat Animal Research Center in Clay Center, Nebraska. "This is where parts of the gene flip and are rearranged on the bacterial chromosome," he said.
As a result, a newly formed pilin gene is created that encodes a new protein version of itself, which helps M. bovis avoid recognition by the immune system. Pilin gene inversions have been thought to be a relatively rare process.
However, the researchers saw evidence that multiple M. bovis strains were undergoing the inversions during their study.
This makes the pilin gene a challenge to use as a target and emphasizes why the outer membrane proteins identified in this study are an important discovery, Clawson said.
Russ Daly, South Dakota State University Extension veterinarian and state public health veterinarian, explained in an Extension article that there are ways outside of biology to prevent the irritating disease, namely controlling the environment.
Tall grass can scratch the surface of the eye. Pollen can irritate them. In the summer, flies and other insects become more abundant.
Even sunlight can create an irritation that the M. Bovis bacteria can take advantage of.
Just because the environmental aspects of pinkeye may be hard to control, producers should still do what they can to protect cattle from this painful, production-robbing disease.
3. Despite improved drought status, Montana cattle numbers fell again in 2022
 Improved drought status across much of Montana helped stabilize the state cattle inventory in 2022, but not enough to compensate for the drastic drop in cattle numbers the year prior.
The January 2023 cattle inventory for Montana totaled 2.16 million, which is two percent less than last year's herd size, according to U.S. Department of Agriculture data.
But that's a less drastic decrease than the previous year, when much of the state suffered severe drought, and the herd size dropped 10% to 2.20 million cattle in January 2022.
Nationally, the cattle inventory decreased by 3% over 2022.
Poor growing conditions and high hay costs forced ranchers to make tough decisions about how many cattle they can feed over winter. Without enough feed, ranchers have to sell some of their cows. If they're selling mother cows, that impacts herd sizes for years.
Drought conditions play directly into herd sizes because they determine the availability of feed, said Sam Wyffels, beef cattle specialist for Montana State University Extension.
Most of the state saw enough precipitation to pull out of severe drought in 2022. But north central Montana was an exception, and that likely helped drive the decrease in herd size again this year, Wyffels.
In the Bozeman area, which is "abnormally dry" according to the U.S. Drought Monitor, ranchers aren't having to reduce herd sizes as drastically as the past two years.
But with the looming threat of drought and elevated hay costs, more ranchers are looking into alternative grazing systems and how to reduce the amount of hay they feed, Wyffels said.
"Getting cattle to graze as long as they can and feed the least hay possible has become more popular," Wyffels said.
Wyffels, who focuses on grazing animal nutrient and rangeland, said some ranchers are trying to integrate crop systems into rangeland. For example, some have tried to graze cattle on cover crops or leftover crop residue to reduce their animals' hay intake. But those cropping systems don't fare well in drought either.
Another strategy is weaning calves from their mothers a bit earlier, so the mother cow requires less feed.
Still others are delving into regenerative grazing, which aims to graze cattle on rangeland year round, even in winter. Regenerative ranchers should still have a back-up hay supply though, Wyffels said.
He emphasized that decision making about herd sizes is directly tied to the availability of grazing resources.
"That's why the drought is such a hit, because ranchers don't have enough hay for feed," Wyffels said.
4. Despite national goals, agricultural greenhouse gases grow unchecked in many Midwest states
At Eastern Iowa's Amana Farms, some 2,500 Angus cattle stand at a rail waiting for breakfast. A truck drives slowly down the line, dumping a mix of hay, corn and distillers grains into the troughs.
Manure drops through the slatted floor into a pit that is scraped every hour, shifting manure to a nearby anaerobic digester. The digester, which acts like a 1.6 million-gallon bovine stomach, processes the manure and other food waste into methane, which is captured and turned into electricity. Digesters are one solution to the big challenge of reducing greenhouse gas emissions from agriculture, which makes up more than 10 percent of the total greenhouse gas emissions in the United States as of 2020, the most recent year available.
Agriculture is a major source of planet-warming greenhouse gases, and farming-intensive states like Iowa — with 13 million acres of corn and seven hogs per person — are outsized contributors, federal data show. Iowa ranks No. 2, behind Texas, for greenhouse gas emissions from agriculture.
While nationwide emissions from sectors like energy production have fallen in recent decades, those from agriculture — especially livestock and corn — have grown.
Corn and more corn
U.S. corn growers have been planting more than 90 million acres a year since 2018, far more than the 60 million acres in the early 1980s, the U.S. Department of Agriculture reported. Nearly half of that corn nationwide is used to make ethanol.
The top five greenhouse gas emitters from crop production, according to the EPA's data since 1990, are, in order, Texas, Iowa, Kansas, Illinois and Nebraska. Producing ethanol also causes emissions, but that carbon dioxide is not counted under agricultural emissions data. Neither are greenhouse gases from fertilizer production.
Livestock
Texas, California, Iowa, Nebraska and Kansas — the top five emitters for livestock, according to the EPA data from 1990 to 2020 — contribute more than one-third of the country's emissions from cattle, swine and other livestock.
Some producers are trying new technologies to reduce emissions from their animals, which produce methane through digestion.
Another approach is breeding cows that eat less while still producing the same amount of beef, McGrath said. Or including seaweed in cattle feed to reduce methane.
Lack of progress
Comparing states' greenhouse gas emissions from agriculture can be like comparing apples to oranges. Or rice to strawberries. Or corn to peanuts. That's because soil type, climate and crops can influence emissions, but the multipliers used for the calculations are standardized.
Looking at a state's agricultural emissions over time is a good way to see whether there have been changes, Hall said. Among Midwestern states, the trend lines bounce up and down, not showing dramatic improvement.
To read the entire story, check it out here.
5. Hereford Champions named in Fort Worth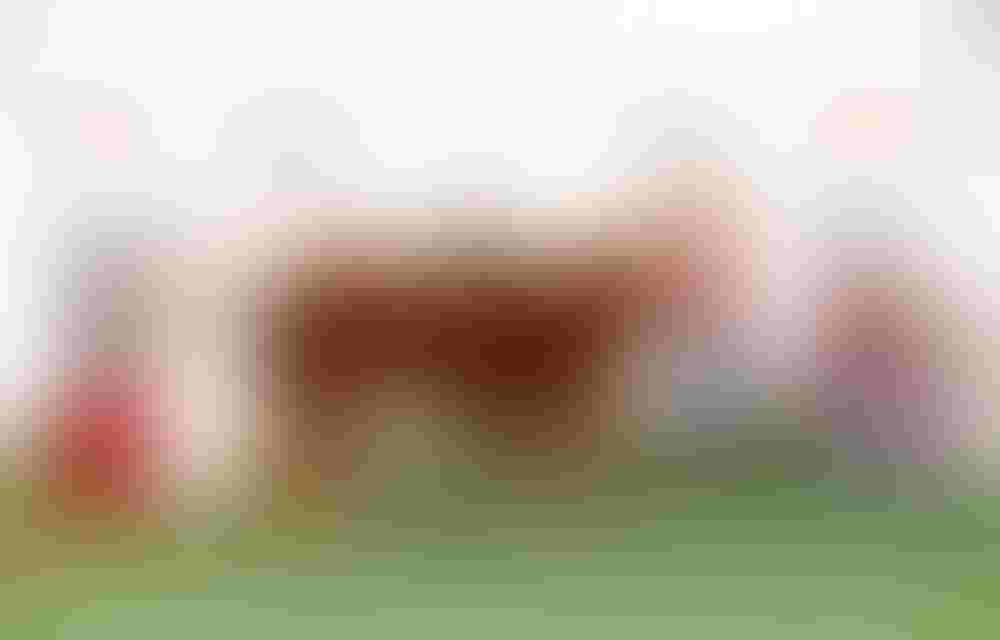 Herefords hit the showring at the Fort Worth Stock Show as Chad Wilson, Wawota, Saskatchewan, sorted the 40-head Hereford bull show and 107-head Hereford female show in Fort Worth, Texas.
Each year, the Texas Hereford and Texas Polled Hereford Associations honor two families who have made an impact on the breed. This year, the horned show honoree was Chastain Cattle Co., Mineral Wells, Texas, and the polled show honoree was Joey Skrivanek, Caldwell, Texas.
Bull show champions GKB Cattle, Desdemona, Texas, and Barber Ranch, Channing, Texas, took home horned champion honors with BR GKB Winchester 1314. This son of BR Belle Air E133 ET was born Sept. 19, 2021, and was first named champion senior bull calf. 4 J Farms, Cabot, Ark., received the horned reserve champion bull banner with H Front Runner 1495 ET. The champion yearling bull was born Feb. 6, 2021, and was sired by H The Profit 8426 ET. The polled champion bull was owned by Stellpflug Cattle Co. LLC, Glenrock, Wyo., with H WMS Thomas County 1443 ET, sired by EFBeef Resolute CEO.
The Jan. 27, 2021, entry was first named champion yearling bull. Wheeler Farm, Chickasha, Okla., was named polled reserve champion bull with WF Pit Boss 1214 ET. Sired by CH High Roller 756 ET, this champion senior bull calf was born Oct. 5, 2021. Female show champions Ella Weldon, Piedmont, Okla., and her junior yearling female, BK CMCC Jungle Cat 149J ET, were awarded the polled champion female title. This daughter of KLD EB Trump D58 was born March 2, 2021. Sara Sullivan, Dunlap, Iowa, with BK CMCC Jungle Girl 147J ET, claimed the polled reserve champion female title.
The March 3, 2021, entry was sired by SR Dominate 308F ET and was first named champion spring yearling female. Grady Creamer, Waxahachie, Texas, claimed the horned champion female title with GKB 8123 Brooklyn F071 1803, sired by BR Belle Air 8123.
The Oct. 3, 2021, female was first awarded champion senior heifer calf honors. The horned reserve champion female went to Kynsleigh Krebs, Gordon, Neb., with JCS Marie Laveau 2441 ET. The Churchill High Noon 8339F ET daughter was born Feb. 28, 2022, and was first awarded champion junior heifer calf.
Other awards GKB Cattle, Desdemona, Texas, was recognized as the horned premier exhibitor and horned premier breeder. The polled premier breeder was Buck Cattle Co., Madill, Okla. The polled premier exhibitor and get of sire winner was Schmitz Farms, Gainesville, Texas.
Subscribe to Our Newsletters
BEEF Magazine is the source for beef production, management and market news.
You May Also Like
---