Beef's Production Efficiency Contributes To Environmental Quality
Beef's Production Efficiency Contributes To Environmental Quality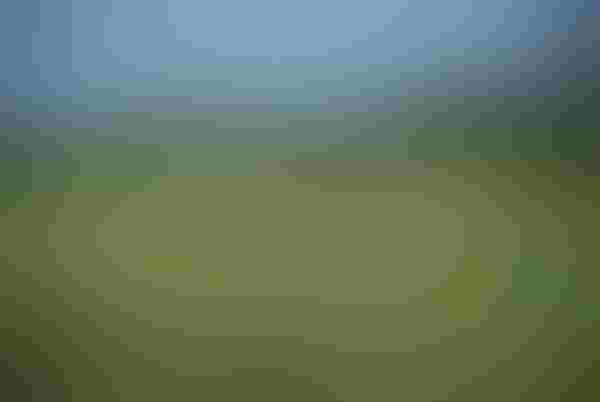 "Whenever climate change gets introduced, the conversation tends to turn political," says Linda Prokopy, an associate professor of natural resource social science at Purdue University. "Scientists and climatologists are saying climate change is happening, and agricultural commodity groups and farmers are saying they don't believe that. Our research suggests that this disparity in beliefs may cause agricultural stakeholders to respond to climate information very differently."
Prokopy and other researchers surveyed 6,795 people in the agricultural sector in 2011-2012 to determine their beliefs about climate change and whether variation in the climate is triggered by human activities, natural causes or an equal combination of both.
More than 90% of the scientists and climatologists surveyed said they believed climate change was occurring, with more than 50% attributing climate change primarily to human activities.
Conversely, 66% of corn producers surveyed said they believed climate change was occurring, with 8% pinpointing human activities as the main cause. A quarter of producers said they believed climate change was caused mostly by natural shifts in the environment, and 31% said there was not enough evidence to determine whether climate change was happening or not.
The gap in views on climate change is caused in part by how individuals combine scientific facts with their own personal values, says Lois Wright Morton, professor at Iowa State University and co-author of the study.
"Differences in beliefs are related to a variety of factors, such as personal experiences, cultural and social influences, and perceptions of risk and vulnerability," Wright Morton explains.
Years ago, when the Intergovernmental Panel on Climate Change was first blasting on to the scene, I tracked down one of the committee members from the U.S. He gave me some welcome insight to the committee and the divisions that existed at that time between those sure of studies predicting imminent global doom and others who took a more measured approach.
"So, is man-made global warming occurring," I asked. In about these exact words, he told me, "Some years, the global climate gets warmer. Some years, it gets cooler. That's all we really know."
Certainly, the past few years have been cooler rather than warmer.
Since it seems rather useless to debate the fact that weather changes, the real question, some say, is whether mankind and his activities are responsible for global climate change, and if so, to what degree.
Personally, given the fact we've yet to control a twister, hurricane or volcano, let alone predict their occurrence with pinpoint accuracy, I find it difficult to believe mankind can shove Mother Nature around. Plus, even with complex algorithms and models, I don't see a control group. There's no way of knowing what the climate would be like today if we hadn't been here. Of course, if we weren't here now, the question wouldn't matter much.
Keep in mind, I tend to agree with what I believe. In some cases, my beliefs are grounded on intensive, deliberate research. In other cases, they're grounded on gut instinct, common sense and hearsay. In every case, my beliefs are molded by past experience and all of the emotional and intellectual baggage I bring to bear from that experience.
If mankind is negatively influencing the global climate and can create positive net benefit, it certainly makes sense to know and consider.
Either way, agriculture, livestock and cattle producers need to do more to share the known facts with those who disparage the industry based upon perceived negative impacts to the environment and to the climate.
You might remember Livestock's Long Shadow, the 2006 report from the United Nations' Food and Agriculture Organization (FAO) that said global livestock production was responsible for 18% of global greenhouse gas emissions (GHG)—measured in carbon dioxide equivalents—which was more than that of the global transportation sector.
Frank Mitloehner, professor and Extension air quality specialist at the University of California-Davis, took exception to the model FAO researchers used. To their credit, based on Mitloehner's input—part of the report was retracted and Mitloehner now chairs Livestock Environmental Assessment and Performance Partnership (LEAP) which is working to develop a common global methodology to measure the impact.
For the record, in an interview with Ron Hays and the Oklahoma Farm Report in September, Mitloehner said all livestock production in the U.S. accounts for about 3.4% of GHG emissions, accounting for the total life cycle of livestock. Beef production accounts for about 1.4%.
Photo Gallery: 7 U.S. Ranching Operations Lauded For Top-Level Stewardship
Get to know seven diverse operations that make stewardship and the environment a number one priority on their ranch. Enjoy the gallery now.
By the way, for those who say decreasing beef consumption would make a huge difference, Mitloehner explained that if you assumed 300 million Americans would forego beef every Monday as part of the Meatless Monday campaign, GHG from beef in the U.S. would decline 0.2%. Instead of accounting for 1.4% of GHG, it would be 1.38%.
By contrast, transportation in the U.S. accounts for 26% of the nation's GHG; the energy sector accounts for 31%.
So, beef's contribution to U.S. GHG production is tiny. Plus, efficiency of U.S. beef production makes it a model for the rest of the world to follow.
When production per animal increases, pollution due to them decreases,  Mitloehner explained, something that even FAO and others understand.
The opinions of Wes Ishmael are not necessarily those of beefmagazine.com and the Penton Farm Progress Group.
You might also enjoy:
New Gallery: 70+ Photos From Home Is Where You Hang Your Hat
3 Steps To Negotiating A Great Cow Lease
Why You Must Act Now To Minimize Cold Stress On Cattle This Winter
How Bale Grazing Lets Cows Feed Themselves
15 Best Winter On The Ranch Photos
Meet Anne Burkholder, 2014 BEEF Trailblazer Award Winner
Whats The Best Breeding Weight For Beef Heifers?
Subscribe to Our Newsletters
BEEF Magazine is the source for beef production, management and market news.
You May Also Like
---