Capital benefits of low-stress handling
Capital benefits of low-stress handling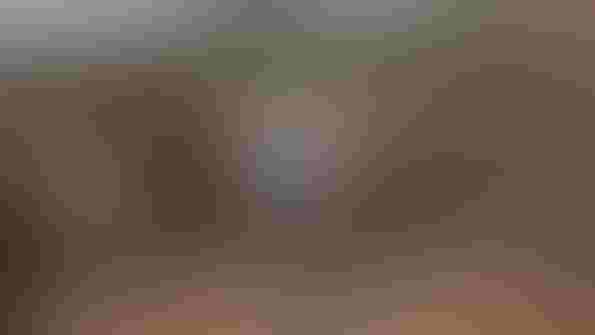 Increased gain. Increased conception rates. Less cattle sickness. Improved carcass quality.
Those are just a few of the benefits of low-stress cattle handling demonstrated through various research.
For instance, a study at Oregon State University found earlier onset of puberty and 8% more conception to fixed-time artificial insemination (AI) in heifers acclimated to human handlers, compared with those left to themselves until needing to be worked.
Likewise, research at Washington State University looked at the effect of cattle temperament and handling facility design. There was an 8% advantage in conception for heifers (fixed-time AI) with quieter dispositions, handled in facilities conducive to low-stress handling.
Rick Machen shared the information with participants at the recent 13th Annual Holt Cat Symposium on Excellence in Ranch Management. This year's focus was Practical Stockmanship in Ranching. Machen holds the Paul C. Genho Endowed Chair in Ranch Management at the King Ranch Institute for Ranch Management (KRIRM) at Texas A&M University-Kingsville, which hosted the symposium.
As for calves, Machen shared the experience of a preconditioning yard that compared low-stress handling of weaned calves to conventional handling. Incoming cattle acclimated to human handlers—spending 15-30 minutes per day with the groups—resulted in less sickness, increased feed intake and increased average daily gain of 0.25 pounds for the first 30 days after weaning.
"There is scientific evidence that supports the merits of low-stress cattle handling," Machen said. He also pointed out that low-stress handling doesn't mean no-pressure handling.
"Often times, people equate low-stress handling with no pressure, and that's not the case," Machen explained. "Low-stress handling is about applying pressure to cattle when they have a place to go, from the right position and correct angle and in the appropriate amount to create cattle movement. Low-stress handling is about managing cattle movement."
That's why pressuring the last calf at the end of the long line of cattle in the tub is so pointless. Cattle want to see where the pressure is coming from. Besides, the calf—already shoved up against the head in front of it—has nowhere to go.
Besides improved animal welfare, Machen explained that low-stress handling contributes to increased consumer confidence, as well as improved handler welfare.
Though difficult to quantify, there is no question that low-stress cattle handling contributes to less stress and fewer injury opportunities for the folks handling the cattle.
Then there are employees
"We pay good money for well-trained horses...We will spend years and a lot of funds to improve our rangelands so that we can produce livestock and wildlife more efficiently to sustain our given business. We spend a lot of time, effort and capital to train employees to do the given tasks," said Decky Spiller, manager of the Kiowa Creek Division of Silver Spur Ranches at Elbert, Colo.
"But how much time do we spend educating them on why they do a task a certain way and how that method affects those they work with?" He was on the symposium program visiting about ranch worker safety and workers' compensation.
"Does the crew work effectively as a team to handle the livestock in a stockman-like manner so as to support the training that it requires to get the livestock to the endpoint we desire?" Spiller asked. "How much time, effort and capital do we spend training our livestock to do the task we require of them in a calm, safe and productive manner?"
You might also like:
4 tips for grazing corn stalks this fall
Stunning fall snapshots from the ranch
HSUS is a fox in the hen house
Is snow an adequate winter water source?
4 questions to ask before marketing 2016 calves
Subscribe to Our Newsletters
BEEF Magazine is the source for beef production, management and market news.
You May Also Like
---