China's beef imports continue to climb as new suppliers gain traction
China's beef imports continue to climb as new suppliers gain traction
In spite of its economic slowdown, China remains a major player in global beef trade.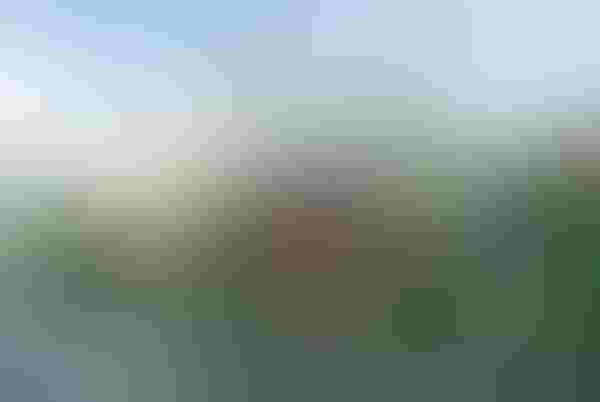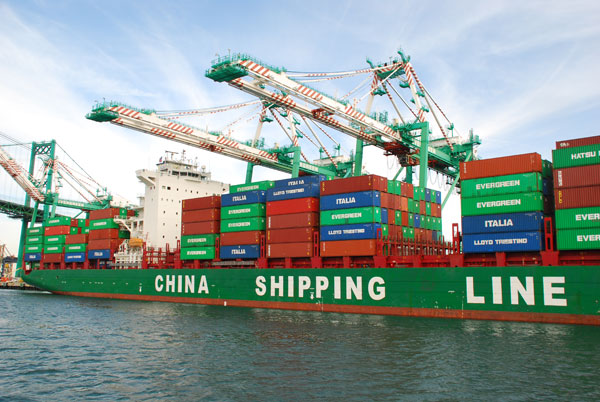 While China's slower rate of economic growth has been a major global news story in 2015, it hasn't dampened the country's growing appetite for beef. China's beef imports seemed to plateau last year, with both volume (317,119 metric tons) and value ($1.35 billion) increasing only slightly over 2013. But through the first 10 months of this year, China's imports showed renewed momentum, with volume up nearly 40% from a year ago and value soaring by 58% to $1.8 billion.
In October alone, China imported more than 44,000 metric tons of beef valued at $228.5 million. This was the fifth consecutive month that China's imports exceeded $200 million, with the year-end total likely to approach $2.25 billion.
Restoring access for U.S. beef continues to be a top priority for U.S. trade and agricultural officials as well as the U.S. industry, as the cost of being absent from this market continues to mount. Lack of access to China is estimated to cost U.S. producers more than $100 per head, and this problem is compounded by sluggish demand in other regions.
"From 2009 through 2014, annual global beef export value from all supplying countries more than doubled to $38 billion," explains U.S. Meat Export Federation President and CEO Philip Seng. "But this growth streak will end in 2015, with export value expected to decline by about 7% compared to last year. Given these circumstances and the expanding U.S. cattle herd, it is even more imperative that we have access to the world's fastest-growing market."
U.S. Agriculture Secretary Tom Vilsack raised the issue of beef access at the most recent session of the U.S.-China Joint Commission on Commerce and Trade (JCCT), which was held in Guangzhou, China, Nov. 21-23. Following these meetings, Vilsack said discussions on beef access will continue, and he is hoping to see action "over the next 30 to 60 days."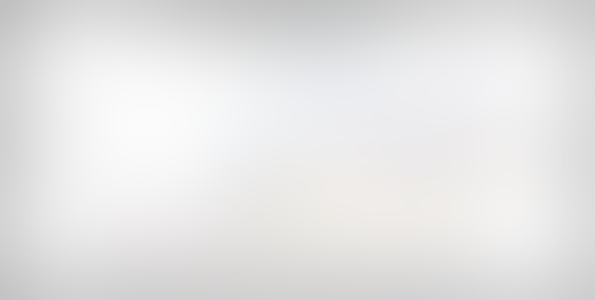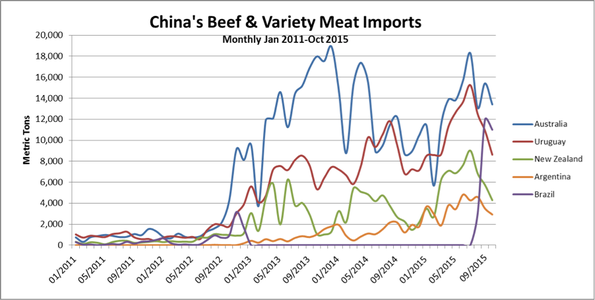 Data source: Global Trade Atlas
"The persistence shown by Secretary Vilsack, U.S. Ambassador to China Max Baucus and other U.S. officials on this issue is very much appreciated, because regaining access to China has never been more critical to U.S. beef producers," said Seng. "Every day, our competitors gain a stronger foothold in this rapidly expanding market, and our industry simply cannot afford to remain on the sidelines while other suppliers capitalize on China's growing demand for beef."
The Chinese market has been closed to U.S. beef since the first U.S. BSE case was detected in December 2003. Through October, China's leading suppliers are Australia ($665 million), Uruguay ($437 million), New Zealand ($306 million) and Argentina ($172 million). Australia's presence in the market is likely to be bolstered further when the China-Australia Free Trade Agreement is ratified, probably later this year or in early 2016. Under this agreement, import duties on Australian beef, currently 12%, will be eliminated over nine years, putting imports from Australia on an equal footing with New Zealand, which already has an FTA with China.

Breathtaking photos of winter on the ranch
Winter is here! Mentally prepare for our upcoming winter wonderland with these stunning photos. See photos here.
The supplier making a recent splash in the market is Brazil, which resumed beef shipments to China in June. In just five months, Brazil's exports to China exceeded 60,000 metric tons. In September and October, Brazil was China's second-largest supplier, trailing only Australia. It is important to note, however, that the surge of Brazilian beef entering China has been offset by a decline in exports to Hong Kong. In fact, Hong Kong's beef imports from all suppliers are down nearly 25% in 2015 through September. 
Canadian beef isn't new to China, but only recently have imports from Canada sustained significant traction. Canada reentered the market in 2010, but by the end of 2012, China's cumulative imports from Canada totaled only about $17 million. Imports spiked to $80 million in 2013 but slipped below $60 million last year. This slump continued through the first half of 2015, but shipments of Canadian beef to China gained momentum in June and have set new records each month since, with Canada's September exports reaching 5,236 metric tons valued at more than $30 million.
Joe Schuele is vice president, communications, with the U.S. Meat Export Federation in Denver, Colo.
You might also like:
13 new utility tractors for the ranch in 2015
Crunch the numbers before you buy those heifers
5 tips for managing feed intake in calves
What's the secret of a profitable cow? Burke Teichert shares
Seven keys to ranch profitability
Subscribe to Our Newsletters
BEEF Magazine is the source for beef production, management and market news.
You May Also Like
---