Consumer Demand Vs. Tight Supplies
Consumer Demand Vs. Tight Supplies
With tight cattle supplies going into the fourth quarter, 2013 will likely see raised retail beef prices. Will consumers back away?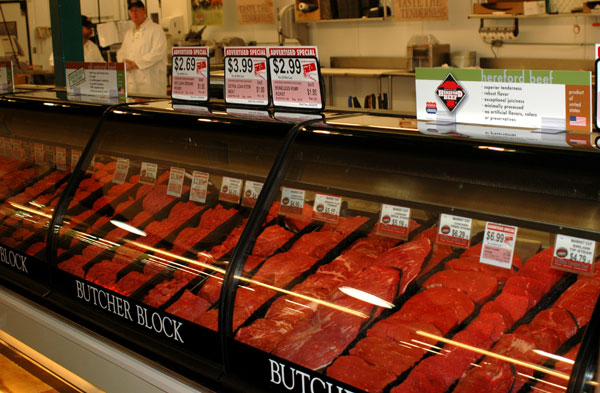 If you notice a lot of cattlemen with a small bald spot on the back of their head, don't get concerned – they don't need to be dipped. That's the worry spot they've rubbed off scratching their heads trying to figure out what the heck's going to happen with consumer demand in the face of tight supplies and ever-rising retail beef prices.
Indeed, the supply of fed cattle coming to market has been tracking well below 2010 and 2011 levels for much of the summer, and it is expected to continue in October and November, say Steve Meyer and Len Steiner, authors of the CME'sDaily Livestock Report.
"End users remain particularly concerned about the availability of product in the fourth quarter, especially for items that see strong seasonal demand going into the holiday season," the economists wrote this week. "High-quality steak items have been particularly strong, in part because end users are accumulating more freezer inventories as a hedge for the holiday demand. This has helped prop up the market and contributed to the surge in cattle prices. But there is always the danger that the expectation of high prices into the holidays and early buying could sap some of the demand."
A Closer Look: Consumers & The Weather Offer Double Whammy
According to Paul E. Peterson, a University of Illinois ag economist, the average amount that each consumer spent on beef, on an inflation-adjusted basis, tumbled by more than 50% in the 20-year period between 1978 and 1998. Between 1998 and 2004, consumer demand recovered and consumers spent more inflation-adjusted dollars for less beef – a textbook example of stronger demand. Even more remarkable is the fact that the high point occurred in the calendar year immediately following the December 2003 BSE discovery.
"Most of those gains were given back in the 2005-2010 time period, and expenditures per person bottomed out in 2010 at $270.05 for 59.6 lbs. of retail-weight beef," Peterson says. "The upturn beginning in 2011 is expected to continue through 2012, but what will happen after that is anyone's guess."
He says beef supplies will be down substantially in 2013, and USDA's latest World Supply and Demand Estimates (WASDE) show per-capita consumption for 2013 at 54.8lbs., a drop of 2.4 lbs. from 2012 projected levels. "But if the economy remains soft and unemployment remains high, it seems unlikely that consumers will be willing to pay substantially more dollars for less beef, as they did in 1999-2004 when economic conditions were much more positive," he says.
Peterson says consumer spending for beef will also have a bearing on fed cattle prices. "Although reduced supplies of slaughter cattle should give the market a firm undertone, the $130-plus levels being projected by the futures market for 2013 may require some help from the demand side to make this happen."
Meyer and Steiner say foodservice demand generally tends to be more stable, as restaurants cannot quickly change their menu items. "They can introduce specials but, for the most part, they will maintain a number of core items on their menus. Also, consumers expect to see high-quality beef items as part of their dining-out experience," the economists say, adding that restaurants can change portion sizes but that strategy has its limits.
Retail demand for beef is a source of concern as well, as retailers tend to be more flexible in what features they run and how they promote protein items. This is particularly the case given the sharp break in pork prices, which could see more retail ads focusing on pork and other proteins.
Meyer and Steiner agree that the general state of the economy is a source of concern. "Markets will pay close attention to the actions of the Federal Reserve and whether another round of bond buying will spur economic activity," they say.
The problem is that if the U.S. economy is caught in a liquidity trap, the Fed actions will have limited impact. "At least for the moment, the problems in Europe have been backstopped by the action of the European Central Bank and German courts. The bullish case for U.S. beef hinges both on the performance of the U.S. economy as well as the global economic recovery. In this scenario, U.S. demand holds up while beef exports improve, both due to a weaker U.S. dollar and a more confident global consumer."
Subscribe to Our Newsletters
BEEF Magazine is the source for beef production, management and market news.
You May Also Like
---