Cowboys care and that makes sick kids smile
Cowboys care and that makes sick kids smile
The Cowboys Who Care Foundation delivers smiles and brand new Resistol hats to kids with life-threatening diseases.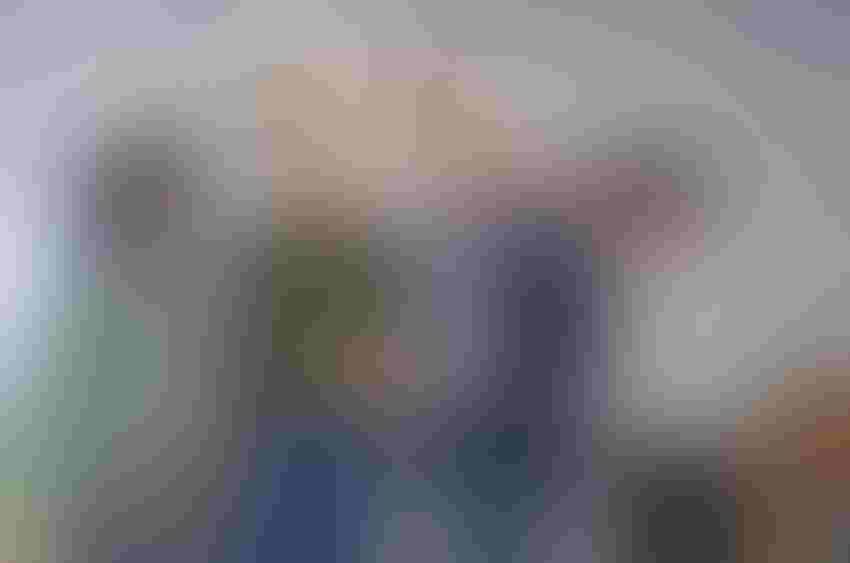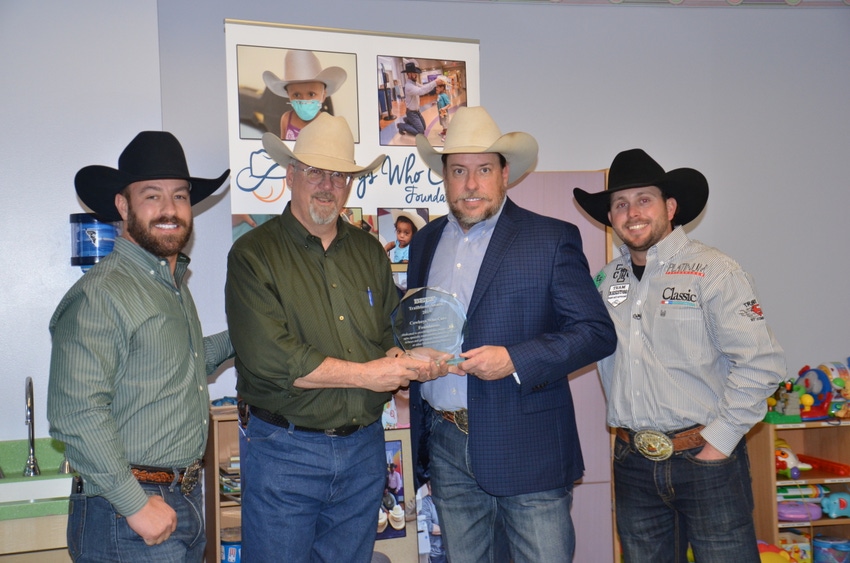 William Lee Martin (center right) accepts the BEEF Trailblazer Award from BEEF Senior Editor Burt Rutherford (center left) on behalf of the Cowboys Who Care Foundation. Joining them are CWC board members Billy Bob Brown (right) PRCA team roper; and Devin Marcum (left) with Resistol.
There are moments in our lives that stay with us forever. I've had more than my share—My wedding and the birth of my two daughters are strong among them.
I now have another seared into my gray matter. It happened last week at Cook Children's Medical Center in Fort Worth, Texas. A young man, a teenager, so weak he could barely lift his head off the hospital bed but smiling as big as he could and holding a brand new Resistol straw hat in his hands.
He tried to sit up and put on his new hat, but couldn't. But now he has something tangible, held in his hands, to give him incentive to do more than just lay there.
That smile. I'll never forget that smile.
And it came courtesy of the Cowboys Who Care Foundation and Resistol. Cowboys Who Care is the brainchild of William Lee Martin and the organization provides brand new cowboy hats to kids with cancer and other life-threatening diseases.
Related: Farm wife, dermatologist urges farmers, ranchers to protect their skin
I was at Cook to present the group with the BEEF Trailblazer Award and to serve as an ambassador, visiting kids who are fighting this terrible disease. You can read the whole story about Cowboys Who Care in the February BEEF magazine.
Being a rookie ambassador and, frankly, not sure I was tough enough to handle the experience, I teamed up with Billy Bob Brown. He's a PRCA team roper and rancher with his dad in the Big Country of Texas. Brown is an experienced hand at these visits. And he has a special reason for being there for the kids—he's a miracle baby, he told me, not expected to live. This is his way of giving back.
That experience and his outgoing personality made him a great mentor. I struggled a little getting the kids, many of whom were shy, to talk. Not Billy Bob. He could relate to the kids regardless of age, and hand-shaped every hat. And the kids paid him back with a smile.
Related: New research shows anti-beef science is all wrong
"I can't cure cancer," Martin says. "But what we can do is put smiles on folks' faces." And who knows? Maybe that's just what the kid needed to get through the day. "Sometimes just getting through the day is the only thing that you need to do and should do. And sometimes it's the hardest thing to do," Martin says.
"So maybe by coming in and giving that smile for the day, he got up to that day and then the next day. But maybe we set in motion the ability to get through those days. And then once you get through the days, you can get through the weeks, and then the months."
That's my prayer for the young man whose smile now has a permanent place in my mind.
Subscribe to Our Newsletters
BEEF Magazine is the source for beef production, management and market news.
You May Also Like
---