Drought Planning For Fun And Profit
Drought Planning For Fun And Profit
How much grass will you have this growing season?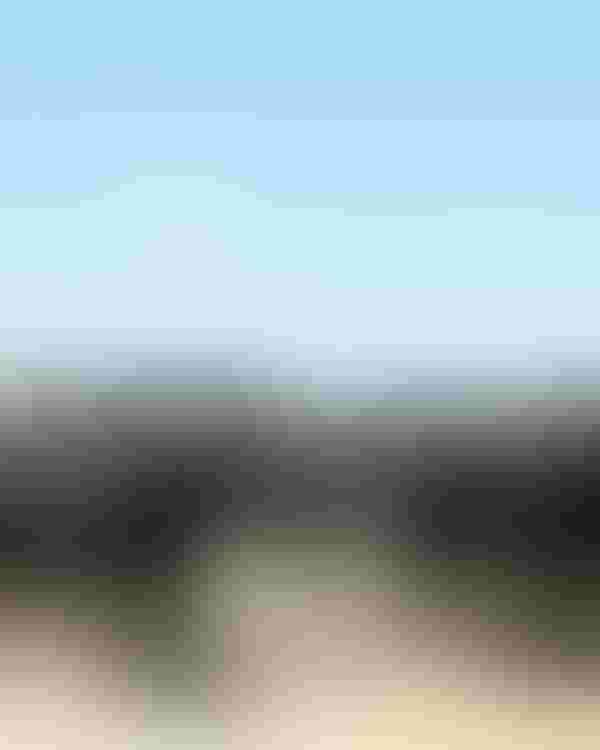 "I've heard a lot of folks say they judge what they're going to do the following spring based on how much precipitation they get in the wintertime. Over a 35-year period, I found that on our pastures and production, it had almost no relationship with what our end-of-the-year yield was."
That's because, says Keith Harmoney, range scientist at the Kansas State University Ag Research Center at Hays, winter precipitation doesn't happen during the growing season. By the time spring green-up occurs, some of that moisture has already evaporated.
"Most of our production is driven by May and June precipitation," Harmoney says, looking at 35 years of data correlating precipitation – specifically when and how much – with forage production on pasture and range. "May and June rainfall is the main driver in how much forage production we're going to have at the end of the season."
So, he asks, how can you use this kind of information in forming a drought plan? And why have a drought plan in the first place? Because a drought plan allows you to set target dates for taking action. And that, he says, allows you to be proactive rather than reactive in managing for drought.
Your drought plan begins with management decisions you made long before the skies dried up. "Things we should include in a drought plan are, first of all, how we manage prior to a drought. Establish moderate stocking rates to start with and manage our plant stands to be more vigorous and have more litter cover on the pastures," he says.
Included in a drought plan are some dates you can use for making decisions. "At the end of one grazing season, you can look at your pastures and say, yes, this pasture was stressed either from having no rainfall, or it was more heavily utilized than what you wanted. If that's the case, you should reduce your stocking rates by 10-15%," Harmoney says. "That's because we know a pasture under stress one year is not going to be as productive the next year. Production is going to be at least delayed."
The next thing to look at is your critical precipitation dates. Harmoney uses May 30 because May precipitation is so important to them. "We know that by the end of May, if we don't have the rainfall we expected, more than likely we're going to be dry and we're not going to have the forage production for the rest of the year," he says.
"So we think about doing some things early" – like removing stockers early, if they're part of the operation. "Then, at the end of June, we look at how much precipitation we've had. For example, if we had less than 80% of our expected average precipitation, we reduce our stocking rates by 25%. If our May-June precipitation was less than that, say 40-50%, you'd probably want to reduce stocking rate even more, maybe 40-50%."
Thus, in your drought plan, you can delineate several actions to take, including destocking stocker cattle, destocking obvious cull cows, weaning early, preg checking early and culling the opens, and reducing or eliminating the number of replacement heifers, among other things.
Stockers offer some grazing management flexibility in a drought. Say, for example, you diversified by adding stockers to your operation and you use 25-35% of your acres for stockers. "So, if you had 110 cow-calf pairs on 1,920 acres, you could go down to 72 pairs and 72 stockers on the same amount of grass. And you'd get some flexibility in your operation."
Stockers, he says, are an underutilized risk management tool. "The one thing that a lot of folks don't do is diversify with stocker cattle. Stocker cattle offer a great amount of diversity and flexibility in an operation by enabling removal of animals partway through the season so you can keep your cow-calf pairs. Or you may decide you're not going to have enough forage at the start of the season, so you may not purchase stockers to start with."
What's more, going from 110 to 72 pairs means you'll need fewer hay reserves on hand or need that much less stockpiled forage to get you through the winter or a dry period.
Here's how a drought management plan played out at the Hays Research Center. "In November 2011, we'd had a drier year than average. So we went from a cowherd of about 275 down to about 235," Harmoney says. "Then in 2012, we had little May precipitation and we had set in motion some plans for early weaning. After June, we didn't have much rainfall, so we weaned July 10."
They also preg checked early. "We did our final preg check of cows Aug. 10. We culled opens and a lot of our larger animals," he says. Because they artificially inseminate their herd, they also looked at the later-bred cows and culled those that would calve toward the end of calving season. "And we didn't have a replacement heifer herd going into 2013. All that was done early on in the year."
Enjoy what you are reading? Subscribe to Cow-Calf Weekly for industry updates every Friday.
So what do they plan to do in 2013? "We ended up last year with 150 cow-calf pairs," Harmoney says. "We started out with 235 and ended up with 150. If we don't get precipitation in May and June, we're going to be early weaning, but we are going to pull cattle off our pastures and do limit-feeding."
Because they were low on precipitation last year and didn't have a lot of regrowth, most of the grazing was residual from the prior year. "And we probably have some residual to carry our animals longer into this grazing season, but we don't want to take so much cover off our pastures that we expose ourselves to erosion, don't allow water to infiltrate and expose our plants to excess heat by not having litter out there."
You don't have to start from scratch in developing a drought plan. "If you want to make your own drought plan, www.drought.unl.edu/ranchplan has examples of producer's drought plans," Harmoney says. "Using the template they have on this site, you can set up something that's more specific to your ranch."
You might also like:
Reader Perspective: 2011 Drought Ravages Cattle Country
Newspaper Tells Readers To Go Vegan During Drought
In A Drought, Water Woes Abound
Subscribe to Our Newsletters
BEEF Magazine is the source for beef production, management and market news.
You May Also Like
---