Harvey poised to cause massive damage to Texas Gulf Coast
Harvey poised to cause massive damage to Texas Gulf Coast
Slow-moving hurricane could dump rain on towns and farms along the coast for days.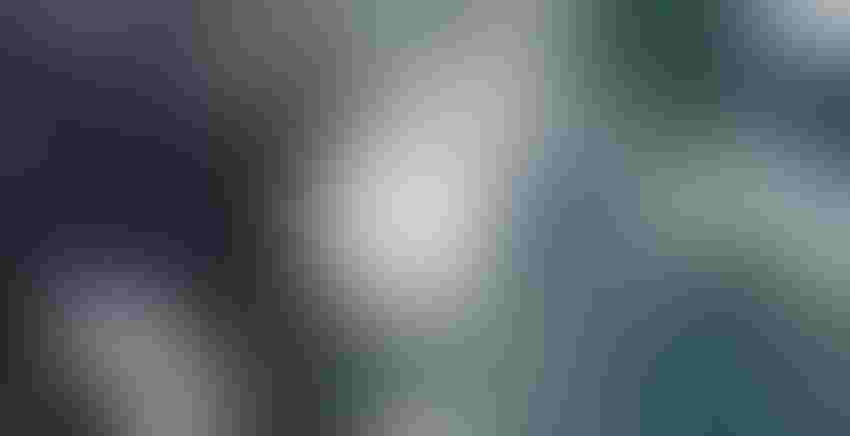 GOES-16 captured this geocolor image of Hurricane Harvey (formerly a tropical storm) in the Gulf of Mexico this morning, August 24, 2017. Geocolor imagery enhancement shown here displays geostationary satellite data in different ways depending on whether it is day or night. This image, captured as daylight moves into the area, offers a blend of both, with nighttime features on the left side of the image and daytime on the right.
As Hurricane Harvey bears down on the Texas Gulf Coast, many coastal residents are battening down the hatches and riding it out; others are leaving town; and all are hoping for the best from what most observers expect to be a massive, destructive storm that could linger over the area for several days, possibly dumping more than 20 inches of rain.
The first concern is personal safety, and weather experts expect this storm, with anticipated winds reaching 140 to 160 miles per hour and with massive flooding, will be one of the most destructive to the U.S coastline in more than a decade. Officials encourage evacuation for all who are able and finding the best shelter possible for those who cannot.
AccuWeather reports Hurricane Harvey is expected to stall over coastal Texas and unleash life-threatening and disastrous flooding into next week. The storm could include dangerous surf, beach erosion, coastal flooding and damaging winds.
"However, Harvey is likely to be remembered for tremendous rainfall and days of flooding," the private forecasting service said.
Texas Governor Greg Abbott has declared a state of disaster for 30 counties in Texas. Louisiana Governor John Bel Edwards declared a statewide state of emergency on Thursday.
More damage than normal
The decreasing forward speed of the storm will lead to long-duration rainfall and gusty winds. Harvey will cause much worse damage from flooding and wind than would normally occur from a swift moving storm of equal magnitude.
"Impacts from Harvey will be tremendous in terms of displacement of people, property and economic loss and travel and freight disruptions," says Marshall Moss, AccuWeather vice president of forecasting and graphics operations.
Before leaving Corpus Christi mid-day Thursday, Southwest Farm Press correspondent Logan Hawkes reported a mass exodus out of the city from residents expecting destructive winds and flooding.
"We were going to stick it out," Hawkes said, "but with the possibility of 140 to 160 mile per hour winds and 24 inches of rain, we changed our minds." By Friday morning, he and his family were hunkered down in Kerrville, some 200 miles inland.
Agricultural observers expect heavy losses. Jason Ott, Texas A&M AgriLife Extension agent for Nueces County, says most of the area's cotton has been harvested, but adds that many modules and wrapped round bales remain in the open and will be vulnerable to water damage.
Mixed blessing from round bales
"The rapid adoption of the of baler pickers promises to provide a higher level of protection to our harvested crop than traditional modules," Ott says. "However, with the adoption of this technology we may have gotten more complacent about where we store bale modules, often just moving them to the closest field edge."
He says the coming storm puts that cotton in jeopardy. "Growers may want to ensure that as many of these bale modules as possible are on high ground. Stacking in fours, as is customary, also minimizes the amount of exposure of each module to the elements. In very low areas, growers may want to consider double stacking bales, as on a semi-trailer, to get as many modules off the ground as possible. Producers who still have module tarps can also consider using them to further protect stacked bales."
He says wrapped modules offer substantial protection to harvested cotton. "However, cotton producers should be aware of standing water and take necessary precautions."
Farm animals also face hardship from this massive storm system. Ott says ranchers should have taken precautions by now to bring cattle in from low lying pasture, move them inland if possible and doubled-check for identification tags and essential records.
In the aftermath of storm
They should be prepared to face post-hurricane challenges.
"Post storm, livestock owners should check on the condition of their animals as soon as it is safe to do so. Be prepared to supply hay and water, and provide basic livestock first aid. Supplies to create temporary fencing and/or repair existing fencing may also be needed."
The storm has already affected markets, Hawkes reports. "Cotton prices jumped 3 cents yesterday (Wednesday)," he says. "And with a broad storm forecast, that will probably increase."
He says the expectation that the storm will linger over the Texas Gulf Coast for several days puts people, crops and livestock in more jeopardy. "Also, it could move back over water and who knows what it will do from there?"
Various reports coming in Friday morning indicate significant price hikes for gasoline and natural gas as the nation's primary refineries along the Gulf Coast are closed by the storm. Hurricane Harvey could prevent ship access to ports serving the Gulf Coast refineries.
For more on the situation, see https://today.agrilife.org/2017/08/24/texans-prepare-flooding-high-winds-t-s-harvey/; http://www.southwestfarmpress.com/weather/tropical-storm-brews-gulf-mexico-texas-farmers-and-ranchers-rush-protect-interests
Subscribe to Our Newsletters
BEEF Magazine is the source for beef production, management and market news.
You May Also Like
---