Missouri FFA Star Farmer finds success in beef cattle business
Missouri FFA Star Farmer finds success in beef cattle business
A young cattlewoman creates a way back to the family farm by adding Angus show cattle genetics to the business model.
With every step through the green pastures, Lexi Koelling talks cattle. "She was my show heifer," she says, motioning toward the Black Angus cow by the hay ring.
Then she rattles off statistics about pedigree and progeny. Koelling knows this cow, and she knows her. In a wide-open field, the former show heifer, now a proud momma cow, extends her nose to greet her caretaker.
Koelling has spent much of her 18 years surrounded by cows. "My mom says when I was little, I would always try to do big things like blow out the big cows," she says. "Cattle is something I've always been around and a part of. And it has always been my passion."
The Bowling Green FFA member took that enthusiasm for cattle and turned it into a successful Supervised Agricultural Experience, which ultimately led her to receive one of the highest honors in the state — Missouri FFA Star Farmer.
Koelling's SAE consists of beef production placement where she breeds Angus cattle to produce bulls for the family's production sales. She also raises and exhibits Angus show cattle, competing in state and national shows — including in Denver, Louisville, Kansas City, Oklahoma City, Reno and Baltimore.
Rise of show cattle
As a young girl, Koelling spent hours ringside at cattle shows, simply observing.
"I'd sit and watch others," she says. "How they showed their animals, what their animals looked like, what they did with their animals in the ring — all of these little things — so I could take that back and try it for myself. And I still do that. I watch what people feed their cattle, what's making them successful, and what I need to do to bring that back to my operation to take it to the next level."
Koelling is part of the family businesses — Meyer Cattle Co. and Meyer Farms. Her parents are Brock and Michele Meyer. For her, it is all about adding value to the family operation.
The bull sale aspect does well for Koelling. However, she is adding show cattle to this side of the business. "I took past show cattle and [in vitro fertilizing] them, flushing them to more show cattle Angus bulls and selling those," she explains.
So far, she's used the process on about 10 animals and sold them at the bull sale. Koelling also hopes to sell the progeny of her show cows as well. "My ultimate dream has always been to have an online sale of my own show cattle," she says.
Hard work comes with farming
Becoming an FFA Star Farmer is not for the faint of heart. It takes dedication, passion and a lot of time management.
During high school, there was a balancing act between school, extracurricular activities and the farm. Koelling would visit with her mom and stepdad about chores. "Brock would send a list of things that needed done. I would keep track on my phone," she explains. "Then I would text him my school schedule and other commitments, and we would work around it."
Her list of responsibilities includes showroom manager — breaking calves, feeding, washing and growing hair. Summer, Koelling says, is "big hair time." She puts in longer hours washing and working the hair on the cattle to make sure the skin and hair are just right. Still, it is not about cow glam.
Koelling also checks cows, tags calves, provides health care and is responsible for nutrition. "Really anything that has to do with the cattle, I tackle," she says, which includes being a key part of the hay crew.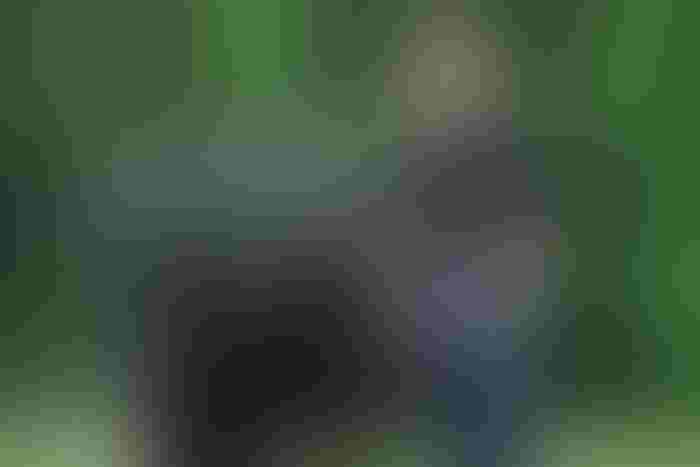 Lexi Koelling's passion for cattle led to her being named the 2022 Missouri FFA Star Farmer.
The Bowling Green FFA member cuts, rakes, bales and hauls hay used to feed cattle on the family farm. Actually, being around farm machinery is her long-term goal. "I'll always have cattle," Koelling says, "but I really want to sell hay equipment."
Taking part in internships at Bowling Green Tractor provided insight into the ag equipment industry. "I'd like to take our business to the next level for our family by getting a major brand in there," she says.  
But that will wait a few years as Koelling heads to college in the fall.
All roads lead home
The Pike County young cattlewoman accepted a full-ride scholarship to judge livestock at Black Hawk Community College in Galva, Ill., and study agribusiness management. After two years, she plans to transfer to Oklahoma State University to continue judging livestock and finish her agribusiness management degree. Then it is back to the family business and farm.
"Agriculture formed me and made me who I am today," Koelling says. "It's an industry that I want to get back to and an industry I wouldn't want to leave."
One driving force bringing her back to the family farm is Jaxon, her younger brother by 15 years. "I want to take our cattle to the next level alongside my little brother," she says. "I want to come back home and work with him. Our farm is about family. That's important to me."
Whether it's walking into a pasture to visit an old show cow, helping customers find the right bull for their operation or sharing the love of all things cattle with the next generation at Meyer Farms, Koelling's life is about developing relationships.
"I really enjoy visiting with people and sharing my passion for cattle and the agriculture industry," she adds. "I can't imagine doing anything else."
Subscribe to Our Newsletters
BEEF Magazine is the source for beef production, management and market news.
You May Also Like
---