Number of opportunities for U.S. red meat market share gains
Number of opportunities for U.S. red meat market share gains
U.S. pork exports in position to capitalize on favorable price, supply situation; consumer demand in Mexico, the Caribbean has strengthened U.S. beef exports.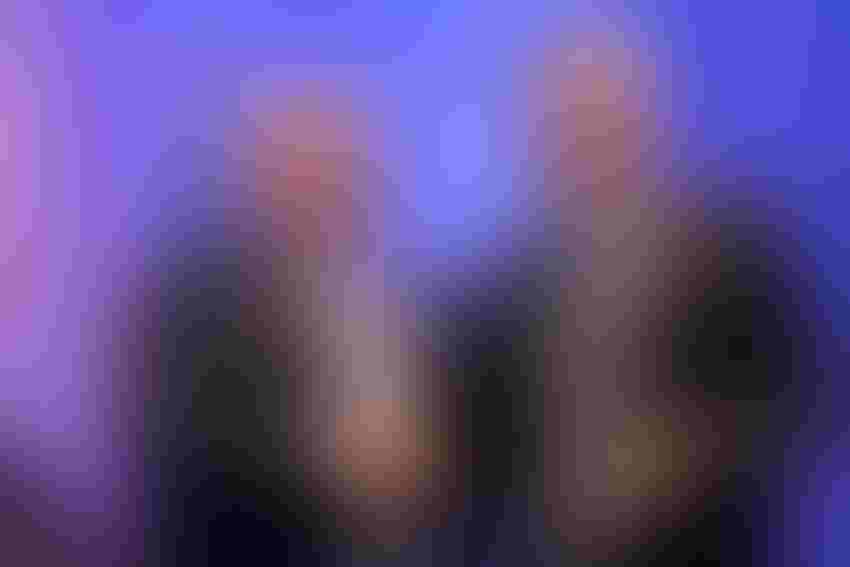 USMEF President and CEO Dan Halstrom honored Joel Haggard, USMEF's longtime senior VP for the Asia Pacific, for his many years of service to the U.S. red meat industry.
USMEF
The U.S. Meat Export Federation Spring Conference got underway Wednesday in Minneapolis, with USMEF senior staff updating members on industry efforts to expand the international footprint for U.S. red meat and bolster demand for underutilized pork, beef and lamb cuts.
Minnesota Agriculture Commissioner Thom Petersen welcomed a strong turnout of producers, exporters, packers, processors and traders from across the nation, praising their collaborative efforts to advance U.S. agriculture by building global demand.
"I really wasn't a 'feed-the-world' type of person when I started as commissioner," Petersen said. "But as you get out on trade missions and see the world – big cities like Bogota and Lima, and even London and Manila – you realize there's just a lot of people that need to be fed. This association and others do really good work to bring that forward."
USMEF President and CEO Dan Halstrom followed with an overview of the competitive landscape, identifying and detailing a number of opportunities for U.S. market share gains. This included a discussion of the sharp decline in European pork production, which fell nearly 6% last year. With this trend continuing in 2023, Halstrom explained that the U.S. pork industry is in an outstanding position to capitalize on a favorable price and supply situation, especially in the Asia Pacific region.
"One of the largest suppliers of pork in the world is down and is likely to remain hamstrung," Halstrom said. "And when you look at the whole global protein pie, this has implications for beef as well. I'm a marketing guy, and I see this as a big opportunity for the U.S. industry."
Halstrom noted that exports of U.S. beef began the year considerably lower than a year ago, due in part to tight supplies, but began regaining momentum in March. He said consumer demand in markets such as Mexico and the Caribbean has strengthened with the rapid recovery in travel, tourism and foodservice activity, but the COVID pandemic's impact has lingered longer in many Asian markets.
"There are parts of the world where COVID is well in the rearview mirror," he said. "We just need to get Asia the same way."
Halstrom then introduced attendees to USMEF's top culinary experts, which included Mexico-based Corporate Chef Germán Navarrete, ASEAN Director Sabrina Yin, ASEAN Chef Jonathan Neo, Chilean Chef Sebastian Gre and Caribbean Representative Liz Wunderlich. Halstrom explained that maximizing carcass value is a global objective for USMEF, with the pork loin and beef round as featured primals in these market development efforts. The panelists described how USMEF partners with importers and distributors to educate customers in the foodservice sector on the versatility and adaptability of underutilized cuts for use as center-of-the-plate items in both traditional cuisine and new menu concepts.
Wunderlich described how the focus on underutilized cuts is driving marketing efforts in the Caribbean for U.S. lamb, which is more expensive than product from Australia and New Zealand. The most popular cuts in the region are lamb rack and leg of lamb, but USMEF is actively promoting alternative cuts such as sirloin, Denver ribs and bellies in dishes that highlight the flavor and tenderness of high-quality American lamb.
USMEF's commitment to promoting underutilized cuts is especially critical during times of tight supplies, Yin added. She noted the importance of USMEF's consistent staff presence for gaining the confidence of importers and distributors who often need assistance educating customers on the attributes of lesser-known cuts.
The session closed with a joint presentation by Joel Haggard, USMEF's longtime senior VP for the Asia Pacific, and his successor Jihae Yang. After overseeing very successful efforts to expand demand for U.S. beef and pork in South Korea, Yang has taken on the expanded role of Asia Pacific vice president as Haggard moves toward retirement.
Haggard recapped the U.S. industry's decades of investment in Asian markets, laying the groundwork for future demand even when market access was severely limited by high tariffs and other obstacles. As these barriers eased over time, U.S. pork and beef exports achieved tremendous growth in major destinations such as Japan, South Korea and China, but always with an eye on potential expansion in emerging markets. Yang detailed the prospects for continued growth in Asia with a particular focus on the ASEAN. She explained that the region's enormous consumer base has a growing need for high-quality protein at a time when domestic livestock producers are challenged by high input costs and significant animal health issues.
The conference continues Thursday with a general session examining the current state of U.S.-Mexico trade relations. This will be followed by meetings of USMEF's standing committees, which focus on issues specific to the organization's pork, beef, exporter and feedgrains and oilseeds sectors. At Friday's closing session, former House Agriculture Committee Chairman Collin Peterson will provide an update on development of the next Farm Bill.
Subscribe to Our Newsletters
BEEF Magazine is the source for beef production, management and market news.
You May Also Like
---