One Person At A Time
One Person At A Time
Troy and Stacy Hadrick turned a media nightmare into a grassroots campaign to tell America's agricultural story. They are our 2010 Trailblazer Award honorees.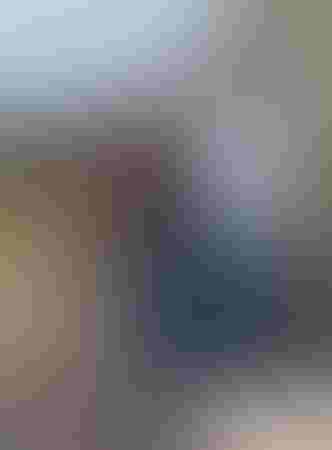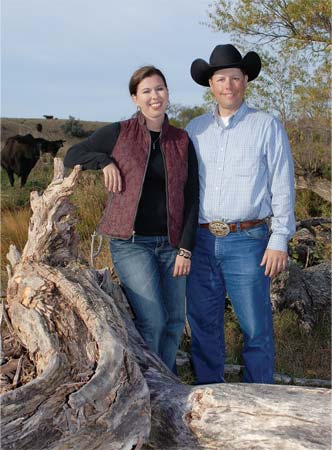 March 31, 2002, was a watershed date in the lives of fifth-generation ranchers Troy and Stacy Hadrick. The young couple was in Troy's hometown of Faulkton, SD, that weekend, spending the holiday on his parents' diversified cattle and grain operation.
Troy and Stacy Hadrick
"It was not a good Easter," Troy recalls sitting at his kitchen table eight years later. The pained grimace from wife Stacy, standing nearby, affirms that sentiment.
It was that weekend that the family's well-intended collaboration with a New York Times Magazine writer named Michael Pollan bore its bitter fruit. The young couple and Stacy's family in Vale, SD, where the couple was living at the time, had agreed to work with Pollan on a feature story on U.S. beef production. Pollan's article, "Power Steer," followed the progress of "steer 534," a brockel-faced crossbred calf from the Blair Ranch, from weaning to finish.

"Pollan approached us saying he wanted to write about how steak starts out at the ranch and ends up on a dinner plate. He sold it to us as being a very positive thing," Troy says. "I guess we felt fairly confident in our ability to tell the story."
The Hadricks can be forgiven for not recognizing the threat. Back then, Pollan was fairly anonymous. But, thanks to books like "An Omnivore's Dilemma," his denunciation of modern agricultural production published in 2006, Pollan's name has more celebrity these days. In fact, the Berkeley journalism professor was reportedly considered by Barack Obama as a potential USDA Secretary.
In "Power Steer," Pollan wrote about the unhealthiness of conventionally produced beef. He described feedlots as "crowded, filthy and stinking, with open sewers, unpaved roads and choking air," and heaped on charges of "antibiotic resistance, environmental degradation, heart disease and E. coli poisoning."
"I'll never forget sitting in mom and dad's office reading that article online with Stacy and thinking, 'Oh, my god, what just happened here?' My heart just sank. I looked at Stacy and she was pale," Troy says.
"Devastation is the word," interjects Stacy.
But it was a seminal event that eventually launched the young couple into a new direction – agricultural advocacy.
"What we try to do is help people understand they don't have to leave their community to make a difference. They can change the perception of agriculture by telling their story one person at a time," Stacy says.
The Hadricks are young, confident, well-spoken and disarmingly personable. They function as a unit; one often finishes the other's sentences. The couple grew up on opposite sides of the wide Missouri River that slices through South Dakota. Stacy is the product of a cow-calf, backgrounding and commercial bull business located about 40 miles north of Rapid City. Meanwhile, Troy grew up east of the Missouri River outside Faulkton.
The pair met at South Dakota State University and were married their senior year, moving to Stacy's family operation in western South Dakota in 1999. There, Stacy began her career as an Extension educator, while Troy worked on the Blair Ranch. Since then, the couple has added three children – Teigen, 8; Olivia, 5; and Reese is 3.
Laying low
The Pollan incident gutted them, the young couple says. "At that point, we thought we'd just lay low for awhile and we did; our whole family did, but we stayed active in organizations," Troy says. They participated in American Farm Bureau Federation (AFBF) leadership training. And, in 2004, the couple won AFBF's national speaking competition, the National Excellence in Ag Award.
In 2006, the couple was asked to provide a 20-minute presentation in nearby Spearfish to the South Dakota Women in Agriculture Conference.
"We had 20 minutes and we practiced our butts off. It was the longest 20 minutes of our lives. And there's still a core of that original presentation in our talks today," Stacy says.
"What helped us was that we were in front of a lot of people we knew, and it all went so well. After that, I thought, 'Man, I'd love to go out and do this again in front of another crowd,'" Troy says.
That presentation earned them an invitation across the state line to address the Wyoming Women in Agriculture Conference.
"We began to realize that no one is going to tell our story for us, no one is going to tell it the right way," Stacy says. "We needed to go out and do it ourselves but at that time we were so dang hurt, scared and embarrassed."
While Stacy was reluctant, Troy was raring to go.
"It had burned inside me for years," Troy says. "I wasn't after revenge, but I wondered how I could go about correcting this situation when folks like Pollan were writing articles for places that buy ink by the barrel and I'm sitting out here in western South Dakota. But it just came back to the simple concept that we just needed to go out there and find opportunities to tell people our side of the story. That's how it started."
"Really if it hadn't been for Trent Loos, I don't know if we would have jumped as quickly. He told us that there were still people – and this is four years later – still talking about the 'Power Steer' article; it was even being discussed in classrooms," Stacy says.
"I can't express in words how proud and how much of an impact Troy and Stacy are making," says Loos, a longtime agricultural advocate, speaker, broadcaster and author who boasts of a radio listening audience of 4 million across the U.S. "They are just masters in sharing their experiences and tying it into what it means to the bigger picture of food production."
Simple advocacy
In 2006, the Hadricks launched Advocates for Agriculture (Advocates ForAg.com). In 2008, they added a blog. A bit later came their Facebook presence, which now boasts 11,000 fans, then a Twitter account, which numbers 1,800 followers. This year, they'll make a total of 30 presentations in 20 states.
"Agricultural producers have a fantastic story to tell. But for far too long, the industry has let others tell its story, which has led to a shift in the perception of agriculture that isn't true. Folks need to understand everyone can spend a small amount of time advocating and it will make a big difference," Stacy says.
Their advocacy uses a synergy of personal appearances and online social media. They eschew politics; simple advocacy is their game.
"What I do is if I put something on my blog, I go to Facebook and post a notice on it – 4-5 sentences with a link to the blog. Then I go on Twitter and I do the same thing in 60 characters and a link. So the blog has become home base where people go to get the whole story, but Facebook and Twitter allow me to draw in a bigger audience," Troy says.
They're now moving into video (YouTube) and though they've only produced one, it was a doozy.
"I was sitting at the computer one morning and I saw a little blurb that said Yellow Tail, an Australian winery, was donating money to the Humane Society of the U.S. (HSUS). I thought of how ridiculous it was to have an agriculture-based company giving money to a group trying to put ranchers and farmers out of business. So I wrote about it on my blog and promoted it on Facebook," Troy says.
"We just happened to have a bottle of Yellow Tail wine in our house at that time, so I made a 53-second video of myself pouring the bottle onto the ground and posted it on YouTube. That generated a 10-15 minute interview from an Australian broadcasting company.
"This whole thing started at our kitchen table, without leaving home. And it ended up covering at least two countries. Within a few weeks, Yellow Tail pulled its funding from HSUS. Using social media, we were able to tell our story to a company based halfway around the world. There's never been a time in history where just anyone had this much reach."
Future plans
The Hadricks' latest advocacy venture is to chronicle on video a year on the ranch for a fourth-grade class in Sioux Falls. The Hadricks plan to do a monthly video centered around a seasonal task on the farm and ranch.
"Each month, we'll produce a video of what we're doing on the farm and ranch. We hear the kids are really pumped," Troy says. "We want those kids to connect with us, to learn that farmers and ranchers are normal people, too, and we do things with our families just like they do."
Beyond that, the couple says they're rededicating their efforts to reach out to everyone they can at every opportunity – one person at a time.
"It's the little things that we see out there that we're taking advantage of. We try to take advantage of every and any opportunity to talk to people. That's the mind shift we have now," Stacy says.
Subscribe to Our Newsletters
BEEF Magazine is the source for beef production, management and market news.
You May Also Like
---