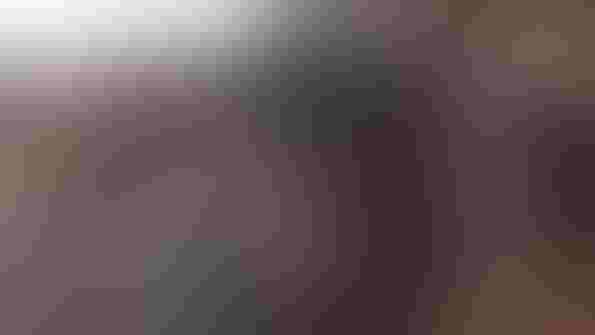 Prevention of trichomoniasis may be the most important economic factor in a cattle ranch's preventive health program. A sound program will help prevent abortions and ongoing losses at a time when every calf is vital to the bottom line.
More commonly known as "trich," this highly contagious venereal disease can wreck a herd's reproductive efficiency. "For a cow-calf producer, there's not another disease that comes close to the economic impact of trich," said Dr. John M. Davidson, senior professional services veterinarian for Boehringer Ingelheim Vetmedica, Inc. (BIVI).
"The economic impact of trich extends well beyond the lost pregnancies," Davidson said. "Trich shifts the calving pattern, which reduces weaning weights and potentially shortens female longevity in the herd. It also takes a heavy toll on bull power as confirmed infected bulls should be slaughtered."
Trich is caused by a tiny protozoan parasite, Tritrichomonas foetus. In the cow, the parasite colonizes in the vagina and uterus. In bulls, it colonizes or lives in epithelial folds on the skin of the penis and prepuce.
Davidson says trich has been affecting U.S. cattle herds since its first report in 1932. "In the last 15 to 20 years, trich has finally been recognized for its significance to a producer's bottom line," he added. The herd history in those affected herds is usually the same: one or two calving seasons with abnormal numbers of abortions and open cows before trich was identified as the culprit.
Reports from the Texas A&M Veterinary Medical Diagnostic Laboratories in 2014-2015 indicated that 3 percent of all sampled bulls tested positive for trich. "Trich poses a substantial threat in many areas of the United States: Gulf Coast, Mountain West, and the Central Plains," Davidson said. "For cow-calf producers who ranch in at-risk areas, this venereal disease is a significant economic risk when introduced into their herd."
Dr. Jeff Ondrak, researcher with the University of Nebraska Great Plains Veterinary Educational Center, said even though some don't see trich as a major problem for cow-calf producers, "it has never gone away" in Nebraska and other states.
"Testing for trich remains an important part of a cow-calf operation's breeding program," Ondrak said. "A lot deals with how much you know about the disease. Those who have had to deal with trich are usually more cautious about testing than those who haven't dealt with it."          
Trich prevention
Preventing trich starts by having close communication with a veterinarian to discuss your breeding program and how it can be improved to prevent the disease. Davidson said one step is to limit the breeding season to 2 to 3 months to help the veterinarian recognize the typical pattern of non-pregnant cows and/or fewer cows conceiving early in the breeding season.
Davidson also recommended that cow-calf producers consider these management practices to prevent trich:
Purchase only virgin replacements including bulls and heifers. This ensures that bulls have not been exposed to cows carrying the disease. "Purchasing non-virgin bulls increases your risk of introducing the disease into your herd," he explained.

Test all bulls before and after the breeding season. Follow your state regulations for those bulls identified as infected. Post breeding surveillance and excellent pasture breeding records are additional steps to limit the transmission of trich if introduced into your herd. (Test samples are taken from along the penis surface, then sent to a veterinary diagnostic lab for testing.)

When open range grazing cannot be avoided, vaccination and surveillance are critical to minimize the long-term effects to the herd's efficiency. A neighbor may have a trich-infested herd and the old saying, "no fence is cattle-proof" may apply. Have a good surveillance plan to monitor pastures.

Vaccinate cows and heifers to aid in the reduction of shedding of the T. foetus organism. 
"TrichGuard® vaccine from BIVI has demonstrated in multiple peer-reviewed studies to potentially increase live calves born in the face of extreme challenge," Davidson said.1,2 "A vaccination program for cows and replacement heifers should be built around the greatest disease threats in a producer's area and not tradition. When compared to another venereal disease such as bovine vibriosis (caused by Campylobacter), trich poses a much greater threat in many areas of the United States. I've always found it interesting that the prevalence of trich has outpaced vibrio yet many herd health programs have not been updated to reflect this increased risk."3 

BEEF Seedstock 100 List
Looking for a new seedstock provider? Use our UPDATED Seedstock 100 listing to find the largest bull sellers in the U.S. Browse the list here.
Understanding the ease in which trich is spread is a critical piece of information for the producer. The protozoal organism is very easily transmitted during breeding. In fact, a 1976 study demonstrated that a single service was all that was necessary to transmit trich to 19 of 20 heifers.4 The BIVI vaccine does not create a barrier to the transmission of the organism. But it does reduce shedding and research has shown this increases the likelihood of her delivering a live calf.
Ondrak warned that since the goal of a cow-calf producer is to wean a calf for every cow exposed to a bull, "then trich is obviously a major obstacle. There is the potential to have a lot of open cows. Trich is one of those diseases that highlight the need for addressing management. Once you address those issues, the vaccine is an additional tool should the disease make its way into the herd."
He said that to be the most safe in a breeding program, "producers need to look at every animal not in their herd as potentially infected with trich and treat the animal that way."
Davidson added that management of bulls and females to prevent trich can require additional monitoring of cattle. "The challenge is in a multi-sire breeding group. About 80 percent of females will be bred by more than one bull.5 The more infected bulls in the bull group, the lower the pregnancy rate tends to be."            
Bulls should be tested pre-breeding, then again at post-breeding. "They need a negative test before changing pastures," Davidson said. "With the threat of lost calves at today's market price for cattle, using TRICHGUARD is an easy economic decision to make."
Talk to your veterinarian about how to prevent trichomoniasis from infecting your herd.
1—Kvasnicka WG, et al. Investigations of the incidence of bovine trichomoniasis in Nevada and of the efficacy of immunizing cattle with vaccines containing Tritrichomonas foetus. Ther 1989;31;No. 5.
2—Kvasnicka WG, et al. Clinical evaluation of the efficacy of inoculating cattle with a vaccine containing Tritrichomonas foetus. Am J Vet Res 1992;53:No. 11.
3—Communications with Texas A&M Veterinary Diagnostics Laboratory over the last eight years. 
4—Parsonson M, Clark BL, Dufty JH. Early pathogenesis and pathology of tritrichomonas foetus infection in virgin heifers. J Comp Path 1976;86:59. http://www.sciencedirect.com/science/article/pii/0021997576900281
5—Barth AD. Evaluation of potential breeding soundness of the bull. Curr Ther Lar Anim 2007;228-240.
For all products, read and follow all label directions, including booster requirements. Product combinations vary; read label directions to determine antigens included in each vaccine.
All products are trademarks or registered trademarks of Boehringer Ingelheim Vetmedica, Inc. ©2016 Boehringer Ingelheim Vetmedica, Inc.
You might also like:
9 things to include in your ag lease (that you better have in writing!)
Top 10 issues facing beef producers
Market outlook: Are cattle traders trying to catch a falling knife?
Subscribe to Our Newsletters
BEEF Magazine is the source for beef production, management and market news.
You May Also Like
---
Current Conditions for
New York, NY
See Detailed Weather Report
Enter a zip code to see the weather conditions for a different location.
Aug 27 - Aug 29, 2024
Farm Progress Show annually hosts more than 600 exhibitors displaying new farm equipment, tractors, combines and farm implements; seed and crop protection products; and many additional farm supplies and services.
LEARN MORE