The deal is done: New USMCA replaces NAFTA
The deal is done: New USMCA replaces NAFTA
USDA Secretary Sonny Perdue said, "USMCA is a better deal for America that will grow our economy and put more money in the pockets of American families."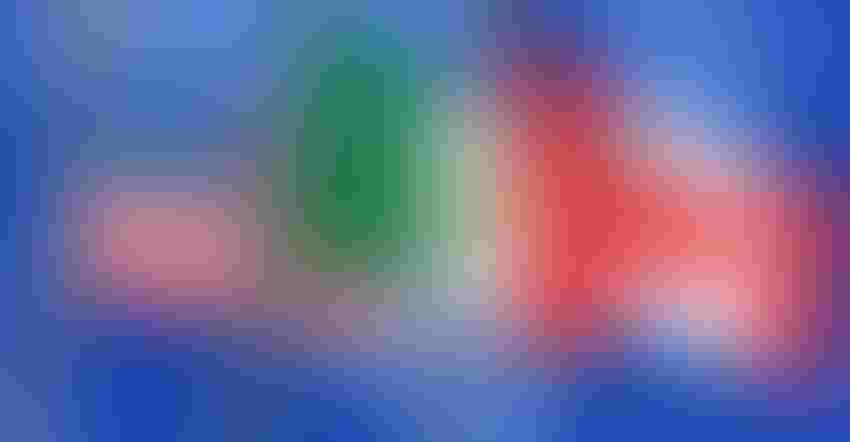 Marc Bruxelle/Getty Images
One of President Donald Trump's campaign promises in 2016 was to renegotiate trade deals to benefit America's farmers, ranchers, consumers and workers.
While the bitter battle with China seems like ages ago, in light of the global pandemic that has dominated the news cycle in 2020, the reality is that producers certainly felt the pinch of an ongoing trade war, with many doubting Trump would actually pull through.
On July 1, Trump finally pulled off his campaign promise, signing into effect the United States-Mexico-Canada Agreement (USMCA), which the White House touts as a better deal than 24-year-old North American Free Trade Agreement (NAFTA).
In an op-ed piece, USDA Secretary Sonny Perdue said, "America is located in the greatest neighborhood on earth, with Canada and Mexico as some of our top trading partners. In 2019, our nation exported more than $40 billion worth of agricultural products to Canada and Mexico, including billions of dollars' worth of corn, soybeans, pork, beef and processed foods, as well as agricultural heavy equipment.
"USMCA creates more market access for farmers from across our nation to sell their wholesome and nutritious products to our closest neighbors. This is a better deal for America that will grow our economy and put more money in the pockets of American families.
"President Trump is laying the foundation for a stronger farm economy through USMCA and other fair-trade deals. When President Trump first promised to re-negotiate NAFTA, the universal hue and cry from agriculture was 'do no harm.' Not only has he done no harm, but USMCA is a better agreement than NAFTA on almost every front.
"The implementation of this deal sends a strong signal to other important export markets such as the United Kingdom and the European Union that President Trump and Congress are serious about pursuing and enacting future agreements that create better economic opportunities for all parties involved. The United States is open for business, and our farmers are ready to export more of their wholesome and nutritious products to consumers around the world. I thank President Trump for successfully renegotiating and updating this dusty trade agreement and setting the stage for Americans to succeed and grow our economy for years to come."
Agricultural groups were quick to praise the successful implementation of the USMCA trade deal.
The National Cattlemen's Beef Association sent a joint letter to thank the leaders of all three nations. It was signed by NCBA President Marty Smith, Canadian Cattlemen's Association President Bob Lowe, and CNOG President Oswaldo Chazaro Montalvo.
Here is an excerpt: "International trade is fundamental to the success of North American farmers and ranchers and the full value of the products we sell can only be achieved when we have access to the markets that most value them. In the face of the economic hardships of COVID-19, it is timely and welcome that USMCA enters into force, providing a foundation of economic stability for our rural communities and food systems."
Meanwhile, American Farm Bureau Federation Chief Economist John Newton said, "On the back of a struggling farm economy, on the back of the COVID-19 pandemic, this is welcome news, improving what's been a long and successful agreement for U.S. agriculture. Farmers were excited about USMCA implementation.
Speaking on the White House lawn, Trump said of the USMCA deal, "When I ran for president, I made a solemn promise to the American people that I would end the job-killing failure called the NAFTA and replace it with a better deal for our workers, farmers, ranchers, and businesses—the men and women of Main Street who built the most prosperous and equitable economy in human history.
"Today, with NAFTA ending forever and the USMCA entering into full force, our grateful nation pays tribute to America's workers and celebrates their ability to overcome decades of bad deals and failed policies. The USMCA is the largest, fairest, and most balanced trade agreement ever negotiated and contains innovative provisions to help grow the economy and support American jobs. It is a tremendous victory for our manufacturers and autoworkers, meaning more cars and trucks will be produced in the United States.
"The USMCA is also a historic breakthrough for American agriculture. Canada will provide greater access for American dairy products, poultry, and eggs, and finally give fair treatment to American-grown wheat. In addition, the USMCA includes groundbreaking provisions to address digital trade, services, small business, and more, which will protect America's competitive edge in technology and innovation."
The opinions of Amanda Radke are not necessarily those of beefmagazine.com or Farm Progress.
Subscribe to Our Newsletters
BEEF Magazine is the source for beef production, management and market news.
You May Also Like
---