U.S. beef industry can profit from trade with United Kingdom
U.S. beef industry can profit from trade with United Kingdom
The British ambassador to the United State speaks of the benefits of a future ag trade agreement with the U.S.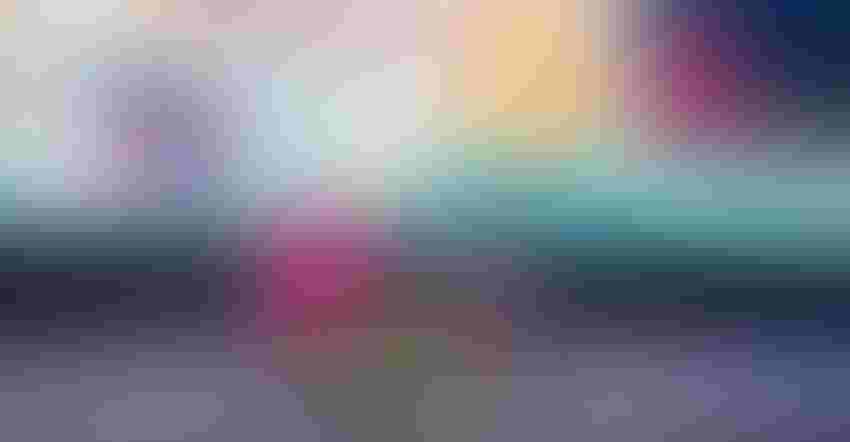 TRADE OPPORTUNITIES: Dame Karen Pierce, British ambassador to the United States, spoke with Ethan Lane, NCBA vice president of government affairs, on the main stage at the Cattle Industry Convention, Feb. 3 in Houston. Opportunities to export American beef to the United Kingdom have opened up in this post-Brexit world. The two discussed the steps to putting more U.S. beef on British plates.
Jennifer M. Latzke
U.S. beef has the taste international consumers appreciate.
For the past several years, consumers in Japan, China and South Korea have been dominant purchasers of U.S. beef products, particularly cuts that American consumers won't eat. Those countries led the $10 million in beef exports in 2021. That comes to $400 per head attributed solely to export markets, said Ethan Lane, NCBA's vice president of government affairs Ethan Lane. Lane spoke during a general session on Feb. 3 at the 2022 Cattle Industry Convention in Houston.
But it's only prudent to look beyond to see what other export markets are out there. And in this post-Brexit world, one market that has opened to U.S. cattle producers is the United Kingdom.
Beef and diplomacy
The U.K.'s Ambassador to the United States, Dame Karen Pierce, said the U.S. and the UK have long had a deep and profound relationship in war and in peace. Speaking weeks before the current Russia-Ukraine conflict, Pierce emphasized how the U.K. and the United States work together to address challenges that have larger, global implications.
"We have a common purpose in forging frameworks to deal with all the new challenges of the 21st century," she said, adding whether those challenges are climate, migration, health pandemics, or new technology and what it can do for agriculture. But supercharging trade is very important to Great Britain, she said.
"We, between us, have a trillion's worth of dollars investment in each other's countries," Pierce said. "Every year the U.S. exports $1.3 billion's worth of agricultural products to the U.K." Now that the U.K. has left the European Union, regulations, rules and tariffs are in U.K. hands, and the U.K. is developing legislation she added.
"A free trade agreement is very much in both our interests, whether that's at the government-to-government level, or whether that's at the state and regional level," she said.
Sustainable agriculture
Agricultural trade negotiations are tricky because there are different standards and approaches to agriculture and the environment between the countries, Pierce said. The U.K. emphasizes the need for sustainable agricultural production practices at home. She said in the U.K., greenhouse gas emissions from beef are about half of the global average, and the country has a target of net-zero emissions from agriculture by 2040.
That's very similar to NCBA's sustainability goals set forth in 2021, Pierce said. She's optimistic that will help trade negotiations in the future. She said it's important for U.K. consumers to hear the sustainability message of agricultural production, whether from their local farmers or the U.S. cattle producer exporting the steak that lands on their plates.
The two countries approach environmental regulations through different paths, but ultimately there is a shared goal, Pierce said. It's just going to take some discussion about what the standards will be under a free trade agreement that will be beneficial to both countries and the environment.
Next steps
Pierce said that getting trade negotiations with the U.S. restarted will be the next step; and now that Brexit is complete, the work is underway to turbocharge the trade side.
"We can add billions to each other's economy if we have a free trade agreement — a proper, negotiated, signed and sealed trade agreement," Pierce said.
Subscribe to Our Newsletters
BEEF Magazine is the source for beef production, management and market news.
You May Also Like
---