BEEF readers aim to harvest more hay in 2015 than in the past
BEEF readers aim to harvest more hay in 2015 than in the past
Exclusive survey of BEEF readers indicates that respondents aim to harvest more hay in 2015 than in the past.Download the entire survey in a PDF version here.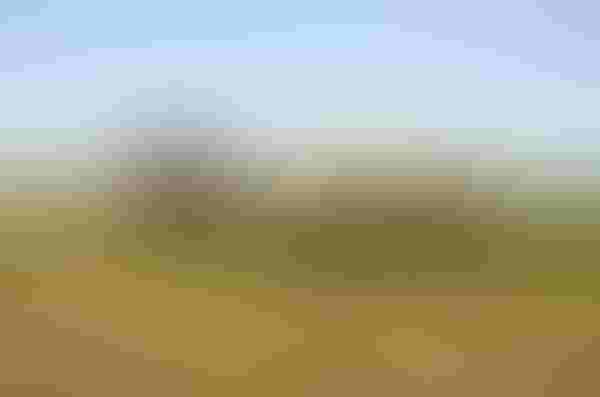 If the smell of freshly mown hay mingled with the feel of a grease gun in your hands is one of your summertime highlights, this might be a year to remember. That's because a good chunk of BEEF readers say they plan to spend more time in the hay field this year, according to the results of a recent survey.
Beef surveyed its readers in January regarding their forage and hay plans for the year. Of the readers who responded, 31.4% say they plan to grow and harvest more hay this year than they did five years ago. Meanwhile, the majority of respondents, 57.6%, say they plan to harvest the same number of acres for hay in 2015, while 11% plan to run their machines a little less this year than in the past (Figure 1).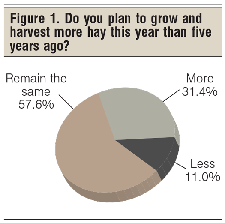 Of those respondents growing more hay today than they did five years ago, a whopping 72% say they'll do so because they need more feed for their livestock. That's another indication that cattle producers are looking toward the future with restocking their pastures in mind.
In addition, 22.5% say they're responding to high hay demand and prices; 13.3% say they're returning to more normal moisture conditions after battling drought the last several years; and 13.3% are putting more acres into hay as part of their normal crop rotation plans. Figures equal more than 100% because of multiple answers (Figure 2).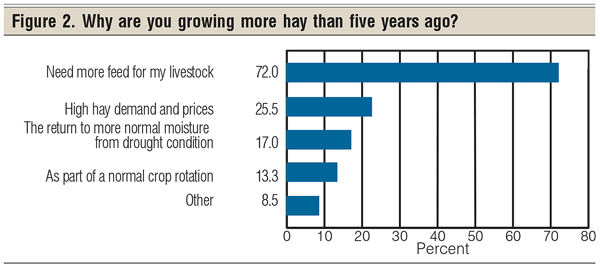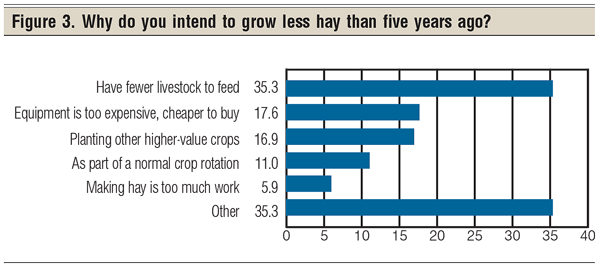 But not everyone is joining the expansion parade. Of readers who say they plan to harvest fewer hay acres this year, 35.3% attribute it to having fewer livestock to feed. Another 17.6% say equipment is too expensive and they'll buy their hay; 16.9% are switching some of their hay acres to higher-value crops; 11% say it's part of their normal crop rotation program; and 5.9% say making hay is too much work. The figures total more than 100% because of multiple answers (Figure 3).
Interestingly, however, 35.3% checked the "other" box in the survey. Among those, some are still battling drought, others are grazing their pastures more and feeding less hay, and some still have leftover hay from last year.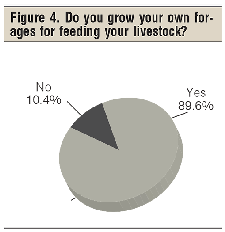 Though it's easy to put wheels under a hay crop and haul it from where it's harvested to where it will be fed, nearly 90% of survey respondents say they will grow their own hay and feed it at home (Figure 4).
And while the number of acres of hay grown are spread out in a bell curve, the most common number of hay acres reported by readers was from 100 to 199, which drew a 25.5% response. Fifty to 99 acres was also a common range (18.2%), as was 1 to 49 acres at 14.1%. A tick over 12% of readers harvest 200 to 299 acres of hay and forage; 6.2% cut 500 to 999 acres; 5.5% are managing 400 to 499 acres; and 5.6% are handling 1,000 acres or more of hay ground (Figure 5).
When asked what kind of hay they grow, the answers ran the gamut of virtually every conceivable grass or mix that grows high enough to fall to a cutterbar. In fact, 27.6% of respondents reported growing something other than the choices in the survey. However, the biggest single type of hay crop grown is a summer annual grass, which drew a 50.2% response. That was followed by alfalfa at 42.5%; alfalfa mix at 30.7%; oats grown for hay at 14.6%; bermudagrass at 14.5%; and wheat at 9.1%. Figures total more than 100% due to multiple answers.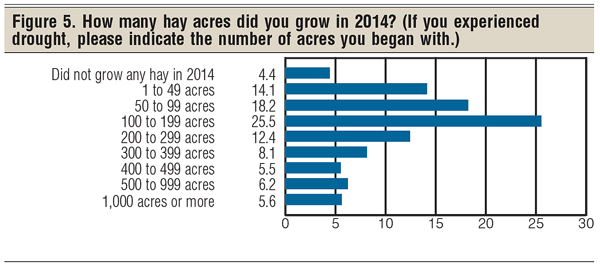 Growing vs. feeding
While growing hay is one thing, feeding it is something else. For a variety of reasons, a cattle producer may not feed all the hay he harvests. To discern that difference, beef drilled down a bit deeper and asked readers if they're feeding more or less hay to their cattle than previously.
The majority (64.8%) say they're feeding the same amount as they have in the past, while 18.6% are feeding more and 16.7% are feeding less (Figure 6).
Of those feeding more hay, having more cattle is the dominant reason, reflecting the question on growing above. Another 34.6% say they have less grazing available, 12.2% say their average cow size is larger and 24.3% have other reasons. Drought and winter weather were listed by a number of readers as reasons for higher hay consumption. Others are expanding into other aspects of cattle production, such as backgrounding (Figure 7).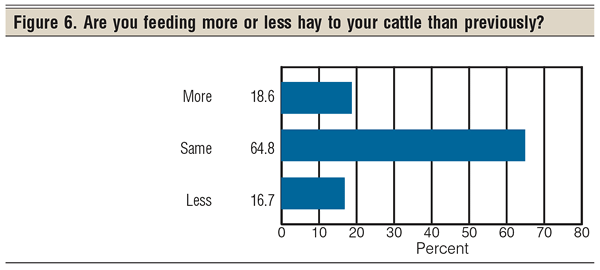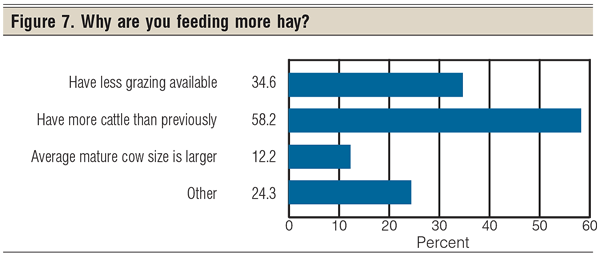 Of those feeding less hay than they did previously, 65.7% say they are relying more on grazing, 13.6% have fewer cattle and 35.6% say "other." In many cases, the amount of hay fed is being replaced by alternative feeds and feed byproducts (Figure 8).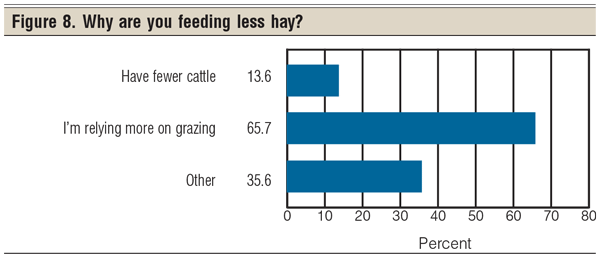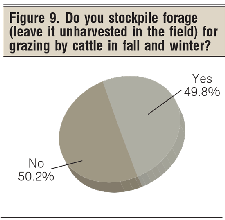 What's more, many readers are cutting costs and labor by stockpiling grass or forage in the field to be grazed in fall and winter. In an even split, 49.8% said that stockpiling is part of their management strategy, while 50.2% say it is not (Figure 9).
Of those who harvest their own hay, the vast majority, 72.6%, do it themselves with equipment they own. Custom operators, however, still figure into the equation, as 14.5% of respondents use a combination of their own sweat equity and a custom harvester; and 12.2% hire the entire job out to a custom operator. Only 0.7% harvest their own hay using leased equipment (Figure 10).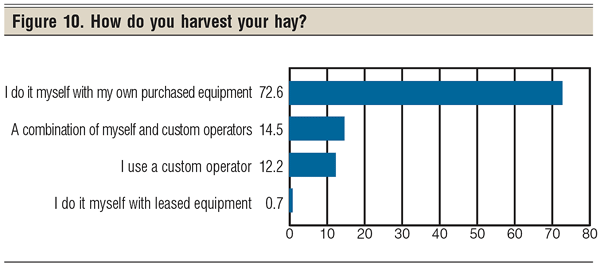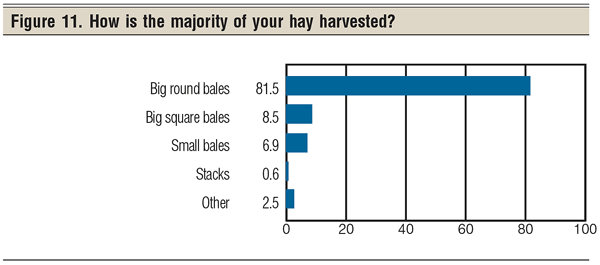 And, as a drive down most country roads during haying season will reveal, big round bales are the method of choice. In fact, 81.5% of readers prefer round bales, 8.5% like big square bales, 6.9% are baling in small squares, 0.6% still stack their hay and 2.5% say "other." By and large, these folks are chopping, putting up haylage or cubing their harvest (Figure 11).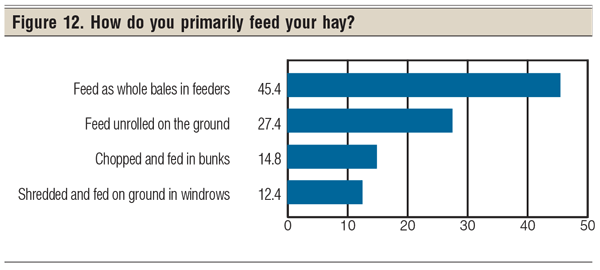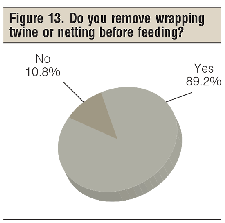 Regarding feeding, 45.5% of survey respondents say they feed their whole bales in a bale feeder. Another 27.4% roll it out on the ground, while 14.5% chop it and feed it in a bunk, and 12.4% shred it and feed it on the ground in windrows. (Figure 12).
And, as the experts advise, nearly everyone (90%) removes the twine or net wrapping before feeding (Figure 13).
Testing is still in the minority
Something else that experts stress is testing forage in order to better manage the nutrients for the herd's needs. Of respondents, 41.3% say they test their hay, while 58.7% do not. However, of those who buy hay, most (76.7%) don't require a forage analysis as part of the transaction, while 17.8% do. And when respondents sell hay, only 7.2% say their buyers want a forage analysis (Figure 16).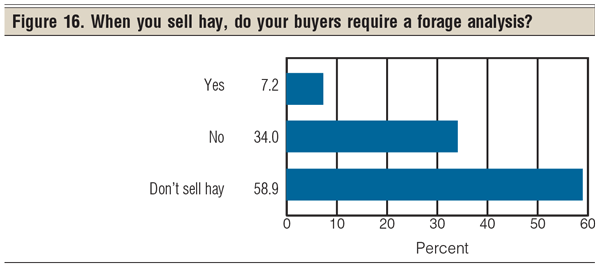 When asked why they don't test their hay or require a forage analysis, 54.9% feel they can tell the quality visually, 21.9% say it's not worth the cost and 29.7% cited other reasons. You can read those "other" reasons and view the entire survey here.
All in all, growing, harvesting and feeding hay is still a big part of the total operation for most beef readers. So break out the wrenches and grease guns, and start prepping your big iron for this summer's work. The smell of freshly mown hay awaits you.
You might also like:
Experts say ranching done right improves the environment and wildlife habitat
Is sexed semen the next reproductive standard?
Breathtaking photos of winter on the ranch
Bale grazing lets cows feed themselves
It's possible to pasture cattle without using fences
70 photos honor the hardworking cowboys on the ranch
Subscribe to Our Newsletters
BEEF Magazine is the source for beef production, management and market news.
You May Also Like
---