Late-summer burning for sericea control is catching on
Late-summer burning for sericea control is catching on
K-State researcher says he has seen 'tremendous pickup' in interest in growing-season burning.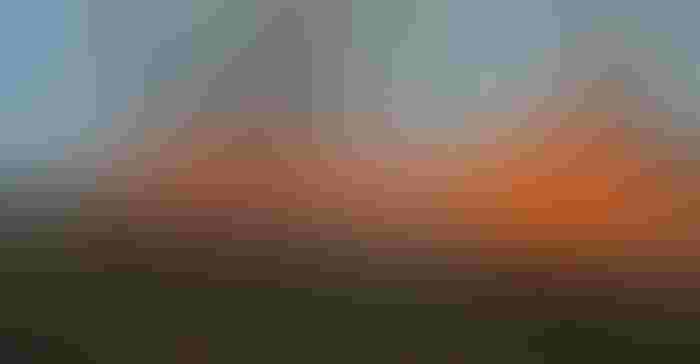 The promise of a late-summer, growing-season prescribed burn as the most effective and least expensive way to control Sericea lespedeza in Flint Hills, Kan., pastures is attracting a lot of attention from ranchers.
K.C. Olson, Kansas State University professor of range beef cattle nutrition and management, says he's seen a "tremendous pickup" of interest in late-summer burning as ranchers struggle to control sericea, a plant that started out as a remedy for erosion control and wound up one of the toughest of invasive weeds on the prairie.
"I've been talking to producers, and getting their input and their experiences," says Olson, who this year is completing the final year of a four-year study funded by the National Fish and Wildlife Foundation.
Olson says there are distinct differences in technique to getting a successful growing-season burn compared to a traditional late-spring, dormant-season burn.
"We're still working on figuring out what makes the best late-summer burn," he says. "We're learning about the best conditions and technique. The how-to part is still a work in progress."
What researchers have learned so far is that you need a good fuel load at the surface of the ground, and there may not be enough for a complete growing-season burn if you burned the same pasture in the spring. Since the growing plants have a higher forage moisture content, you will need to open the drip torch wide and drip it from above into the fine fuel load.
"You can't drag it like you do in the spring, and you can't light strips and expect the fire line to fill in. You have to lay down a solid fire line," Olson says. "You have to expect that it will burn slower and cooler than a spring burn."
So far, the ideal time to both get a clean burn and a regrowth of forage sufficient for winter grazing appears to be late August or early September, Olson says. Ideal conditions are a warm day , steady 7- to 12-mph winds, less than 55% relative humidity and at least 48 hours post-rainfall.
Always learning
Joe Carpenter and his wife, Barb Downey, tried a late-summer burn this year on their ranch near Wamego, Kan. It took more than one try to get it right, but Carpenter says that the pasture he burned in late September looked beautiful a week later.
"We burned in the spring, and we didn't have a good fuel load," he says. "I think that was the first problem. I also was trying to light it with a drip torch the way I would do a spring burn, and that just wasn't enough. I tried to do a back fire, and it came out really spotty."
Success came when he laid down a solid fire line, he says, and picked a warm, breezy day.
"We got a complete burn, and it looks great," he says. "I have a little bit of cleanup to do, because we had a tour that day and I didn't want people covered up in smoke."
Carpenter says he will probably have to spray sericea in some of the ditches and drainage areas, because he isn't sure the fire was hot enough to kill those plants.
But the late-summer burn did an excellent job on the sericea and on eastern red cedar and dogwood.
A 3-year effort
Olson said his work with the four-year grant has shown him that it takes about three years of annual late-summer burns to get good sericea control.
"A late-summer burn will damage sericea as it blooms, resulting in little or no seed," Olson says. "But, as a perennial plant, it will regrow from its root system. It takes repeated insults over several years to begin to see sericea first weaken and then decrease in numbers."
One of the pastures he helped burn in early September of this year is owned by former Reno County, Kan., Extension agent Ray Luginsland, and is enrolled in the Conservation Reserve Program.
"That piece of CRP, had a significant infestation of Sericea lespedeza. Ray was under pressure from the county to get it under control, and he came to me and asked me to try burning it," Olson says. "So we got ready to burn the Saturday before Labor Day, and we drew quite a crowd of neighbors on the county road to watch."
Tim Luginsland now manages his dad's family farm. He says he has become a fan of both late-summer burning and of K.C. Olson after witnessing the success on the CRP land.
"I spent a day with K.C., and he is so passionate about this effort, and he is really on to something that can revolutionize the Flint Hills and save ranchers millions of dollars," Luginsland says. "We have been fighting this weed for decades with spraying, and we've seen no improvement. It just keeps getting worse. But fall burning actually works. We got a complete kill this year and a couple of weeks later, the grass was back and established — and we have good cover going into winter."
Luginsland says management of the late-summer burn was easier, too.
"It was not as fast-moving as a spring burn," he says. "It burned all the residue on the ground and just left it really, really clean."
Olson says fall burning doesn't mean that ranchers can finally be rid of the scourge of sericea.
"I don't think we will ever eradicate it, but this offers an inexpensive way to keep it under control so it doesn't take over pastures," he says.
Olson says ranchers who conduct an early-August burn can expect to have about half the original forage in regrowth by late October, and it will be higher-quality, similar to what a spring burn provides. "If you wait until early September, you will only have about a quarter the forage in term of regrowth. I think the early- to mid-August burn may be ideal."
Olson says he will now start working on research to determine how best to integrate a routine summer fire program into a complete management operation.
Subscribe to Our Newsletters
BEEF Magazine is the source for beef production, management and market news.
You May Also Like
---