Ag industry contributes 10% of overall GHG emissions
Ag industry contributes 10% of overall GHG emissions
U.S. forestry lands represents largest carbon sink while more can be done by agricultural sector to sequester carbon.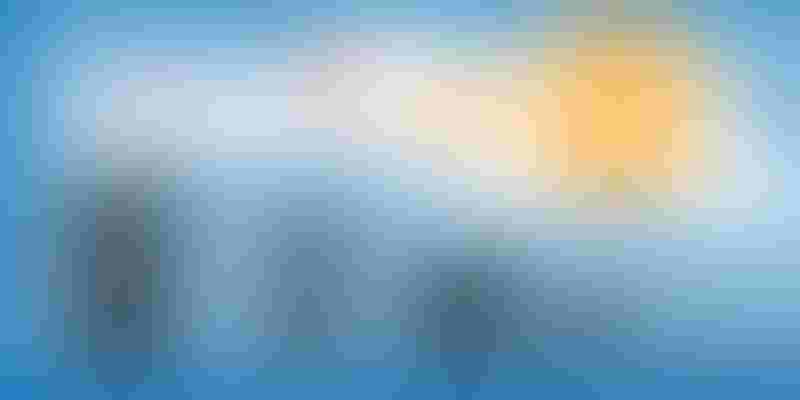 Greenhouse gas emissions from agriculture account for 9.9% of total U.S. greenhouse gas emissions and come from livestock such as cows, agricultural soils and rice production, according to the latest update for the 2018 year. A new analysis of Environmental Protection Agency data highlights agricultural emissions reductions and the importance of developing new research and technologies to capture more carbon in cropland and pastureland.
EPA tracks total U.S. emissions by publishing the Inventory of U.S. Greenhouse Gas Emissions and Sinks. This annual report estimates the total national greenhouse gas emissions and removals associated with human activities across the United States. The report reveals that U.S. carbon sinks offset 12% of U.S. greenhouse gas emissions and sequestered 764 million metric tons during 2018. The largest carbon sink involved U.S. forestry lands.
Emissions increased from 2017 to 2018 by 3.1% (after accounting for sequestration from the land sector). This increase was largely driven by an increase in emissions from fossil fuel combustion, which was a result of multiple factors, including more electricity use from greater heating and cooling needs due to a colder winter and hotter summer in 2018 in comparison to 2017.
Greenhouse gas emissions in 2018 (after accounting for sequestration from the land sector) were 10.2% below 2005 levels.
Various management practices on agricultural soils can lead to increased availability of nitrogen in the soil and result in emissions of nitrous oxide (N2O). Specific activities that contribute to N2O emissions from agricultural lands include the application of synthetic and organic fertilizers, the growth of nitrogen-fixing crops, the drainage of organic soils and irrigation practices. Management of agricultural soils accounts for just over half of the N2O emissions from the agriculture economic sector.
Livestock, especially ruminants such as cattle, produce methane (CH4) as part of their normal digestive processes. This process is called enteric fermentation, and it represents over a quarter of the emissions from the agriculture economic sector. The way in which manure from livestock is managed also contributes to CH4 and N2O emissions. Different manure treatment and storage methods affect how much of these greenhouse gases are produced. Manure management accounts for about 12% of the total greenhouse gas emissions from the Agriculture economic sector in the United States.
In 2018, greenhouse gas emissions from the agriculture economic sector accounted for 9.9% of total U.S. greenhouse gas emissions. Greenhouse gas emissions from agriculture have increased by 10.1% since 1990. Drivers for this increase include a 7% increase in N2O from management of soils, along with a 58.7% growth in combined CH4 and N2O emissions from livestock manure management systems, reflecting the increased use of emission-intensive liquid systems over this time period. 
Reducing emissions
In the United States overall, since 1990, Land Use, Land-Use Change, and Forestry (LULUCF) activities have resulted in more removal of CO2 from the atmosphere than emissions. Because of this, the LULUCF sector in the United States is considered a net sink, rather than a source, of CO2 over this time-period. In many areas of the world, the opposite is true, particularly in countries where large areas of forest land are cleared, often for conversion to agricultural purposes or for settlements. In these situations, the LULUCF sector can be a net source of greenhouse gas emissions, the EPA notes.
To offset GHG emissions and reduce atmospheric CO2, carbon can be trapped in soils through various carbon sink activities such as the growth of trees, forestry management that reduces forest fires and forest degradation, increasing below-ground plant matter and sequestering carbon in soils through cropland, wetland or grassland management. A variety of carbon-capturing practices are used on agricultural lands, including but not limited to conservation cover crops, no-till or reduced tillage, anaerobic digesters and nutrient management.
The American Farm Bureau Federation's latest Market Intel reviews trends in U.S. carbon sequestration as climate-smart farming practices increase.
It also highlights the fact that cropland productivity has increased by nearly 50% since 1990 while the net emissions "flux" – the net of carbon emissions and carbon sinks associated with land use and land-use changes – has remained consistent. This builds on existing evidence that farmers and ranchers are raising more food, fibers and producing more renewable fuels using fewer resources and utilizing smarter practices.
"Farmers and ranchers have made great strides in climate-smart practices, yet we're always looking for ways to do better," says AFBF President Zippy Duvall. "Agriculture has been proactive in working toward sustainability goals and we're looking for partners to help us do even more through market-based, voluntary programs. The Food and Agriculture Climate Alliance, which we co-founded, has 40 recommendations for lawmakers as they consider climate policy. We encourage new allies to join us as we build on climate-smart advances while ensuring farmers continue to provide safe, affordable food for America's families."
The Market Intel reports an almost 34-million-acre reduction in forestland and cropland since 1990, with a 28-million-acre growth in housing and commercial development.
The report notes that afforestation or minimizing the conversion of forest land to other land uses such as settlements, croplands or grasslands could increase carbon storage.
New research and technologies are needed to achieve climate goals without jeopardizing production of the world's food, fiber and fuel, the Farm Bureau says. "The challenge with expanding carbon sequestration through reforestation and afforestation is the significant reallocation of land use it would require, i.e., millions of acres of land would need to be taken out of pasture, cropland, wetlands or settlements and planted to forests," writes John Newton, AFBF chief economist.
"While always open to new climate-smart practices and technology to reduce emissions levels, farmers and ranchers could play an even larger role in the future to help us achieve our climate goals by adopting voluntary practices to offset GHG emissions, such as trapping carbon in the soil through increased conservation cover and reduced tillage. For livestock, increasing the number of anaerobic digesters and improved nutrient management and feed efficiency will help to reduce carbon emissions," says Newton.
Subscribe to Our Newsletters
BEEF Magazine is the source for beef production, management and market news.
You May Also Like
---