Illinois farm family shares beef — and story
Illinois farm family shares beef — and story
Here's a look at how one family launched a packaged beef business by reaching out to non-ag consumers.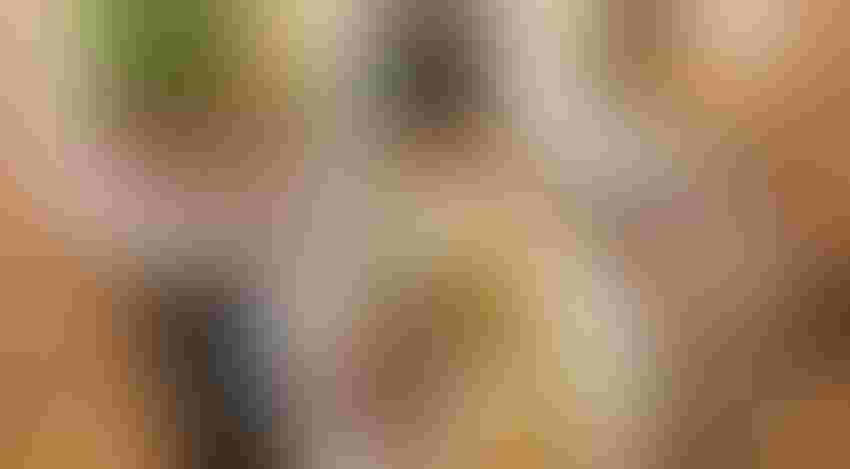 SIZZLING: Krystal Jungmann says in her family's business, they learned early on that people want to see the meat — both packaged and prepared.
What do you do when you think you've got a better product than what you're getting paid? If you're Krystal Jungmann, you start a business.
Krystal, along with her husband, Matt, who also serves as national events manager for Farm Progress, launched Sumner Point Beef in October last year, in partnership with Krystal's brother and sister-in-law, Scott and Lisa Campbell. The idea is to give urban and suburban consumers a farm-to-plate experience, with the assurance that animals are humanely cared for.
Even the name harkens back to their roots. Seven generations ago, their family came from Ireland to settle Sumner Township in the northwest corner of Warren County, Ill., and at least five generations have raised cattle right in the township.
In this interview with Prairie Farmer, Krystal offers a look at what they've done and what they've learned.
What is Sumner Point Beef? Sumner Point Beef is our consumer-based beef business. Our farm has a cow-calf operation, as well as corn and soybeans. We were constantly told that the quality of our beef was really good — and then they'd ask if we'd sell it. We took for granted the fact that we had that kind of quality in our freezers. So, we finally started listening to people! Sumner Point Beef was launched out of that. We had animals we were taking to the sale barn when we could be driving another business — one that not only would answer questions about what we do on the farm, but also would supplement our income.
What's your hook — why buy it? Our business is farm-to-plate. We use social media to tell people how we raise our beef, what we feed them, how we take care of sick animals. The hook is that you know the farmer who raises the beef that's in your freezer. We've learned that you can source beef back to the processor, but beyond that, you can't figure out what farm it came from. That was the big push for us. The thing about our farm is that from farm-to-plate, you know where your food came from: how the animal was raised, how it was treated, all the way until it got to your plate.
Every cow-calf person is doing similar things. We treat our calves like our kids; if it's sick, we'll get a vet and treat it. That's important to start talking about, and that's our tagline. If people ask how we treat our calves, I tell them, "We treat our calves like our kids."
How does someone place an order? Sumnerpointbeef.com. We have several different boxes that we are marketing — usually around about 1/24th of a cow. If you're used to doing freezer beef but don't have room for a half or a quarter, you have room for this. You can get about 15 pounds per box of all different combinations. The sampler pack is around 10 pounds, and that's a good way to try it out. We're going to start a subscription service where a customer will receive a half a beef over a year's time.
We spent six to eight months developing what the package would look like. It was important to me to make sure anyone could take it off their doorstep. I didn't want it to be like buying a bag of dog food on Amazon!
What's your favorite cut of beef? My favorite is our rib-eye. We always sell out of those first!
How many animals are you processing per year for SPB? Our initial goal was around 30 head a year. That's what we had that we were selling as extras before we started the business. We just formed a partnership with Prep Freeze Cook out of Washington, Ill., and we'll at least double our output.  
How many hours a week of work is this for you? Half of my time on the farm is time spent on this. It's a brand-new company. It's slightly seasonal; Christmas was crazy. The amount of gift boxes we sent was insane. I'm not sure we shipped a box in December that wasn't a gift.
It's a good supplemental business to what we're already doing, and it's meeting a demand for people who are curious about their food. I expect it will take more time in the future, as we enter into more partnerships like we have with Prep Freeze Cook.

FAMILY BIZ: How does the family divide duties? Here's a quick breakdown (from left): Matt Jungmann functions as a business consultant; his wife, Krystal Jungmann, handles marketing and business operations. Their kids, Jack, Luke and Kate Jungmann, are fantastic meat packers and help train younger cousins Logan and Bryce Campbell. Lisa Campbell is a full-time nurse and the biggest source of local sales, and Scott Campbell, Krystal's brother, heads up cattle care, nutrition and genetics. 
What kinds of questions were you asking before you started it? We developed an advisory board of people who weren't necessarily in ag. Ag is not our target market — it's the urban or suburban consumer who probably doesn't have a deep freezer. The advisory board is urban and suburban businesspeople who weren't tied to ag.
We asked, "Would you buy meat like this? What is important to you? Antibiotics? How food is grown?"
It was important to reach outside of our normal box, and to see how people not in ag received our message. We gathered that as long as we communicated how we treated the animals, they received that well and didn't really care about the rest.
Where are you shipping to? Florida, Arizona, California, plus all the Midwestern states as well. Smaller suburban markets are really where we live now.
What have you learned since you started? We originally started with a bunch of different options, like flat iron or Sante Fe steaks. We learned nobody knows what to do with them. We'd have those steaks sitting in the freezer and be running out of the rest. Our small family business doesn't have the marketing budget to promote those, so now we have rib-eye, sirloin, strip and filet steaks. Plus hamburger and premade third-pound patties, and steak strips, which are round steak cut into strips for fajitas and more. But no roasts. People don't buy them.
What's the best question you've been asked by a customer? We sold a half a beef to a man in downtown Chicago. He was used to buying steak strips for $10 to $15 a pound; that's just round steaks cut into strips. He had no idea how to have a cow cut, so we walked through every single cut — how thick to have a steak cut, how you can't have both a T-bone and a filet, all that good stuff that he just didn't know.
Subscribe to Our Newsletters
BEEF Magazine is the source for beef production, management and market news.
You May Also Like
---