Updated: Ag committee recommends Perdue nomination
Updated: Ag committee recommends Perdue nomination
Senate Agriculture Committee held hearing on Sonny Perdue's nomination to be ag secretary on March 23.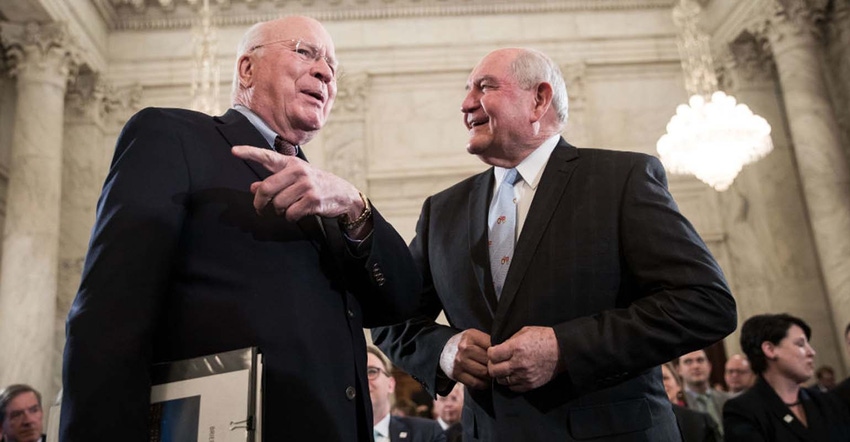 Sen. Patrick Leahy (D-VT) talks with Sonny Perdue before the start of Perdue's confirmation hearing before the Senate Committee on Agriculture, Nutrition, and Forestry on March 23, 2017.
Drew Angerer/Getty Images
Updated 3/30/17
The Senate Committee on Agriculture, Nutrition and Forestry today voted to favorably report nominee Sonny Perdue to serve as the 31st Secretary of Agriculture.
"I'm pleased our committee has made swift strides to move Gov. Perdue's nomination closer to the finish line," said Sen. Pat Roberts, R-Kansas, committee chairman. "Our farmers and ranchers have been waiting too long for this important position to be filled. We need to get Gov. Perdue down to USDA to get to work."
Perdue has the support of more than 650 agricultural groups and six past agriculture secretaries.
Zippy Duvall, president of the American Farm Bureau Federation, issued a statement expressing his support for Perdue.
"Today's vote by the Senate Agriculture committee to move Sonny Perdue's nomination to the full Senate for confirmation recognizes what we've said all along: Gov. Perdue is supremely qualified to run the USDA," Duvall said. "He knows agriculture inside out, from veterinary medicine to row crops to the business of handling and exporting the food Americans grow for the world. He is a real-world farmer who wants to build on farmers' successful efforts to sustain and conserve the natural resources that surround us. He understands the great good – and serious harm – government can do to farmers and ranchers. We could not be happier or prouder to support Sonny Perdue for confirmation by the full Senate."
Updated 3/30/17
The Senate Agriculture Committee will meet March 30 to vote upon whether or not to recommend Sonny Perdue's nomination to be agriculture secretary to the full Senate.
3/23/17
The Senate Ag Committee wrapped up its hearing on the confirmation of Gov. Sonny Perdue to the be 31st Secretary of Agriculture at 12:23 p.m. March 23.
The committee didn't indicate when a vote will be taken on Perdue's nomination. Perdue was the last cabinet level nominee named by President Trump. His nomination was announced Jan. 19, with Perdue joking that Trump saved the best for last. 
"The Department of Agriculture is made up of 29 agencies and offices," said Sen. Pat Roberts, R-Kansas, committee chairman, in a media statement. "And, it employs nearly 100,000 men and women that work in all 50 states and around the globe. The department provides leadership on food, agriculture, natural resources, rural development, nutrition, scientific research, and related issues that impact Americans every day."
A bevy of questions were asked of the nominee during the friendly hearing that lasted nearly two and a half hours.
"Now, more than ever, agriculture needs a voice—an advocate—at the highest levels of government," Roberts said in his opening statement. "And, Gov. Perdue has been nominated to serve in exactly that role."
"Large and small, conventional and organic, those who sell overseas and those who sell to their neighbors—we need a voice for all farmers," said Sen. Debbie Stabenow, D-Michigan, the committee's ranking member, in her opening statement. "An agriculture secretary will need to look past regional divides or partisan pressures to support all farmers, all families and all rural communities. And right now, we need an advocate to stand up for them in this administration."
Flanked by his wife, Mary, their four children, 12 of their 14 grandchildren and other supporters, Perdue responded to questions on trade, helping dairy farmers, immigration, crop insurance, forestry, conservation, working with the Environmental Protection Agency, summer lunch programs for schoolchildren, regulation, conservation, agricultural research and avian influenza. 
On trade: "We are blessed to produce more than we can consume," Perdue said, pledging to be a strong advocate for agricultural trade and USDA's chief salesman around the world.
Sen. John Thune asked about the Brazilian meat crisis and whether or not Perdue thought a embargo was warranted.
Perdue said at this point, the Food Safety and Inspection Service is doing an excellent job with going to 100% inspection. He cautioned against closing ports to imports for fear of retaliation. With the discovery of highly pathogenic avian influenza in Tennessee, some countries have banned U.S. poultry.
Several senators, including Sens. Patrick Leahy, D-Vt., Amy Klobuchar, D-Minn., and Kirsten Gillibrand, D-N.Y., asked the nominee to commit to taking a look at dairy prices. Gillibrand asked him to come to upstate New York to talk about dairy prices and said the nation is in need of a top to bottom reform of how it does dairy pricing.
Perdue said he'd come to New York – if he didn't have to milk any cows – and assured the senators as the son of a dairy farmer he understands the plight of dairy producers. There is no business that can survive with the volatile price swings the dairy industry has experienced in the past few years, he said.
On immigration: Several senators indicated a need to change the immigration system, particularly the H2A visa program, which allows seasonal workers.
The Senate passed a comprehensive immigration reform bill, Leahy said, but the House didn't. As a result, dairy farmers have to rely on the H2A visa program to secure people to milk their cows. He asked Perdue to work to find a way to allow H2A visa holders to stay in the United States for a longer period.
Perdue said that many dairy workers are immigrants and he committed to working on the issue. 
On summer meals for schoolchildren: Perdue said he'd work with lawmakers to find a way to be sure children are able to get meals throughout the summer to keep them healthy.
Sen. Michael Bennet, D-Colorado, invited Perdue to Colorado to look at the forests. USDA spent 60% of its forest service budget fighting fires last year, and Bennet asked Perdue to be actively involved in turning that figure around.
Perdue said he'd certainly rather spend money on the front end to have a healthy forest and prevent forest fires rather than fight fires. He also encouraged lawmakers to look at forest fires as natural disasters, similar to tornadoes.
Regulations: Sen. Jodi Ernst, R-Iowa, said the EPA seems to have an agenda against the agricultural community. She asked how Perdue would collaborate with the EPA to make sure they are helping rather than hindering ag.
Perdue said relationships are key. "My goal is to have an ongoing communications team identified with each of these agencies."
Crop insurance: Perdue said crop insurance is a vital program for farmers and he's committed to making additional improvements. 
Perdue also said he'd continue former Secretary Tom Vilsack's work against the opioid epidemic in rural America.
In his statement before the committee, he said if confirmed, he has four primary goals:
"First, I will maximize the ability of the men and women of America's agriculture and agribusiness sector to create jobs ... to produce and sell the foods and fiber that feed and clothe the world ... and to reap the earned reward of their labor. We want to remove every obstacle, and give them every opportunity to prosper.
Second, for the American taxpayers – our customers – I will prioritize customer service every day. They expect, and have every right to demand, that we conduct the people's business efficiently, effectively, and with the utmost integrity.
Third, as our taxpayers are also consumers, they expect a safe and secure food supply and USDA will continue to serve in the critical role of ensuring the food we put on the table to feed our families meets the strict safety standards we've established. I will never forget that we're the fortunate beneficiaries of past generations, who put a premium on smart stewardship, protecting, preserving, and entrusting us with those valuable resources.
And fourth … American agricultural bounty comes directly from the land. And today, those land resources sustain more than 320 million Americans and countless millions more around the globe. My father's words still ring in my ears, "Son, if you take care of the land, it will take care of you. Owned or rented, we're all stewards, and our responsibility is to leave it better than we found it'."
Watch the hearing here.  
Subscribe to Our Newsletters
BEEF Magazine is the source for beef production, management and market news.
You May Also Like
---