Disruptive stocker technology
Disruptive stocker technology
Early adoption has its rewards.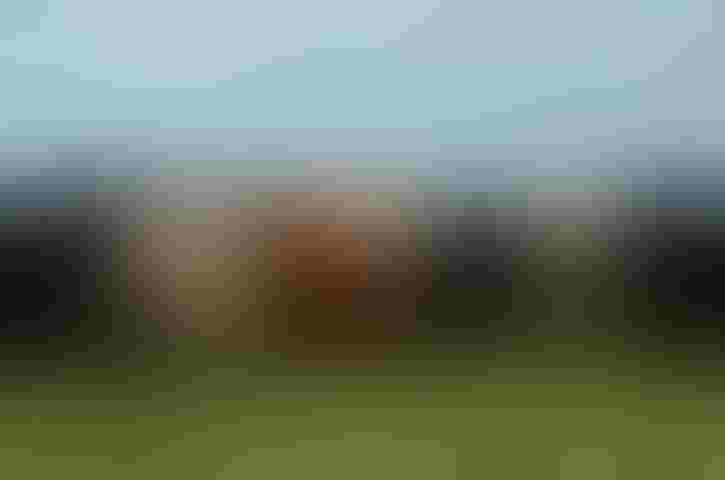 "You've got to recognize disruptive technologies when they arrive and adopt them early or you're not going to be here," said Robin Falkner, DVM, of CattleFlow, near Nashville, Tenn. He is a consultant on feeder cattle health, management and procurement; recognized for using a multidimensional approach to continuous improvement, with the goal of helping clients benchmark in the top 25% for operational efficiency, profitability, and quality of life for man and cattle. Evaluating new and advancing technologies for potential use by his clients is one of his priorities.
Falkner illustrated his point at this year's Cattlemen's College during the Cattle Industry Convention by describing the adoption of hybrid seed corn in the 1930s. Yes, it has to do with thriving in the stocker business today, too.
Before hybrids—the result of crossing two inbred lines—corn farmers relied on open pollination. They produced their own seed.
"The average corn farmer had corn seed that had been handed down for generations," Falkner explained. "They'd been selecting corn to fit their farms for years."
Not so fast
Hybrids increased average yield, but they also reared plants with a stronger stalk, lending itself to mechanized corn harvest.
On the other hand, according to a 1950 paper from Iowa State University (ISU):
"The new corn produced by hybrid seed had a smaller ear than that to which Iowa farmers were accustomed. Neither did it have the nice symmetry, nor the large kernels. It was not, in physical appearance, the type of ear which would lead farmers to exclaim, 'This is real corn!'
"The rising popularity of hybrids depended in part upon the discarding of traditional standards for evaluating 'good' corn. The idea that the old standards should be applied to the new corn was singularly difficult to dispel."
Of course, the look of the new corn likely paled in comparison to the fact that using hybrids meant you had to buy the seed rather than propagate your own.  
"The use of hybrid seed required a cash outlay—frequently over $9 per bushel," according to the ISU paper. "In contrast, the use of open-pollinated corn required no cash expenditure, since a farmer's previous crop provided the current year's seed. During years farmers had no assurance they would break even, there was a strong tendency to avoid increased cash expenditures."
Sounds plumb familiar.
Early adopters thrive
How farmers responded to this disruptive technology became a centerpiece of study by Everett Rogers, Ph.D., who grew up on an Iowa farm and watched the hybrid revolution first hand. He wanted to know why some farmers adopted hybrids so quickly, while others, like his dad, took so long. Just 0.1% of U.S. corn acreage was planted to hybrids in 1933. By 1942, less than a decade later, 45.7% of all corn acres were planted to hybrids; 98.9% of the acres in Iowa.
Later, as a professor at the University of New Mexico, Everett's analysis helped him develop what became an iconic social science theory: Diffusion of Innovations. It gets at how new ideas gain traction and adoption.
You're likely familiar with the categories Everett defined to described how quick or slow people are to adopt innovation. The Innovators have the idea and jump in first, representing about 2.5% of the population. Next come Early Adopters—about 13.5%—who typically recognize the need for and embrace continued change; they become the leaders of new innovation.
After that are the Early Majority (quicker than average to change) and Late Majority (more skeptical), which each account for about 34% of the population. At the tail end are what are termed Laggards (about 16%), those often bound by tradition.
"Where could you be on that list and have your corn farm make it to the next generation?" Falkner asks. "What Dr. Rogers found was that if you weren't an Innovator or Early Adopter, your farm didn't make it to the next generation."
Why? "Because if you're late to adopt one change, you'll likely be late to adopt the next one and the next one and you wind up not being competitive any more."
Considering cattle
It's more difficult to identify such an industry-wide disruptive technology in the cattle business. For instance, artificial insemination and other advanced reproductive technologies are used by only a minority of cow-calf producers.
"There is no doubt that it has been disruptive for seedstock producers, and those who didn't use the technology were left behind," Falkner says. "It has not disrupted commercial cow-calf producers but may yet."
If you look at the percentage of operations that utilize reproductive technologies—about 10-15%­—it may identify those with the Innovator and Early Adopter gene, Falkner says. "When the next technology comes along that builds on adoption of reproductive technologies, they will jump forward and leave the Late Adopters and Laggards behind."
Stocker disruptions
Falkner sees potential disruption brewing in the stocker sector. That will happen via growing virtual integration and vertical cooperation as some stocker entities align themselves closer to others in the value chain. That could be calf suppliers on one side of the equation, feedlots on the other, or both. Better yet, with the consumer.
Falkner explains the traditional beef market is being disrupted as commodity beef is segmented into a handful of product streams built around large packer value chains, where more process control and verification will be required, specific to each value chain.
"We are programming calves into a specific final destination earlier and earlier. Which packer will harvest the animal nine months later is often decided the day a stocker operator purchases it at auction," Falkner says.
"That is the virtual integration that results when a stocker operation sells 90% of its yearlings to one feedlot (or feeding organization) and that feedlot sells 90% of its fat cattle to one packer. We also have a growing market where 'decommoditized' beef flows into a multitude of value chains built around its production story and local relationships.
More disruption
Falkner also sees disruption in the evolution of price risk management as some stocker operators exit the sector rather than adapt to changing economic realities.
"I think the next disruptive technology in the cattle business is going to have to do with information, market access, maybe block chain," Falkner says.
For instance, maybe it's big data, data analytics and the ability to monitor, measure and manage in real time. Think here of nascent attempts to predict cattle sickness earlier, via such things as water intake and animal movement.
Disruptive technologies
So far, Falkner believes the most disruptive cattle and stocker technologies Industry-wide revolve around feed and forage management, everything from round bales to rotational grazing to the advent of distillers grains as a byproduct of ethanol production.
"Recognize that our biggest input cost is feed, so being efficient in this area is what separates the successful and the foreclosed, whether it's being a least-cost silage producers or producing higher quality forage." Falkner says.
"One could take the same hay meadow and produce medium-quality hay, handled with lots of labor, dump rakes and forked into the loft of a barn, or produce high-quality baleage handled with mechanized equipment."
For that matter, growth technologies are instructive when considering the competitive necessity of adopting change.
"Twenty years ago, when we lost so many farmer-feeders in the Corn Belt, not many of them used implants. That meant a disadvantage of $50-$100 per head, which was enough to negate their advantage in corn basis." Failure to adapt the technology meant they couldn't be competitive; they were better off selling their corn.
"Now, more farmer-feeders are coming back. They now use growth promotant technology and still have a basis advantage in feed cost and are very competitive with Plains operations that have other efficiency advantages."
Guessing what the next disruptive technology will be isn't the point, though. What matters, Falkner says, is looking for it and being willing to consider it when identified.
"This is not a time to be asleep at the switch when it comes to market development and access. There is a lot going on and it's evolving quickly."
Subscribe to Our Newsletters
BEEF Magazine is the source for beef production, management and market news.
You May Also Like
---