Stop the bawling! Why it's time to consider two-step calf weaning
Stop the bawling! Why it's time to consider two-step calf weaning
Two-stage weaning reduces stress by mimicking nature.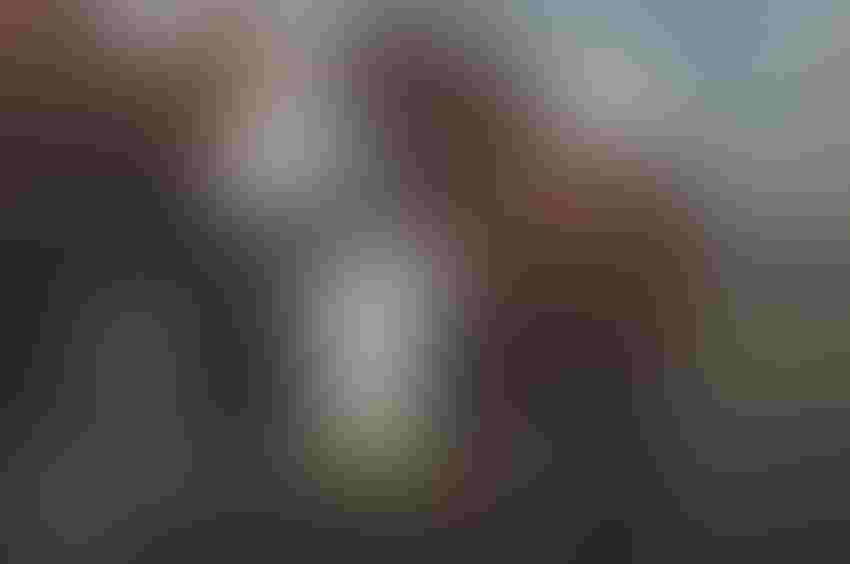 One of the low-stress weaning methods that Joe Stookey and his team developed is nose flaps that keep the calf from getting to mama's milk while still being around mama. This mimics the way nature weans the young.
If Joe Stookey had his way, the term "shipping fever" never would have been coined, because it diverts attention from the primary stress associated with sickness in recently transported calves.
"I wish we could go back and name it 'weaning fever,' [because] that's what it is," explains Stookey, an animal behaviorist at the University of Saskatchewan Western College of Veterinary Medicine (WCVM). "There is no event we impose on cattle more stressful than weaning."
At least that's true with traditional, abrupt weaning, where calves are separated from their dams and often loaded straight onto a truck headed for a new location. Which means that's true of most calves.
The most recent data from the National Animal Health Monitoring Service (NAHMS) Beef 2007-2008 survey indicates that calves at 49.8% of operations left the same day they were weaned; 16.6% were held 1-31 days after weaning and before transport.
In a more recent 2015 western Canadian producer survey from the Western Beef Development Center, 70% of respondents wean by separating calves from the cows.
"How do calves get sick post-weaning?" Stookey asked at the 2016 International Symposium on Beef Cattle Welfare. "Spend a lot of time walking, a lot of time vocalizing and eating 25% less."
Those are behavioral changes associated with cattle stress, in this case stress associated with abrupt weaning. Stookey has focused on such behaviors — causes and effects — for much of his professional career.
Nature-like weaning
"What's so unnatural about abrupt weaning is that the mother and the milk both disappear simultaneously," Stookey explains. "In a natural environment, in a matriarchal society, the calves are programmed to expect that the milk will be shut off at some point — but they're not expecting the cows to disappear, too, because they're expecting to join the herd."
This was hard-won knowledge that ultimately led to developing what's known today as the two-stage weaning process, in which calves remain with the cows but are prevented from nursing for four to seven days by using the type of nose flaps first used by dairy producers to prevent milk robbers.
After those four to seven days, calves are removed from their mamas and moved far enough away that there can be no further contact.
In a seminal 2005 WCVM study, following separation, calves weaned in two stages vocalized 96.6% less than the control group of calves weaned abruptly; and spent 78.9% less time walking, 23% more time eating and 24.1% more time resting. So calves weaned with the two-stage method endure less stress.
Other studies find similar advantages in behavior. How this reduction in stress ultimately translates to increased performance or decreased morbidity varies among studies.
"With two-stage weaning, you can have a weaning process that's similar to natural weaning, a process that's not that stressful to calves," Stookey explains. "In many ways, this mimics natural weaning."
Depending on the study you look at, this two-stage weaning process is also less stressful than the more popular fence-line weaning method, where calves are separated from the cows and unable to nurse, but still have contact with the cows across a fence. WCVM did some early work on that method, too; it's what led researchers to the two-stage approach.
Based on surveys, Stookey says 22% of Canadian cow-calf producers are using fence-line weaning. Another 6% use the two-stage approach.
Understanding the stressors
In the early 1990s, when Stookey and his crew were studying the behavior of cows and calves when separated at weaning, they wondered how they could make the event less stressful. Among other notions was putting other adult cows with the newly separated calves. It made no difference.
That led to wondering about separating calves from their mamas, but still allowing contact across a fence, based on earlier work they'd done with elk. This fence-line weaning, which didn't have a name at the time, decreased vocalization and time spent walking, while increasing the time spent lying down.
At the time, Derek Haley was a graduate student of Stookey's who wanted to work on the subject for his doctoral dissertation. He now leads a research program in applied ethology and animal welfare science at the University of Guelph's Ontario Veterinary College.
Haley wanted to know which posed the primary stress to calves at weaning — taking them away from their mothers or stopping the flow of milk.
When calves remained with their mothers but were unable to nurse because of the nose flap, their behavior remained virtually the same as when they were able to nurse.
So, Stookey and Haley figured they'd see a big difference when the calves were separated from the cows. There was no change in behavior after that, either.

In retrospect, Stookey says, "If you go five days without nursing, you're weaned. It says this idea of weaning is something that nature works out between mothers and their offspring."
Low-stress weaning strategies
"Any opportunity to reduce stress of weaning has the opportunity to contribute to improved health and performance of calves, both during and after the weaning period," says Adele Harty, Extension cow-calf field specialist at South Dakota State University (SDSU). Harty and Ken Olson, SDSU Extension beef cattle specialist, offer these tips from a low-stress weaning fact sheet.
Two-stage weaning
• Place plastic nose tags in all calves for four to seven days. It is important to ensure they are placed correctly to minimize loss through falling out, and so that calves can't figure out how to nurse with the tags applied.
• After the four- to seven-day period, remove the plastic nose tag and move the cows to a remote location.
Fence-line weaning
• Place pairs in the pasture that the calves will be in following weaning so they become familiar with the fences and water in the pasture.
• Upon weaning, place the cows in the pasture adjacent to the calves so they can see, hear and smell each other, but the calves cannot nurse. This may require some modifications to fences.
• It may be helpful to place a cull cow or yearling with the calves to keep them from walking fences as much.
• After a few days, the cows and calves will move farther from the fences and not be as concerned about weaning.
You might also like:
Young ranchers, listen up: 8 tips from an old-timer on how to succeed in ranching
13 utility tractors that will boost efficiency in 2016
Burke Teichert: How to cull the right cow without keeping records
3 weaning methods compared; Which one rises to the top?
6 tips for proper electric fence grounding
9 things to include in your ag lease (that you better have in writing!)
Subscribe to Our Newsletters
BEEF Magazine is the source for beef production, management and market news.
You May Also Like
---