Does beef price at retail matter anymore?
Does beef price at retail matter anymore?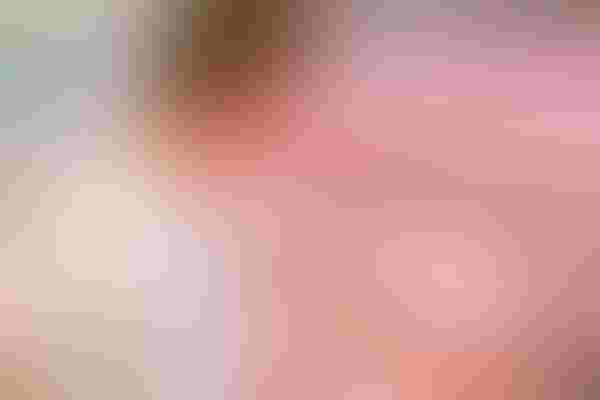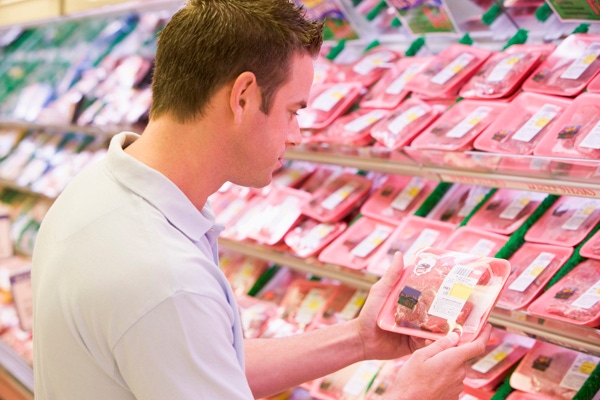 Retail beef prices hit a new milestone in their yearlong, record-breaking march. USDA's All Fresh beef price averaged $6 per pound in January for the first time. That's up 95¢, or nearly 19%, from January 2014. It begs the question: Is such an increase positive or negative for the industry?
One can make a case for both. If one thinks positively, the argument goes like this: American consumers love beef, and they know its taste is unique and that it is packed with vital nutrients. So they're prepared to keep paying more for their favorite meat; in fact, they did so every month but two during the past year.
Apart from buying high-priced steaks for grilling and other special occasions, consumers have also paid more for beef's most eaten item, ground beef. January's retail price averaged $4.24 per pound, after exceeding $4 per pound for the first time last August.
The January record was 22.2% higher than a year ago and 86% higher than in January 2010. One thing's for sure – $1.99 per pound ground beef is history. This was the benchmark price not long ago that made beef competitive with pork and chicken – but no more.

70+ photos showcasing all types of cattle nutrition
Readers share their favorite photos of cattle grazing or steers bellied up to the feedbunk. See reader favorite nutrition photos here.
One might also argue that these prices don't fully reflect what's going on around the country. USDA uses price data collected by the Bureau of Labor Statistics (BLS), which sends hundreds of staff to grocery stores to collect data. The BLS doesn't disclose the precise number of stores, but its data collection is said to represent 85% of the country's urban population.
That leaves some gaps, notably of rural towns scattered across America. Another question is how much data BLS staff collect at warehouse clubs, which sell a lot of beef at prices lower than in many grocery stores. BLS staff need permission from club stores (as from all grocery stores) to collect prices, so it's unclear how much data they get.
Nothing, however, suggests that beef is selling at lower prices than USDA reports. Perhaps the most important aspects of its monthly series are the trends and how beef prices compare with pork and chicken. In this regard, the comparison looks negative for beef.
Retail pork prices in January averaged $3.99 per pound, and chicken prices averaged $1.98. Pork prices were up 6.1% from a year ago, but were $2.01 per pound cheaper than beef. Chicken was three times cheaper. So it appears beef remains over-priced relative to its competition.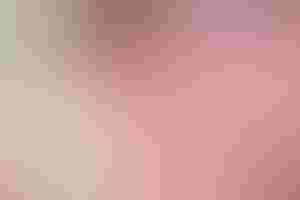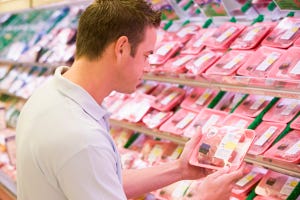 Photo Credit: Cathy Yeulet / ThinkStock
This has had an impact on retail beef sales since last fall. Anecdotal evidence suggests consumers are making more meat-buying decisions based on price per pound. This trend was confirmed in the 10th annual Power of Meat study published recently by the Food Marketing Institute and the North American Meat Institute.
That study found that shoppers in grocery stores continue to regard price per pound as a top factor in their meat purchases. So a significant number are seeking alternatives as the retail prices of beef and pork increase. In fact, price increases for beef and pork caused shifts in buying behavior among 40% of shoppers, with most looking for ways to save, the study says. That's an alarming percentage.
The record-high beef prices have impacted the entire beef chain. Smaller retail sales have inhibited beef processors' ability to get higher wholesale prices without a significant decline in fed beef production. The first two months of the year saw fed steer and heifer slaughter down 7% from the same two months last year. This, in turn, ended a January rally in live cattle prices (to nearly $170 per cwt), forcing those prices back to under $160. That, in turn, put cattle feeding margins in the red.
The start of the grilling season can't come soon enough to give a spring boost to beef demand.
Steve Kay is editor and publisher of Cattle Buyers Weekly. See his weekly cattle market roundup each Friday afternoon at beefmagazine.com.
You might also like:
70 photos honor the hardworking cowboys on the ranch
7 common fencing mistakes to avoid
60 stunning photos that showcase ranch work ethics
9 new hay-making tools for the 2015 forage season
Bale grazing lets cows feed themselves
How one family farm made room on the ranch for nine sons
Subscribe to Our Newsletters
BEEF Magazine is the source for beef production, management and market news.
You May Also Like
---