Patch Burning Reduces Horn Fly Populations
Patch Burning Reduces Horn Fly Populations
Cattlemen and researchers have long known that prescribed fire has multiple benefits. New research on patch burning has found yet another – fly control.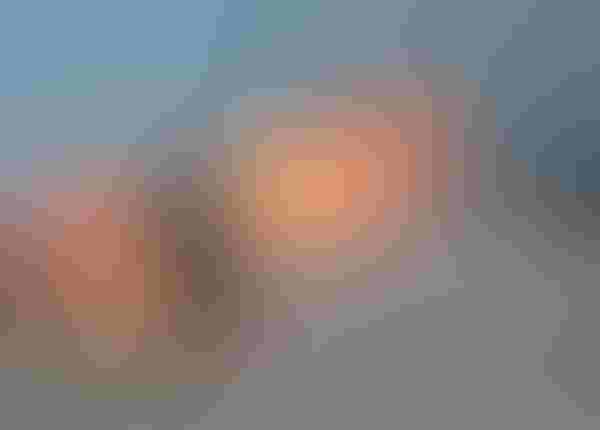 In science, sometimes the best discoveries are the ones you aren't looking for.
Derek Scasta knows something of that. The former county Extension agent in Texas, now a PhD candidate in range management at Oklahoma State University (OSU), started his doctoral research project looking at patch burning as a pasture management technique for merging natural resource conservation and cattle production. What he found was something else altogether.
"When we had patchy fire, we had a 41% reduction in horn fly numbers during peak times of horn fly activity," he says.
The research began in 2011 in Oklahoma and Iowa. "The whole concept of patch burning is built on the idea that the Great Plains developed with fire and grazing by buffalo," he says. Fire would burn the prairie in patches, creating a mosaic of burned and unburned areas. "The buffalo would go to the recently burned areas because they were looking for that digestible, palatable, high-quality forage that results after a fire," Scasta says.
Applied to modern cattle production, the idea is to burn a third of the pasture each year, which in essence creates a within-pasture rotational grazing system.
During his county agent days, Scasta had been trained in how to assess fly loads on cattle. "I'm walking around pastures looking at cattle and it hit me, 'I think I see lower numbers of horn flies where we have burned.'"
With that, he enlisted the help of Justin Talley, OSU Extension livestock entomologist, and they started counting flies. Turns out he was right.

"Sure enough, there was a reduction," Scasta says. "It didn't matter if we were in Oklahoma or Iowa; they weren't different. Patch burning resulted in a significantly lower number of flies compared with pastures that hadn't been burned in more than two years."
Furthermore, they found that during the first year of the experiment, horn-fly numbers stayed low throughout peak horn fly months. That varies by location, of course – it's typically July-August in Iowa and August-September in Oklahoma.
More to learn about fly reduction
Why they observed the reduction, and why fly populations stayed low, is now the burning question. Research in 2012 is being analyzed and they're preparing for additional work this year to find answers.
"We completed last summer's data and are summarizing it. We're not seeing the clear trends we saw in 2011, but we're still seeing some decreases in overall fly numbers," Talley says. So far, however, all they have is theories.
"There are still a lot of things we don't know," Talley says. "We do know it's an interaction between the fire and how it changes the grazing habits of those animals."
Horn flies prefer fresh manure pats, he says. "So it's the distribution of those fresh fecal pats that may be influencing the distribution of our overall horn fly population. But I'm going to be honest with you – we have more questions than answers."
Here's what they do know: Horn fly larvae will overwinter in manure pats. So, burning a pasture in early spring not only removes last year's dead plant material, but burns the left-over manure pats as well. Thus, initial fly populations going into the summer fly season are lower.
One of the counter-intuitive results, however, is that in 2011, they observed that horn fly numbers remained below the economic threshold of 200 flies/animal all season long. Logic would suggest that fly loads should rebound quickly. After all, patch burning concentrates animals on one part of the pasture, horn flies prefer fresh manure pats to reproduce, and horn flies can produce as many as 35 generations in a single summer.
But the population didn't rebound. It could be, as Talley suggests, that grazing distribution influences things. "Where we burned the cow pats and horn fly larvae, that's where we attract cattle to," Scasta says. "So we create this parasite-reduced patch that attracts cattle. Every year, we burn a new patch, move them around and break those cycles. That's the theory behind why we have an impact."
Or it could be that, since the recently burned area has less old plant material and ground litter, the manure pats dry out more quickly. Research in 2012 and 2013 will try to answer those questions.
And they'll expand their research beyond just horn flies. Last year's work included face flies, stable flies and horse flies, attempting to assess how patch burning affects those populations.
What's more, previous research indicates that burning also decreases tick populations and could aid in controlling internal parasites. Those possibilities intrigue Scasta and Talley, so further research may look at potential there, as well.
Is patch burning a silver bullet?
"Patch burn grazing has a tremendous effect, and an effect we never expected, on reducing horn flies," Talley says. "But I'm cautioning people that it's one tool you need to put in your back pocket."
Both Scasta and Talley say patch burning, despite the research results, isn't an alternative to conventional fly control methods like ear tags, sprays or growth regulators. Instead, where patch burning is feasible, it should be considered as a part of an overall integrated pest management strategy.
That's because horn flies can move, given the right incentive, four or more miles. So depending on your neighbors' management and how close their cattle are to yours, you can do everything right and still have horn flies.
However, Scasta and Talley think that patch burning could be a tool in the larger issue of insecticide resistance. "Because of their short life cycle, horn flies have the potential to develop insecticide resistance very rapidly, and this has been a major problem with trying to manage them," Scasta says.
"If you can at least delay when you're putting that product on, like an ear tag, I think it will make that ear tag more effective," Talley says.
He's seen Oklahoma cow-calf operators tag as early as March because they started seeing horn flies. "That's really not going to get you through the whole season," he says.
The operative word, however is "if." Many traditional management systems, where cattle are handled at branding and turnout, then gathered in the fall for weaning, don't provide an easy way to gather the cattle again in June or July to apply ear tags. Scasta and Talley know that, but they say if it's something that might work in your management system, it's worth considering.
That's because, Scasta says, of the economic implications of uncontrolled horn fly populations. "Adjusted for inflation, it's estimated that nationally, horn flies have over $1 billion of economic loss annually," he says.
Scasta says that while the observation that patch burning reduces horn fly populations is new, "I think it's probably always been happening where people have burned, they just didn't realize it."
In fact, he says, Native Americans, Australian Aborigines and tribes in Africa all used fire for a variety of reasons, insect control among them. "There's documentation of using fire by African tribes to reduce ticks," he says. "So it's an old idea we're looking at; an old idea made new."
You might also like:
Controlling Parasites Doubly Important In Time Of Drought
Infographics Highlight Technology Efficiency In Beef Industry
Proper Timing And Proper Products Needed For Deworming Pasture Cattle
Subscribe to Our Newsletters
BEEF Magazine is the source for beef production, management and market news.
You May Also Like
---