CSU Future of the Beef Industry panel predicts industry trends and challenges
CSU Future of the Beef Industry panel predicts industry trends and challenges
If the beef industry's recent past is any indication, it's future will be anything but boring. A panel discussion delved into the issues we will face.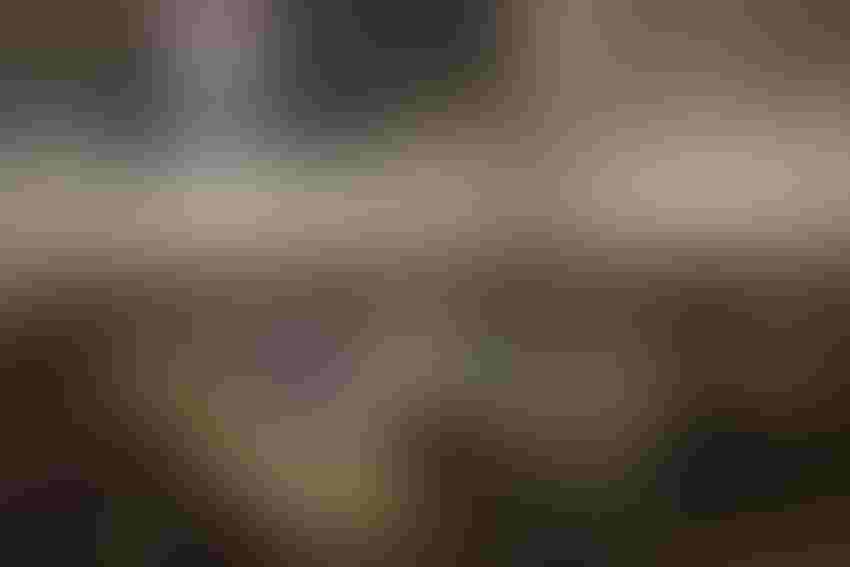 Students listening to The Future of the Beef Industry panel, held recently at CSU's Animal Science Department.
By Olivia Willrett
While college students spend plenty of time in the classroom learning about production practices and animal systems, they often miss out on discussing real-world issues presently affecting the agriculture industry. A new tradition started by Colorado State University's (CSU) Alpha Gamma Rho (AGR) fraternity and Collegiate Farm Bureau aims to change that.
The Future of the Beef Industry event, held recently at CSU's Animal Science Department, starred five industry professionals, including moderator Zach Riley, Farm Bureau director of public policy, national affairs; and panelists Lee Leachman, CEO and owner of Leachman Cattle; Emily Ibach, Farm Bureau director of public policy, state affairs; Jennifer Martin, Ph.D., CSU Department of Animal Sciences; and Jordan Levi, Arcadia Asset Management, LLC.
Here's a synopsis of the evening's discussion:
Lab-grown meat technologies. Levi and Leachman both agreed that the possibility of lab-grown meat would target low-income consumers if the price reached a low enough point, rather than affecting demand from current beef consumers.
Martin agreed, while making the point that the pet food industry is a more realistic target for lab-grown meat. She explained that while current producers aren't creating products aimed toward the needs of that sector of the industry, new technologies such as lab-grown meat could provide a protein source more suited to the needs of the pet food industry.
"This is challenging us as an industry to think about how we produce protein in ways that are benefiting the overall industry, even if it may be a competitor to our traditional proteins," Martin said.
Ibach brought up the pressing issue of labeling, stating that steps are already being taken to encourage USDA and FDA to start thinking of how this product will be regulated once it reaches the market. These discussions will become more prevalent the closer lab-grown meat gets to reaching the consumer.
Panelists were also asked what their expectations were for a timeline and affordability of lab-grown meat products. Martin suggested that we're probably years, if not decades, away from seeing lab-grown meat products in a grocery store meat case.
However, growing interest in this new technology, she said, could accelerate that timeline. With potential investors such as Bill Gates, Cargill Inc., and Tyson Foods, we could see lab-grown meat products enter the food supply much sooner than expected.
Marketing and the environment. Another hot topic the panel tackled was how producers can market their products while addressing perceived notions of their environmental impacts.
With the agriculture sector accounting for approximately 9% of greenhouse gas emissions, and the beef industry receiving heat from the U.S. legislature on methane output in cattle production, producers often question how they can maintain demand while proving that they're doing their best to have as little impact on the environment as possible.
"We're going to have to argue for how we are doing [now], but also show fairly significant and continuous rates of improvement," Leachman suggested as a solution. Ibach drove this point home, emphasizing the need for communication between producers and consumers. According to Ibach, producers need to take advantage of social media and resources provided through Beef Checkoff programs to distinguish producers' product.
Levi agreed. In his role assisting with the purchase of Five Rivers Cattle Feeding feedyard, he encountered this problem when working with foreign countries to facilitate the sale. He discussed the challenges he faced in convincing people in the Netherlands that U.S. beef is sustainable.
"We have been impacted by the UN study that was clearly misguiding," Levi said. "Everybody will read the UN study, but they won't read the revised UN study. And so, it requires all of us as producers of livestock to tell our story; it's extremely important."
Convincing domestic consumers about the sustainability of beef production is a major challenge on its own, but we cannot forget about the global demand and perception of U.S. agriculture around the world.
Social media. All the panelists agreed that social media will play a key role in improving communication between producers and consumers. "We don't have to change what we do; we have a great story to tell. We just need to do a better job of telling it," Martin said.
She highlighted the efficiency of cattle production by using products humans would have no other use for while producing a protein source, making beef production one of the most sustainable practices in the world.
Other topics. Panelists took on topics involving international trade, water issues and the ongoing disconnect between consumers and producers, before opening the floor to audience questions. Students, faculty and the public all engaged to cover topics ranging from current cattle prices, to effects from the bomb cyclone, to public perception of "factory farms."
Panelists each provided their own views on these topics, but all agreed on and discussed the connection between consumers and producers. Unanimously, they agreed that public perception is an issue for every segment of the beef industry, but through modern technologies, producers can change how consumers perceive the industry by opening up about how their operations are run and reaching out to consumers to give them a first-hand education about production agriculture.
The evening kicked off with a meal catered by the CSU Meat Lab, followed by an auction featuring photography, a cowhide and beef apparel. Proceeds were donated to AgrAbility, an organization dedicated to supporting agriculturists facing disabilities.
The Future of the Beef Industry panel discussion can be found at https://www.youtube.com/channel/UCSBPftmdoFYImvPwz4KhDOQ/videos?view=0&sort=dd&shelf_id=0.
Willrett is a freelance writer for BluePrint Media (www.blueprintma.com) and a student at Colorado State University majoring in animal science and agricultural business.
Subscribe to Our Newsletters
BEEF Magazine is the source for beef production, management and market news.
You May Also Like
---