Revised duty-free quota opens new doors for U.S. beef in Europe
Revised duty-free quota opens new doors for U.S. beef in Europe
While not a high-volume prospect, the European Union represents a high-value destination for U.S. beef.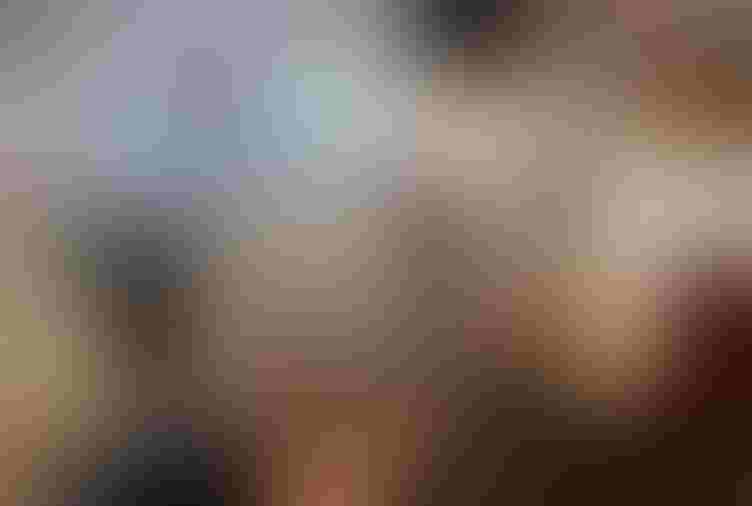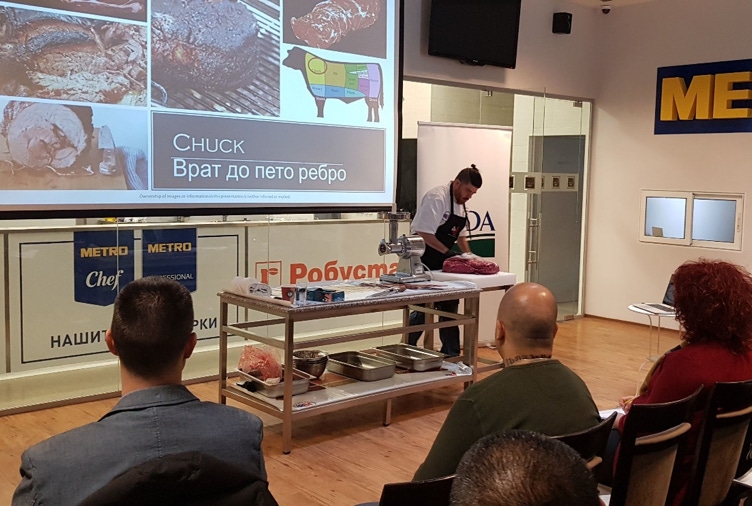 Food industry professionals attend a USMEF educational seminar in Sophia, Bulgaria, highlighting the unique attributes of U.S. beef and its expanded availability in the European market
USMEF
Last summer, the White House announced an important breakthrough in beef trade with the European Union. It rectified a long-standing problem with supplying U.S. beef to Europe.
U.S. beef exports have long been limited by the EU's import requirements, which prohibit the use of synthetic growth hormones and ractopamine. An arrangement reached in 2009 was designed to allow more European customers to have affordable access to U.S. beef through an annual duty-free quota. But as other countries were given access to the 45,000 metric ton (mt) quota, U.S. suppliers found themselves in a race to get product to their European importers before capacity was exhausted.
"The quota is administered quarterly, and the available capacity (11,250 mt) ran out quickly – often within the first three weeks of the quarter," explained Dan Halstrom, U.S. Meat Export Federation (USMEF) president and CEO. "When you're supplying chilled, high-quality U.S. beef to customers in Europe and can only move product in the first few weeks of every quarter, this is not a very sustainable business model."
To address this obstacle, the Office of the U.S. Trade Representative (USTR) reached an agreement with the EU that reserves a portion of the duty-free quota specifically for U.S. beef. The U.S.-specific share begins at 18,500 mt this year (4,625 mt per quarter) and increases annually until reaching 35,000 mt in year seven.
For other suppliers utilizing the duty-free quota – primarily Australia, Uruguay and Argentina – their share is 26,500 mt this year (6,625 mt per quarter) and will be phased down to 10,000 mt per year over the next seven years. The agreement effectively allows for about 40% growth in EU imports of U.S. beef in 2020 and for imports to further increase by 25% in 2021, when the U.S. share of the quota increases to 23,000 mt. 
The revised quota took effect Jan.1, and it appears to be working as envisioned. The "others" share of the quota was effectively exhausted by the end of January as suppliers moved quickly to get product into the market before the duty-free window closed, while EU imports of U.S. beef have moved at a much steadier pace.
As the calendar turned to March, 35% of the quarterly U.S. capacity (about 1,600 mt) was still available for use, which suggests U.S. exports to the EU should see little or no interruption at the end of the January-March quarter.
"It's still very early in the process, but USMEF is encouraged by what we see so far," Halstrom said. "The goal is to have reliable, 52-weeks-per-year access to the European market so that U.S. exporters can accommodate their existing clientele's needs and aggressively pursue new customers.
"When that happens, it creates confidence on both sides of the Atlantic that the EU is finally a serious growth market for U.S. beef, and that's especially important due to the additional cost of producing non-hormone treated cattle (NHTC). When positive market signals make their way into the U.S. supply chain, NHTC production will expand."
Value vs. volume
While Europe isn't likely to rival markets such as Japan, South Korea or Mexico as a high-volume destination for U.S. beef, Halstrom notes that the EU currently ranks as the U.S. industry's leading market for per-unit value.
"That has made U.S. beef's lack of access to the European market especially frustrating," Halstrom said. "There are customers willing to pay a premium for high-quality U.S. beef, but they need a reliable and consistent supply.
"The U.S. industry now has a great opportunity to meet that need. U.S. exports to Europe plateaued at around $200 million in recent years, but we could see that more than double by the time the U.S.-specific quota reaches its maximum level."
U.S. beef accounted for just 6% of EU beef imports last year, but with the agreement, the United States is set to expand its market share to roughly 15%. While the primary European markets for U.S. beef are Germany, Sweden, Italy and Spain, other EU member states hold excellent growth potential. Recent promotional workshops in markets such as Bulgaria, the Czech Republic, Poland and Romania have highlighted the versatility and affordability of alternative cuts.
"Restaurants in Central and Eastern Europe are certainly interested in U.S. middle meats because they offer such a unique dining experience," explained Yuri Barutkin, USMEF representative in the region. "But discretionary income in these countries is not at the same level as Western Europe, so our best opportunity to expand U.S. beef consumption may be at family dining establishments offering entrees such as such as flanks, skirts, brisket and tri-tip, where customers can enjoy a terrific meal and discover that U.S. beef isn't just reserved for special occasions."
From a long-term perspective, Halstrom is also encouraged by the initial trade agreement discussions USTR has opened with both the EU and the United Kingdom, which is in the process of exiting the EU.
"Agricultural trade is always the toughest row to hoe when negotiating with Europe, but we appreciate USTR's commitment to science-based terms that allow U.S. exporters to compete and give European consumers better access to our products," he said.
"For U.S. beef, it would be fantastic to one day gain market access in Europe similar to the levels we enjoy in Asia and the Western Hemisphere. But in the meantime, the revised duty-free quota is a major step forward that offers exciting growth opportunities."
Joe Schuele is vice president, communications, with the U.S. Meat Export Federation in Denver, Colo.
The opinions of the author are not necessarily those of beefmagazine.com or Farm Progress.
Subscribe to Our Newsletters
BEEF Magazine is the source for beef production, management and market news.
You May Also Like
---