Ag industry responds to election results
Ag industry responds to election results
As projected President-Elect Joe Biden celebrated over the weekend, the Trump Administration plans to contest election results in court.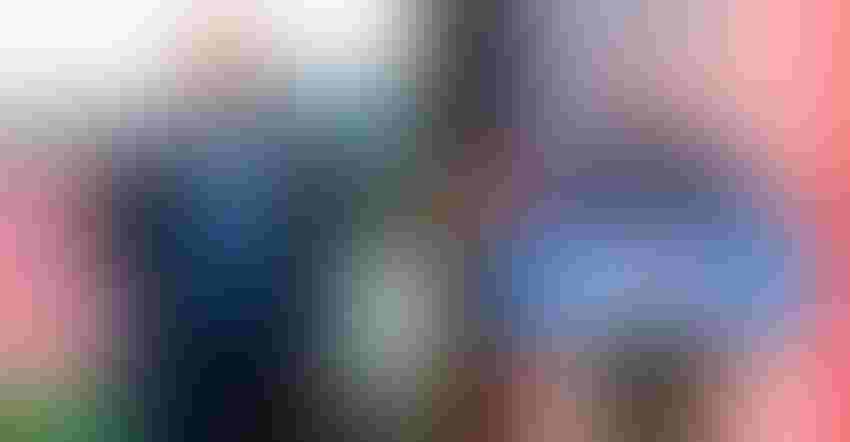 Official White House Photo by Shealah Craighead/Courtesy of Biden campaign
Over the weekend, the mainstream media including the Associated Press, CNN, NBC, ABC, FOX, etc., projected that Joe Biden would win the deeply divisive U.S. presidential election.
With more than 147 million votes, and more continuing to be counted, the 2020 election crashed the previous voting record of 138 million votes, which were cast in 2016. The media is projecting that Biden has secured the magical 270 number to secure the White House, although litigation is pending and states have yet to be certified.
Following the projected win, President-Elect Joe Biden gave a victory speech, calling for unity and healing after the long battle of what he calls, "the soul of the nation."
On Monday, Biden also responded to news that Pfizer was inching closer to an effective COVID-19 vaccination. He said, "This election is over. It's time to put aside the partisanship and the rhetoric that's designed to demonize one another.
"Doesn't matter who you voted for, whether you stood, where you stood before election day, doesn't matter your party, your point of view. We can save tens of thousands of lives if everyone would just wear a mask for the next few months. Not Democrat or Republican lives, American lives. A mask is not a political statement but it is a good way to start pulling the country together."
And while the Biden camp is ready to move forward with plans for 2021, the Trump camp is pulling the breaks amidst claims of widespread voter fraud, glitches and irregularities. Some are quick to brush off these allegations as "conspiracy theories," but the Trump legal team, including previous New York Mayor Rudy Giulliani, say the growing evidence will be presented in a court of law.
In an official statement released over the weekend, President Trump said, "We all know why Joe Biden is rushing to falsely pose as the winner, and why his media allies are trying so hard to help him: they don't want the truth to be exposed. The simple fact is this election is far from over.
"Joe Biden has not been certified as the winner of any states, let alone any of the highly contested states headed for mandatory recounts, or states where our campaign has valid and legitimate legal challenges that could determine the ultimate victor. In Pennsylvania, for example, our legal observers were not permitted meaningful access to watch the counting process. 
"Legal votes decide who is president, not the news media. "Beginning Monday, our campaign will start prosecuting our case in court to ensure election laws are fully upheld and the rightful winner is seated. The American People are entitled to an honest election: That means counting all legal ballots, and not counting any illegal ballots.
"This is the only way to ensure the public has full confidence in our election. It remains shocking that the Biden campaign refuses to agree with this basic principle and wants ballots counted even if they are fraudulent, manufactured, or cast by ineligible or deceased voters. Only a party engaged in wrongdoing would unlawfully keep observers out of the count room – and then fight in court to block their access. So what is Biden hiding? I will not rest until the American People have the honest vote count they deserve and that Democracy demands."
The Biden inauguration date is set for Jan. 20, but in the meantime, it's clear, Trump will not be conceding anytime soon.
Reports indicate Trump may even begin rallies again. While much is uncertain, if we have learned anything in this wild, dramatic and stressful 2020 — it's that anything can happen. Without question, this is going to be an election cycle to remember! And whether you're in the "time to move on" or the "hold the line" camp, one thing we are all wondering about is what a Biden administration will look like for the farming and ranching communities.
The BEEF team has written extensively on what the Biden-Harris ticket was bringing to the table. In case you missed it, I will link them below:
Meanwhile, agricultural organizations are responding to the news of a projected Biden win.
R-CALF USA CEO Bill Bullard said, "Like the rest of the nation, R-CALF USA is awaiting the official vote by the Electoral College in early December and the ensuing confirmation from Congress as to who has been officially elected as the President of the United States.  
"Meanwhile, R-CALF USA will continue urging Congress to restore competition to the beef market by passing mandatory country of origin labeling for all beef sold in America and to restore competition to the cattle market by passing the Grassley/Tester bill that requires packers to purchase at least 50% of their cattle in the price discovery market. We are looking forward to working with the officially-elected President of the United States to bring these two critical reforms to fruition."
American Farm Bureau Federation (AFBF) President Zippy Duvall, said, "President-elect Biden will be presented with opportunities to improve the lives of rural Americans and this nation's farmers and ranchers, who are facing challenges never experienced in this country's history. A global pandemic, trade disputes and severe weather have converged to take a mighty toll on agriculture and beyond, impacting families and communities across the United States.
"Unprecedented challenges require courageous leadership and the willingness of all elected leaders to work across the aisle for the good of the nation. Agriculture provides a strong model for that, with a long tradition of aligning behind smart policy, not party lines. We urge all those chosen by the people to use the election to turn the page on partisanship and commit to working together. Show farmers, ranchers and families across America that we will rise to meet the challenges before us together as one nation.
"For agriculture, the priorities include expanding trade and market access so farmers can focus on competing in a fair marketplace. Rural broadband has expanded in recent years, but the time has come to complete the grid and end the crippling disadvantage faced by farms, families and communities without broadband access. The ability of farmers to feed America is directly tied to their ability to attract and hire employees, so we must find a fair solution to the farm labor shortage. We must strengthen the farm bill and build on advancements made toward regulatory reform to remove the barriers to prosperity while protecting resources with which we're entrusted. We urge President-elect Biden to identify these as priorities."
National Farmers Union (NFU) President Rob Larew said, "The last four years haven't been too kind to family farmers and ranchers. Over production, rampant corporate consolidation, trade disputes, and climate change have kept commodity prices stubbornly low, causing farm debt to balloon and farm bankruptcies to proliferate.
"On the campaign trail, President-elect Joe Biden has indicated that he intends to address many of the concerns we have expressed over the last several years. He has promised to rejoin the Paris Climate Agreement as well as provide farmers and ranchers the tools they need to implement climate-smart practices, both of which are top priorities for Farmers Union members. Additionally, Biden has outlined his commitment to revitalize rural economies, enforce antitrust regulation, strengthen the Affordable Care Act, alleviate racial inequities in agriculture, expand rural broadband, and promote homegrown biofuels. These are all reforms that we as an organization have advocated for many years, and it is encouraging to see them incorporated so prominently into the president-elect's platform.
"The vision that President-elect Biden has for America overlaps, in many respects, with National Farmers Union's vision. We stand ready to work with his administration to ensure that its policies and programs adequately represent the interests of family farmers and rural communities."
The opinions of Amanda Radke are not necessarily those of beefmagazine.com or Farm Progress.
Subscribe to Our Newsletters
BEEF Magazine is the source for beef production, management and market news.
You May Also Like
---