Gardiners carry on legacy of Angus leadership
Gardiners carry on legacy of Angus leadership
Slideshow: Mark Gardiner took over management from his pioneering father and continues his family legacy.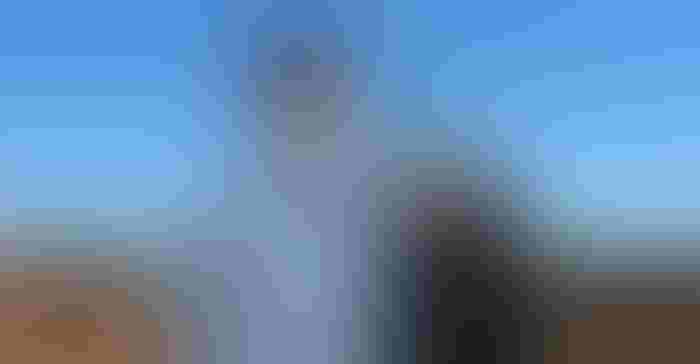 Editor's note: This is the second story in a series about the 2019 Class of Kansas Master Farmers.
Gardiner Angus Ranch began four generations ago with a homestead of 160 acres and a dugout home in the spring of 1885.
But it was the third generation on the ranch that set the stage of the expansion and modernization that has helped it grow into the expansive operation it is today.
Henry Gardiner, born in 1931, was an innovator who was dedicated to the use of every technique available to enhance the rate of genetic improvement in the cattle herd. In 1964, he determined that the ranch would rely exclusively on AI to breed all the cattle on the ranch. When the American Angus Association published its first Sire Evaluation Report 10 years later, Gardiner Angus Ranch was in a position to be able to capitalize on having accurate genetic information available. Henry was determined and convinced the industry could produce better beef, if only the tools were available. By using the Sire Evaluation Report, meticulous record keeping and trial and error, Henry made a commitment that the ranch would use only proven sires with high-accuracy EPDs for traits of economic importance.
Mark Gardiner graduated with a degree in animal sciences and industry in 1983 and came back to ranch with his father and brother, Greg, who had already returned to the ranch. In early 2000, he took over management of day-to-day operations from his father, Henry. His wife, Eva, is a licensed veterinarian and also certified in veterinary acupuncture. Eva provides part-time veterinary services to the Ashland Vet Clinic, working with both small and large animals, primarily horses.
"I've handled some emergency stuff out here on the ranch and helped with the ultrasound testing," she says.
Ranch leader in AI and ETB
Under Mark's direction, the ranch has grown to one of the largest AI and embryo transfer beef operations in the world, making more than 3,500 transfers per year. By 2012, through land acquisition, Gardiner Angus Ranch doubled in size. Mark has overseen the modernization of the infrastructure at the ranch. All bulls are now developed on the ranch. Cattle destined for commercial feedyards are backgrounded on the ranch on native grass, winter wheat pasture or silage in confinement facilities.
As a founding member of U.S. Premium Beef, Gardiner Angus Ranch retains ownership of cattle on feed and markets through U.S. Premium Beef and National Beef.
Gardiner Angus Ranch is a diversified operation that involves many additional family members. Mark's brothers, Greg and Garth, are both involved in the family operation, as are Mark and Eva's sons Cole and Ransom and a nephew, Grant. Mark's youngest son, Quanah, is in his third year at the University of Kansas, majoring in secondary education. He plans to return to teach and coach at Ashland and work part-time in the family operation.
Both Mark and Eva are students of history, especially the Native American history of southwest Kansas, which was home to the Comanche Nation that was led by Quanah Parker for many years. Their appreciation of that history and admiration of Parker's leadership led them to choose the name for their youngest.
When it comes to working the ranch, everybody pitches in.
"When we were growing up, Dad had a rule that all of us had to know how to do everything," Mark says. "Any of us can handle just about any job that needs to be done. But we do somewhat gravitate to personal preferences when it comes to specific jobs, we each have individual responsibilities relative to the management of the business."
Starbuck Fire devastating
The ranch includes 4,000 acres of wheat, planted for winter grazing, along with 600 acres of alfalfa and 400 acres of grass hay. Another 43,500 acres of the ranch is in native grass pasture — almost all of which burned in the Starbuck wildfire in 2017. The fire destroyed more than 270 miles of fences, outbuildings, homes, storage facilities and hay and killed thousands of cattle.
"That was definitely one of the worst tragedies we have faced," Mark says. "However, it was in some ways, a blessing for us in all the support we got from neighbors and from cattlemen everywhere. It also killed thousands of invasive trees and the grass came back stronger than ever."
Eva says she has marveled at the silvery skeletons left behind by the ravages of fire on the cottonwood trees.
"The bark burned off and the bare surface is kind of sealed in that silver gray color," Eva says. "When we rebuilt our home, we harvested some of those trees, took them to a sawmill and had them cut into boards for an accent wall in the new house. We had a cottonwood wall in the old house and I wanted it in the new house, too."
The ranch breeds more than 4,500 head of Angus females each year and calves about 2,000 cows each fall and spring. The balance of the females are marketed in four sales annually. All the cows, both registered and commercial Angus, are settled either by AI or embryo transfer. Embryo transfer produces more than 70% of the registered Angus calves born each year. Commercial Angus cows are used as recipients for embryos produced by approximately 70 elite donor cows selected from more than 1,000 registered females. The main donor herd is collected for one year, then bred and sold in the spring production sales. A new set of donors is picked for the following year.
"We haven't used clean-up bulls since 1964, more than half a century," Mark says.
Gardiner Angus Ranch is a founding member of U.S. Premium Beef and Mark is president and chairman of the USPB board of directors. The ranch was named one of seven regional winners of the NCBA Cattle Business of the Century award and has also received the National Cattlemen's Foundation Vision Award.
Commitment to the future
The Gardiners are committed to getting the beef industry's brightest minds to do research toward genetic improvements and the best practice management based on sound science. The ranch has offered internship opportunities to students for decades. In 2012, Gardiner Angus Ranch began a structured internship program that offers hands-on learning experiences for students. Since that time, the ranch has hosted 40 interns from universities across America.
In 2012, under Mark's guidance, the Henry C. Gardiner Scholarship and Lecture Series was created and endowed at Kansas State University. To date, 26 undergraduate students have received $120,000 in scholarships. Although endowed by the Gardiner family, many friends and customers continue to financially support the scholarship and lecture series.
The Henry C. Gardiner Global Food Systems Lecture Series have hosted thought leaders to discuss issues including global food insecurity, depletion of water resources, sustainability, and the social and environment impact of food production. Mark serves on the speaker selection committee, helping to identify speakers who can bring thought provoking and necessary conversations relative to sustainable agriculture and improving global food security.
Improving facilities
Over the past 30 years, the ranch has reinvested in working facilities at the headquarters as well as the pastures. In the 1990s, the Gardiners consulted with cattle handling expert, Dr. Temple Grandin, to assist in designing the handling facility, designed and built to improve the ability to manage large numbers of donor cows. A series of circles and pie-shaped pens empty into alleys that move cattle to the center for processing.
As the ranch has grown, more confined feeding and development pen space has been added. In 2015, a confined feeding facility to accommodate 1,000 head of cattle was built and the cattle handling facility, complete with a laboratory room and meeting space was completed.
Today, all Gardiner Angus Ranch bulls are developed at home, including a structured performance test conducted on all bulls sold. Each year, more than 2,500 bulls are sold, either at auction or by private treaty.
The most recent improvement to the ranch is the Henry and Nan Gardiner Marketing Center, named after Mark's parents, that includes smart technology for internet bidding and video conferencing. The center has evolved as a multipurpose facility available for community use, consisting of an auction facility, dining hall with commercial kitchen, conference room, offices and living quarters.
Subscribe to Our Newsletters
BEEF Magazine is the source for beef production, management and market news.
You May Also Like
---