How are you celebrating National FFA Week?
How are you celebrating National FFA Week?
Even if you're FFA days are behind you, there are still plenty of ways to support the kids in their blue corduroy jackets!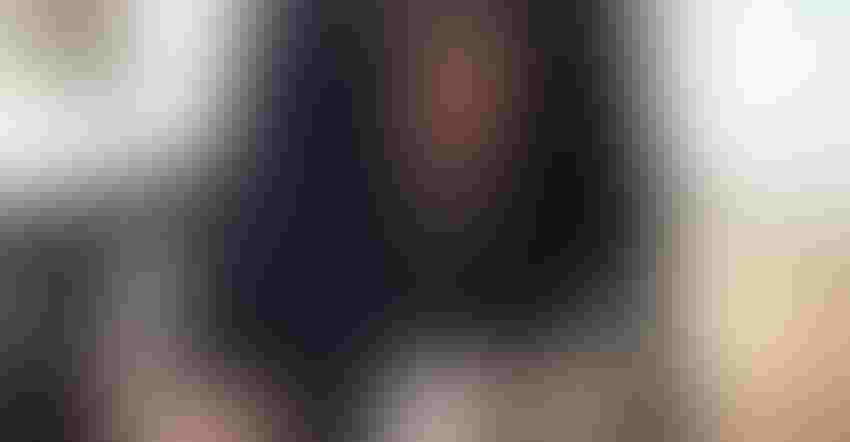 It's National FFA Week, and across the country, schools, FFA chapters, local businesses and more will be celebrating the kids in the iconic blue corduroy jackets.
Why is this week so important? Because it's a great time to remind our nation's youth that they are our future in agriculture.
This is the generation that will fill big shoes and feed a hungry planet.
These kids will invent new technologies that will create a safer, more nutritious, more efficient, more abundantly available food supply.
These kids will be agricultural engineers, food scientists, agronomists, livestock nutritionists, geneticists, farmers, ranchers, marketers, retailers, packers, stockers, feeders, conservationists, veterinarians and so much more. And the skills they learn in the National FFA Organization will help them achieve big dreams and find their own unique paths within the agricultural industry.
Last week, I spoke at the Nebraska Cattlemen's Classic to 200+ FFA kids, and I talked to them about branding themselves as experts in their fields using their social media platforms to share their knowledge.
As part of my speech, I challenged the students to walk up and down the aisles at the show and speak with the cattle exhibitors there, asking them, "What is the biggest challenge facing the agricultural industry today?"
As they compiled answers, their next task was to create a 2-3 minute speech on their findings, and judges would award the top speakers with funds for their chapter. It was a neat event, and I was honored to be a part of it.
That's just a small example of what the National FFA Organization can really do for young people, and on today's blog, I have compiled a few ways people are celebrating National FFA Week every day this week!
1. Culver's supports the National FFA Foundation with texting campaign
This week, text CULVERS to 20222, and $5 will automatically be donated to the National FFA Foundation. Take 30 seconds to make sure Culver's donates $5 on your behalf to this amazing organization!
2. RFDTV shares FFA through the years
According to RFDTV, "In 1928 Future Farmers of America was established to prepare future generations for the challenges of feeding the growing American population through agricultural education. In that same year the first National FFA Convention was held in Kansas City, Mo. In attendance at the convention were 33 delegates from 18 states including: Arkansas, Arizona, California, Colorado, Idaho, Iowa, Kansas, Michigan, Nebraska, New Jersey, North Dakota, Ohio, Oklahoma, Oregon, South Carolina, Utah, Virginia, and Wisconsin."
3. "FFA advisor celebrates 50 years in the classroom" by Jessica Walker Boehm for FFA
Walker Boehm writes, "For Ed Terry, teaching young people about agriculture isn't just a profession. It's also a passion he's cultivated for half a century. Terry celebrates 50 years of sharing ag education in 2020."
4. "Wyoming FFA Celebrates FFA Week with National FFA Officer, Agriscience Fair" featured on the Wyoming FFA Association
According to the article, "Wyoming FFA will kicked off their National FFA Week early, participating in a meeting with other Career and Technical Student Organizations, Governor Gordon, the Wyoming Department of Education and other industry supporters. Wyoming will also host National FFA Officer Lyle Logemann for the week. Logemann will deliver a keynote address to members in Cheyenne on February 23, deliver workshops to members in Laramie on February 24 and visit Douglas and Wheatland's FFA chapters on February 25."
5. "The first time I wore an FFA jacket" by Makayla Munford for Raised in a Barn
Munford writes, "The first time I put on an FFA jacket, I felt something inside of me shift. I was not raised in a traditional farming background, in fact, you could even say the opposite. My family has no connections to the agricultural world besides me. So when I heard about the FFA my sophomore year of high school, I was intrigued but knew absolutely nothing about agriculture. From the time I could talk, I'd had a goal to be a veterinarian, and so my passion for animals is what found me investigating the FFA to begin with."
The opinions of Amanda Radke are not necessarily those of beefmagazine.com or Farm Progress.
Subscribe to Our Newsletters
BEEF Magazine is the source for beef production, management and market news.
You May Also Like
---