Beef Improvement Federation honors top seedstock, commercial producers
Beef Improvement Federation honors top seedstock, commercial producers
The best of the best were recognized during the 2018 BIF annual conference.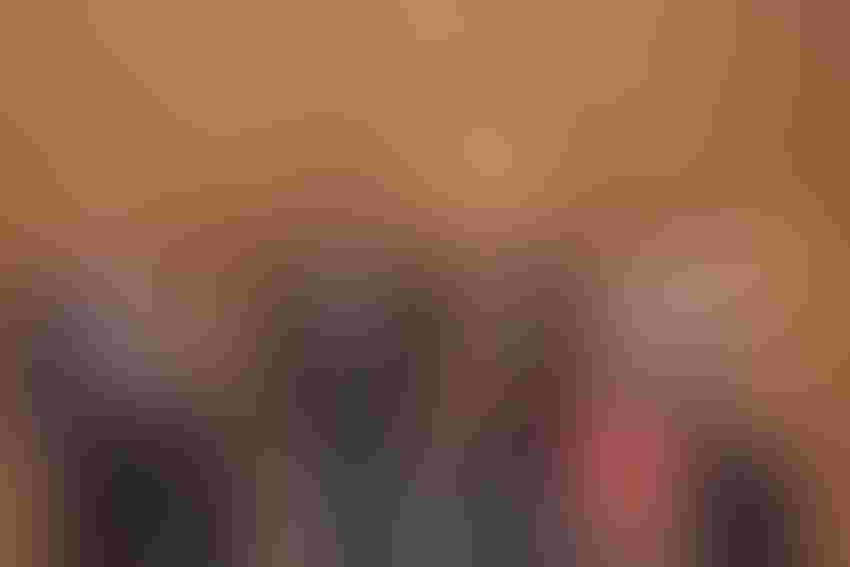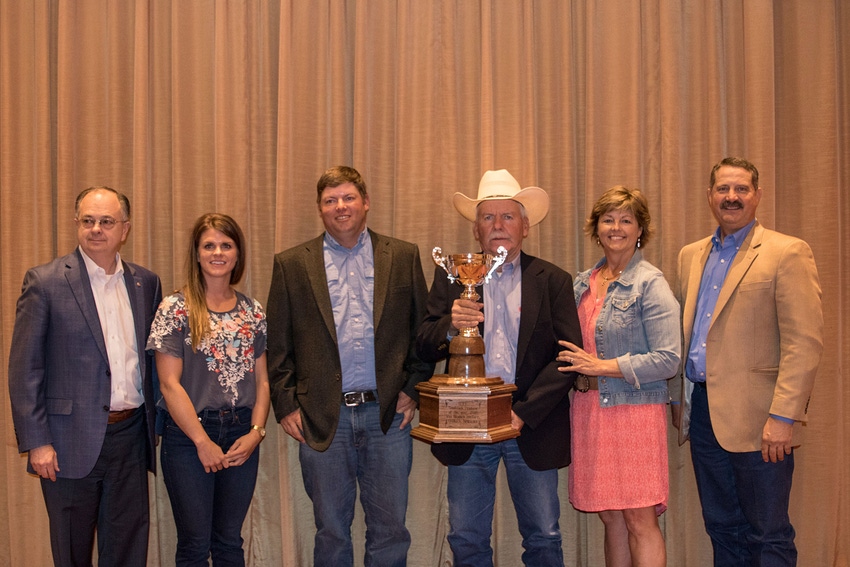 Van Newkirk Herefords, Oshkosh, Neb., was named the 2018 Beef Improvement Federation Seedstock Producer of the Year. Pictured are (from left) Steve May, BEEF magazine, award sponsor; Sara, Kolby, Joe and Cyndi Van Newkirk; and Donnell Brown, 2017-2018 BIF president.
Photo by Angie Denton
Progressive beef producers have long known that building a strong genetic foundation in their cowherd is the best bet against the inevitable ups and downs of the cattle business. Beyond that, you can't produce quality beef without quality genetics. That's why, for many years, BEEF has sponsored the Seedstock and Commercial Producer of the Year awards at the annual Beef Improvement Federation (BIF) convention.
Over the years, these awards have recognized operations that combine innovative and far-reaching management with the best genetics available to produce quality beef. This year's winners were no exception.
Seedstock Producer of the Year—Van Newkirk Herefords
Van Newkirk Herefords, Oshkosh, Neb., was named the BIF Seedstock Producer of the Year Award during the group's annual meeting and symposium in Loveland, Colo. This national award is presented annually to a producer to recognize their dedication to improving the beef industry at the seedstock level.
Van Newkirk Herefords, one of the BEEF Seedstock 100 operations, is a family-owned ranching operation dating back to 1892, when Lorenzo Van Newkirk started mating Hereford bulls to his Longhorn cows. In 1942, A.J. (Bud) Van Newkirk started the operation's registered Hereford herd.
Today, the ranch is operated by the third and fourth generations. Joe and his wife, Cyndi; son, Kolby and wife, Meg, and grandsons, Barrett and Sloan; son, Nick; and daughter, Sara; along with longtime hired man Travis Kezar are passionate about breeding quality Hereford genetics.
The ranch's herd has grown from the original five registered cows to 600 registered cows today. Center pivots and efficient use of surface irrigation have been utilized, making it possible for the Van Newkirks to produce 90% of their winter feed supply. Summer grazing is on native Sandhills pasture.
The Van Newkirk family is committed to gathering accurate, timely performance data. For more than 45 years, performance testing has been a high priority, and continues to evolve with technology. The family began individually weighing calves in 1969, and in the 1980s they began collecting ultrasound data. Since the 1980s, cull heifers and steers have been fed out and feedlot and carcass data gathered. In the 1990s, they implemented genetic testing.
The Van Newkirk family is passionate about improving Hereford genetics and strive to strengthen the beef industry by offering superior genetics, utilizing sustainable management practices and being good environmental stewards.
Commercial Producer of the Year – Woolfork Ranch

Kent and Tyler Woolfolk of Woolfolk Ranch near Protection, Kan., were named the BIF Commercial Producer of the Year. This national award is presented annually to a producer to recognize their dedication to improving the beef industry at the commercial level.
Woolfolk Ranch LLC is located in southwestern Comanche County, Kan., and northeastern Harper County, Okla. Kent Woolfolk and his son, Tyler, represent the fourth and fifth generations to operate the ranch. The ranch encompasses about 17,000 owned and leased acres of grass and around 1,000 acres of cropland.
The Woolfolks maintain around 1,100 Angus-based cows that calve in the spring, starting about March 15. They also take in nearly 150 Angus cows year-round on a custom per head basis. The cows are managed alongside their personal herd.
Depending on moisture availability, the ranch will custom-graze 750 to 1,200 yearlings each year. In 2014, the Woolfolk family built a feeding facility to use for weaning and as a drylot for cows during the fall and winter months, which allows them to feed a low-cost maintenance ration.
The feedyard lets the Woolfolks develop and market their own replacement heifers, grow steers to feeder weight and custom develop heifers for other ranches. It also is used as part of a drought plan put in place by the family, allowing the ranch to destock pastures much more quickly if the need arises.
The cow herd is rotated during the grazing months using a three-pasture rotation system. This provides adequate rest between grazing cycles prior to weaning, which begins in early September.
All cattle are handled horseback using low-stress cattle handling techniques, which allows the growing sixth generation to help when available. Woolfolk family members, while always looking for new management techniques and technology to improve cattle efficiency, still pride themselves on ranching traditions passed down from previous generations.
BIF's mission is to help improve the industry by promoting greater acceptance of beef cattle performance evaluation. For more information about this year's symposium, including additional award winners and coverage of the meeting and tours, visit BIFconference.com. For more information about BIF, visit Beefimprovement.org.
Subscribe to Our Newsletters
BEEF Magazine is the source for beef production, management and market news.
You May Also Like
---