Go ahead, fail: Innovative new program encourages ag students to fail successfully
Go ahead, fail: Innovative new program encourages ag students to fail successfully
An innovative university program encourages students to take a chance on themselves and build businesses that matter.
Fail forward. Fail fast. Fail cheap.
That's the mantra of the Engler Agribusiness Entrepreneurship Program (EAEP) at the University of Nebraska's (UNL) Institute of Agriculture and Natural Resources. EAEP is a unique program that teaches students how to be entrepreneurs.
"Success is built on the back of multiple failures," says Tom Field, EAEP director. Yet, he explains, "We have a funny view of failure in our culture. We don't like it much. We protect our kids from failing."
However, competition — which necessitates winners and losers — is prized in business and the American ethos. Heaven forbid that you should fail, maybe even lose it all. The self-imposed stigma of such an outcome prevents many from trying, or means they'll risk just a little.
Likewise, even successful businesses begin to fail when they prize protecting their achievements more than continuing to grow: not necessarily in size, but in value.
All of this takes on greater urgency when you consider current agricultural reality.
Sustainability demands entrepreneurship
"When you look at the age demographics of U.S. ranchers and farmers, there are more farmers older than 60 than there are younger than 30," Field explains. "We're going to go through a massive shift in wealth and decision-making between generations — we're talking Louisiana Purchase kinds of wealth being transferred."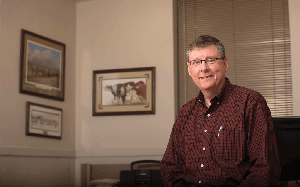 "We're going to go through a massive shift in wealth and decision-making between generations." Tom Field
Leading up to this generational changing of the guard, the face of agriculture continues to contract and concentrate, with a relatively few owners responsible for the majority of agricultural production. Technology and mechanization continue to reduce the need for as many people in day-to-day production. Unsurprisingly, there are fewer left to fight for maintenance of the industry's infrastructure.
Drive through any agricultural state — or the agricultural portions of otherwise urban ones — and the variety of small towns looks eerily similar. A few remain bustling hubs of business and civic activity. Some were boarded up long ago, the end result of a downward spiral fueled by the attrition of key economic stakeholders. Lots of others are somewhere in between, either trying to figure out how to reinvigorate, and attract new people and new business, or just hoping.
"Part of wealth is living in a vibrant community — a community that is growing and seeking new opportunities," Field explains. "Entrepreneurship, I think, is tied to the health of rural communities. We'll find solutions for rural communities through creativity and entrepreneurship."
Developing risk-tolerant culture
The EAEP mission is "to build enterprises that contribute value to agriculture and communities by nurturing, challenging and equipping entrepreneurial talent."
ESAP was established in 2010 with a $20 million gift from the Paul F. and Virginia J. Engler Foundation. Many know Paul Engler as founder of the game-changing Texas-based Cactus Feeders. Fewer understand how he built the business from scratch.
At the age of 80, when awarding the gift to establish the EAEP, Engler explained the importance of identifying and mentoring students who possess the entrepreneur's fire in the belly.
"We need to identify these boys and girls who have that fire in the belly when they are young, and then when they come to the university, expose them to a curriculum that teaches risk — how to evaluate it and how to manage it — because if you do not take risk as an entrepreneur, you are not going to make it," Engler explained. Engler is chairman of the EAEP Advisory Board and remains actively involved in the program.
Building an enterprise
"The Engler program exists to empower enterprise-builders," Field explains. "We don't say we're trying to build businesses. We're facilitating the building of businesses, with our students holding ownership rights to what they start."
This is not your typical college experience. For one thing, the curricula for each student is driven by that student's own business idea.
"There are no exams, only projects. We force them to deal with customers and potential customers early on," Field explains. "We use competitions, business tours, project development and a host of value-added experiences to help mold their mindset. We then endeavor to facilitate relationship-building as a means to accelerate the student experience."
One stated goal of the program is for EAEP graduates to have begun 50 successful business ventures by 2020.
Think back to that conundrum of fewer, older producers and rural communities running on fumes.
A common strategy to create opportunity for kids returning home to the farm or ranch has revolved around making the farm or ranch bigger — run more cows, turn over more ground. But no one ever said there aren't other ways to forge opportunity.

BEEF Seedstock 100 List
Looking for a new seedstock provider? Use our UPDATED Seedstock 100 listing to find the largest bull sellers in the U.S. Browse the list here.
"Farms have gotten bigger, so there is not necessarily a place for everyone who might want to return to a farm or ranch, return to their rural community. But through entrepreneurship, we can diversify enterprises," Field explains. "If I'm a farmer or rancher today, I might be thinking about how to help a son or daughter who wants to return to their home rural community — but not necessarily to the home farm or ranch — get started in another business."
Just a few of the companies begun by EAEP graduates so far: Kingpin Enterprises of Davey, Neb.; ABC Chickens, an integrated poultry company focused on farm-fresh markets; Stahla Services LLC at Grand Island, Neb. (luxury portable toilets); Ox-Bow's Natural Landscapes; Diva Desserts at Raymond, Neb.; and CW Auction at Fullerton, Neb.
"This program is designed to create difference-makers," Field explains. "We knew that we would get support from the business community, but we had no idea how passionate, how much investment of time and energy, and how willing successful business owners and entrepreneurs would be about positively affecting the next generation of enterprise-builders."
Attract, keep brightest minds
Agriculture has always been entrepreneurial in nature, at least when it comes to creating solutions from baling wire and duct tape — you can't simply run to town every time something breaks down.
However, agriculture, especially the cattle business, also remains resolutely provincial. Folks already involved in the industry mistrust those who don't share the same background. Discounting ideas from outside the industry slows and prevents progress.
Plus, Field believes U.S. culture stands at a unique historical junction. "Our society is at the crossroads between self-entitlement and self-reliance," he says. "This need for fostering entrepreneurship exists in every sector of our economy."
So, agricultural entrepreneurship can benefit from the skills, talents and expertise of those from other industries and walks of life, and vice versa.
"Entrepreneurship is a way to attract people into this sector," Field says. "But production agriculture is just a piece of what we're talking about [in the program]."
EAEP students have majors ranging from floriculture to dance to animal nutrition. By design, students can minor in entrepreneurship, but it's not offered as a major.
As much as agriculture needs entrepreneurship, Field emphasizes that opportunities abound for those with the fire Engler described.
"This is probably the most opportune time in history to be involved in agriculture," Field says. "The shattering of the marketplace into this extraordinary range of niches opens all kinds of opportunities for entrepreneurship."
Think of just a few nascent segments: general sustainability, water conservation, judicial use of antibiotics in livestock production and alternatives.
"Those that provide solutions that provide lasting value will be paid for it," Field says.
For more details about the EAEP, visit engler.unl.edu.
You might also like:
10 most viewed photo galleries at BEEF
2016 BEEF Seedstock 100 now online
2016 market outlook: Here's what to expect
Why we need to let Mother Nature select replacement heifers
Want a more efficient cowherd? Start with early-born heifers
Should you keep or sell your replacement heifer prospects?
Subscribe to Our Newsletters
BEEF Magazine is the source for beef production, management and market news.
You May Also Like
---